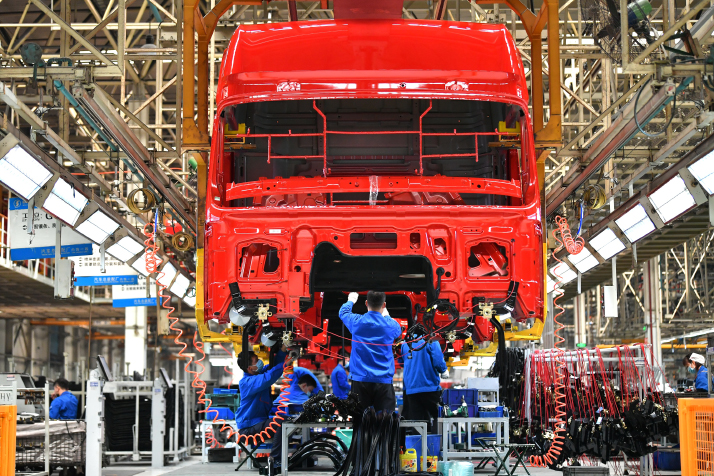 Workers at a heavy-truck assembly line in an auto plant in Xi'an, northwest China's Shaanxi Province, on April 23 (XINHUA)
If the Chinese people were waiting for the assurance from their government that the COVID-19 epidemic was under control, that signal came on April 29. On that day, green light was given to the convening of the annual Two Sessions, the country's most important political event of the year.
The Two Sessions, or the annual meetings of the National People's Congress (NPC), China's top legislature, and the National Committee of the Chinese People's Political Consultative Conference (CPPCC), top political advisory body of China, started on May 22 and May 21, respectively, this year. It's unprecedented for this annual event to open two months later than usual.
April also saw great progress in epidemic control, especially in Wuhan, a city that was severely hit by the novel coronavirus. The last remaining assistance medical team from southwest China's Sichuan Province left Wuhan on April 7, one day before the lifting of the city's lockdown. The two hospitals specially built for receiving COVID-19 patients in the city, Huoshenshan and Leishenshan hospitals, were officially shut down on April 15.
This allowed a further shift from epidemic control to economic recovery. According to China's National Bureau of Statistics, by April 24, 84.6 percent of China's enterprises above designated size had restored more than half of their production capacity. This was a 4.1-percentage-point increase compared to that at the beginning of the month, although there are still many challenges for enterprises, including an increase in inventory and decrease in profit.
Gradual recovery
The sectors that are not ready to reopen are in an especially difficult situation. Industries that involve a gathering of great numbers of people in confined spaces, such as cinemas and theaters, are facing greater pressure.
Yao Qiuxin is a full-time translator with China's National Center for the Performing Arts in Beijing. The center has been closed to audiences since late January, and it is still uncertain so far when it will reopen to the public.Despite the absence of audiences, the center has managed to continue its operations, but in a different way. On April 11, the center held the first of its spring series of concerts dedicated to online audiences, bringing music to people locked down at home. The performances were delivered by the center's orchestras in the concert halls, and broadcast online and on television in cooperation with multiple media agencies.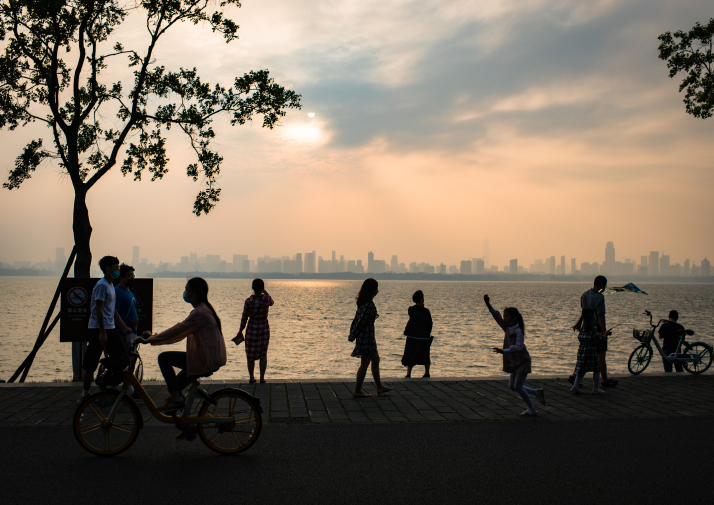 People relax on the greenway of East Lake in Wuhan, central China's Hubei Province, on May 5 (XINHUA)
To make up for the poor sound quality, a broadcasting team was set up to not only record as much sound as possible, but also film the moves and facial expressions of the performers. These details are often not available to on-site audiences.
The effect was unexpectedly good. The three concerts of the spring series gained some 160 million views online. On May 12, they started their summer series, with the first show dedicated to nurses fighting the epidemic in celebration of the International Nurses Day. This time, they cooperated with 22 art organizations in 16 other countries to broadcast the performances to online audiences across the world.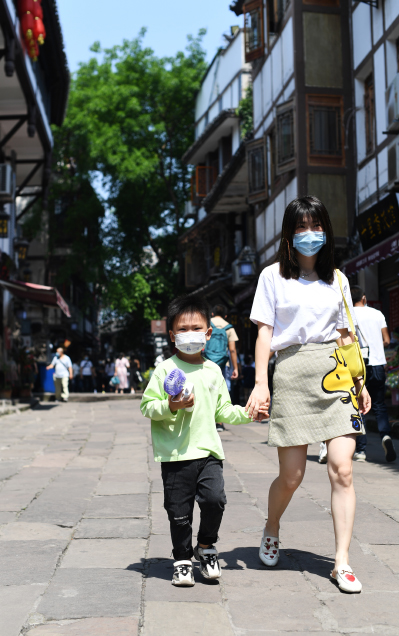 Tourists at Ciqikou Ancient Town, a tourist resort in Chongqing, southwest China, on May 3 (XINHUA)
Yao works as a subtitle translator for these performances, which will be made into discs and distributed abroad.
Though most of the businesses in the city have reopened and she has experienced months of lockdown at home, she is not eager to go out and make up for the days missed. Instead, she opts to stay at home unless she has to go to the market in her neighborhood for necessities.
"I am not totally sure about the safety of going out too often," she told ChinAfrica.
When she doesn't need to go to the office, she spends her time on translating an English detective novel. The story takes place in a theater, so she is having fun working on it.To her delight, the center has planned to open its exhibition halls to visitors in June. Yao said things are slowly becoming more positive.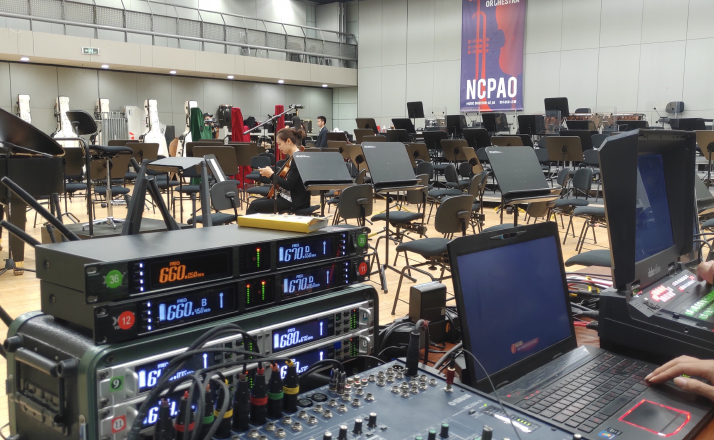 A livestreaming platform provides technology support to a concert of the National Center for the Performing Arts on May 4 (CNSPHOTO)
Adapt to survive
Moving online is a good solution, and not only for the performance industry. The past months have seen a transformation to Internet-based services in many sectors, especially education.Yu Jing is an English teacher in a training facility in Wuhan. When classroom teaching was banned after the outbreak of the epidemic, her company quickly pivoted to online teaching.She was unhappy about this transition initially, but has now started to see the merits of this form of teaching. "At least I don't have to travel all the way to work," she told ChinAfrica.
The city is recovering, said Yu, with stores along the streets starting to reopen, although the number of shoppers is way down. Schools are also opening, but only to grade-three students of junior and senior high schools. Her students are not in these categories, so it is not allowed to teach them in classrooms. She now feels fortunate that the company has reinvented itself as an online school; otherwise she might have lost her job.
Statistics show that in the first two months of the pandemic, over 1,000 companies in China went bankrupt, among which many were in the education sector, especially those heavily dependent on offline operations.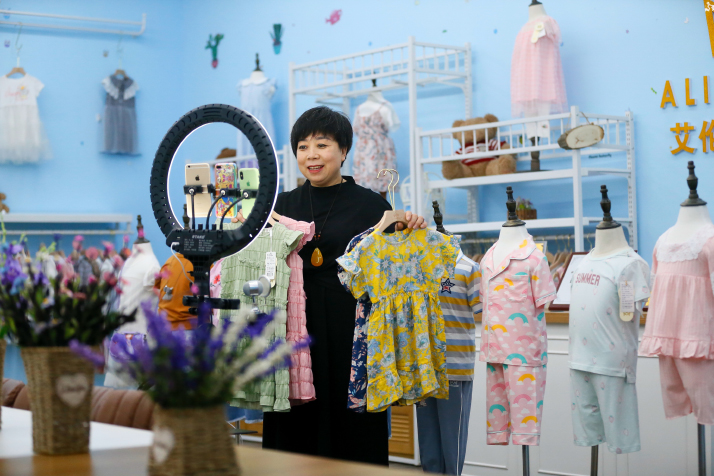 A saleswoman of an export-oriented company in Qingdao, east China's Shandong Province, promotes their products to domestic buyers in a livestreaming way (XINHUA)
Another sector heavily affected by the epidemic was the export business. Many export-oriented companies were allowed to reopen as control measures were loosened, only to find there were few orders from abroad for them to fill. To survive, they had to find ways to sell their products to the domestic market.The Internet once again played an important role for this purpose at a time when offline sales were yet to recover. E-commerce platforms including JD.com and Taobao, along with social media platforms such as Douyin and Kuaishou, provided much needed sales channels. According to the Ministry of Commerce, domestic sales by export-oriented companies registered a 17-percent growth in April.
At the policy level, it has been a priority of the government to help companies, especially small and medium-sized companies, to survive the epidemic. Support in various forms such as tax cuts, financing, establishing sales platforms and stimulus for consumption has been provided.
These measures are taking effect. According to China's National Bureau of Statistics, industrial production in sectors such as equipment, hi-tech, basic raw materials and consumer goods saw higher growth rate in April than March. In term of sales, the total retail sales of consumer goods registered a year-on-year decrease of 9.1 percent in April, 9-percentage points better than in March.
Children play in front of Wuhan's landmark Yellow Crane Tower as it reopens on April 29 (XINHUA)
Staying alert
Since the lifting of Wuhan's lockdown on April 8, an important mark of China's success in containing the virus, controllable small-scale reoccurrences of the epidemic have taken place in some parts of the country, including Wuhan itself. The latest case was in Shulan County, northeast China's Jilin Province. A local laundry operator was found infected on May 7, 73 days after the last case of infection was reported across the province. By May 18, 37 cases of infection were identified along the chain of transmission.
This led to an escalation of control measures in Jilin City where the county is located. In a video that went viral, senior middle school students in the city, who had just resumed school classes in preparation for the coming college entrance examination, had to leave their schools and resort to online classes again.
Fearing that control of the epidemic achieved after such a hard work might be destroyed by premature relaxation, experts have kept reminding the public to stay alert and continue to follow prevention and control measures.
On May 16, Zhong Nanshan, a member of China's top expert team for COVID-19 prevention and control, warned of the potential risks of a second outbreak in China in an interview with CNN. He said due to the lack of immunity, most Chinese people remain susceptible to the virus and the challenge China faces is not better than that to foreign countries.
In terms of the development of vaccines, China is one step ahead of most other countries. According to Zhang Boli, another expert on epidemic prevention and control, three candidate vaccines are under clinical test, with one already in phase two clinical trials. They are, however, far from being available to everyone. "Even if these vaccines prove successful, the next challenge would be producing enough of them. It takes time," said Zhang in a program on China Central Television on May 17.
Zhang urged the public to remain prepared for a situation that the epidemic may last much longer than what people previously expected. "We may not be able to take off our masks soon," he said.
(Print Edition Title: Steady Road To Recovery)
Comments to hufan@chinafrica.cn