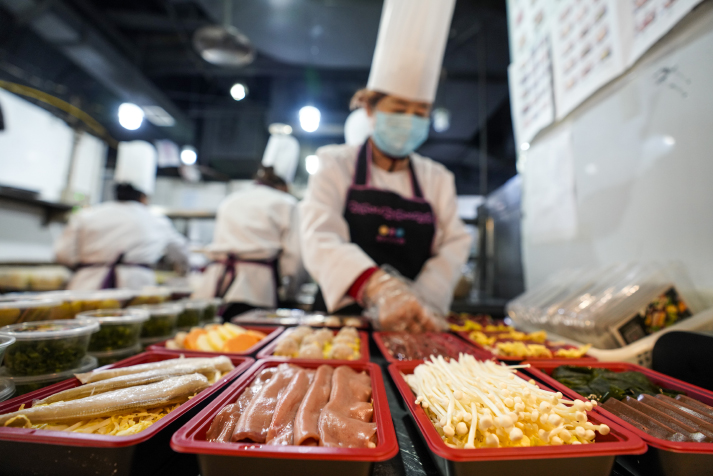 A chef prepares hotpot ingredients in a restaurant kitchen in Chongqing for takeout delivery to customers (XINHUA)
After months of being cooped up at home and cooking for themselves due to the COVID-19 epidemic lockdown regulations, foodies couldn't wait to head out to their favorite restaurants and indulge their culinary desires as the catering industry resumed normal operations in late March.
During the five-day May Day Holiday, Malubianbian, a well-known restaurant in Beijing, was bustling with diners with face masks.
"We restored dine-in service in late March and ever since have been seeing an increase in customers," said Zhang Huaiyu, a waiter of the restaurant.
With the COVID-19 outbreak coming under control in China, 95.8 percent of shopping malls and 80 percent of catering businesses have resumed work as of March 27, according to the Ministry of Commerce. Restaurants reopened to the public have seen sales recover, though with some changes.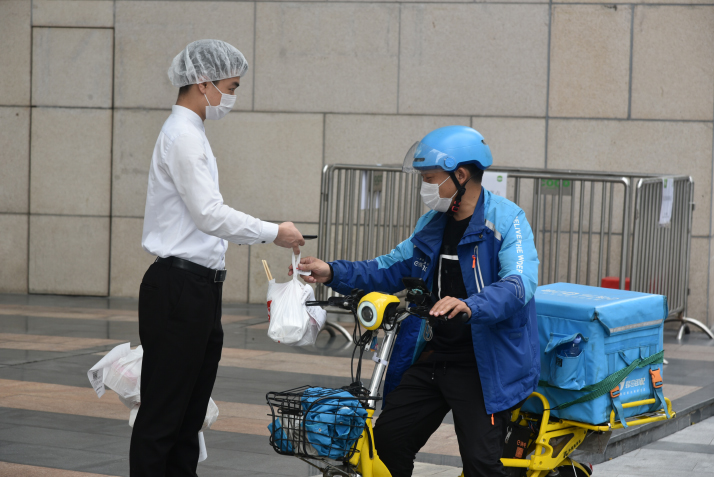 A restaurant employee (left) hands over a food parcel to a deliveryman in Shenzhen, Guangdong Province, on March 12 (XINHUA)
Safety first
Before going into Beiping Shengshi, a roast duck restaurant in Beijing, customers are requested to show their "health-status code," a QR code with three colors - green, yellow or red - which grades their health status, based on their health and travel history. People with a green health code are free to roam in public places, such as restaurants.
Also, customers need to undergo temperature checks and fill in their contact information in case the health authorities need to conduct epidemiological investigations.
"These measures do not bother me, but are reassuring actions to ensure everyone's safety," Zhang Qifan, a customer, told ChinAfrica.
Walking inside, to minimize the risk of spreading the virus, the restaurant is seating customers farther apart, keeping at least one meter between tables.
What is also noticeable are information notices such as, "Do not enter without wearing a mask," or "The area is disinfected." Li Nuo, the manager of the restaurant, told ChinAfrica that the restaurant is thoroughly disinfected three to four times a day.
Across China, most restaurants, since resuming dine-in services, have limited customer numbers at 70 percent of normal capacity and rearranged their dining halls so that there is now more space between tables.
"All these measures are necessary to maintain the safety of consumers and safe operations of the restaurant," said Li.
On April 28, a press conference on the prevention and control of the COVID-19 epidemic was held in Beijing. Liu Meiying, Deputy Director and spokesperson of the Beijing Municipal Commerce Bureau, released a new version of the guidelines for catering service enterprises, detailing prevention and control requirements.
Liu specified that people with a normal body temperature and a green "health-status code" can enter a restaurant. And for food and beverage stores located in shopping malls, as long as unified measures are in place at the entrance of shopping malls, stores can determine their own inspection measures.
The new guidelines reiterated one-meter space between tables. Meanwhile, the maximum capacity of a private dining room should be indicated in a prominent position, and cleaning, disinfection and ventilation must be carried out after the customers leave.
As an offline consumption and face-to-face service industry, the catering industry has a large number of employees and customer flow, so special attention needs to be given to strengthening epidemic prevention work. "The catering industry should make safety a top priority in business management," said Wang Hongtao, Deputy Secretary General of the China Chain Store and Franchise Association.
Delivery helps recovery
According to a report issued by the China Cuisine Association, the nation suffered a 93 percent closure rate of all its restaurants during the COVID-19 outbreak, with 70-plus percent of restaurant chains having closed all their outlets.
The catering industry has become one of the most affected industries during the epidemic as a large part of the population have been confined indoors due to restrictions meant to contain the spread of the virus.
To offset part of their business losses, restaurants that previously relied heavily on dining-in revenue started to take innovative actions, such as developing and expanding takeaway business, launching semi-cooked dishes and distributing on e-commerce platforms, hoping the moves could help with overhead costs such as rent and labor.
Taking Xibei Catering Group, a Chinese restaurant chain which specializes in delicacies from northwestern China, for example, during the epidemic, 80 percent of its more than 400 outlets had to close. However, the group is working on delivery service, and about 200 outlets are offering takeaway.
According to Jia Guolong, CEO of Xibei, during the epidemic, though the overall turnover of the company dropped by 87 percent, takeaway business and online sales of more than 100 kinds of food ingredients did bring new income, accounting for more than 80 percent of total revenue.
Some restaurants have been selling semi-cooked products through online platforms to increase income. Restaurant chains like Sichuan-style Meizhou Dongpo made its most popular dishes among walk-in diners into semi-cooked products. All the ingredients are readily available, and customers only need to boil them together to enjoy a meal.
On-demand food delivery platforms are playing a vital role in helping the catering industry resume normal operations and accelerate digitalization progress.
China's top online food delivery service platform Meituan Dianping has initiated a project providing catering services for enterprises that resumed operations during the epidemic. Over 150 catering companies in Beijing, Shanghai and Shenzhen have joined the program.
E-commerce giant Alibaba's Freshhema, a fresh food retailer that offers delivery services, proposed the idea of "sharing employees" with restaurants to solve the dual problems of the shortage of deliverymen and surplus of restaurant staff.
"While developing their takeaway business may be a contingency plan for many restaurants at the moment, it could be an area they could explore in the future," said Liu Wenjun, Deputy President of a cuisine association in east China's Shandong Province.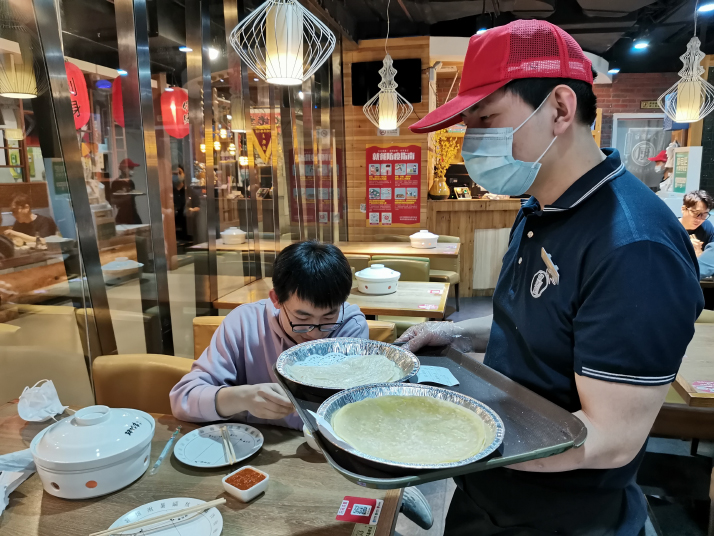 A waiter wearing a facial mask serves customers at a restaurant in Beijing on May 2 (XIA YUANYUAN)
Livestream catering
Livestreaming, already a booming industry in China, is also facilitating the catering industry in its recovery.
Taobao Live, Alibaba Group's livestreaming platform, provides a way for restaurants to reach consumers amidst the coronavirus outbreak.
Meizhou Dongpo, fast food franchise Zhen Kung Fu, and hotpot chain Xiabu Xiabu have been livestreaming through Taobao Live to broadcast cooking tutorials in restaurant kitchens for viewers.
Meizhou Dongpo, with offline businesses at a standstill, began encouraging its chefs to appear in livestreaming to show viewers how to make delicacies.
This helped to close the distance between chefs and consumers and could allow direct feedback on things such as popular dishes. It also directed consumers to products in the chain's online store, creating another revenue stream for the restaurant. On February 17, after its head chef's livestreaming, the sales of Meizhou's online store increased 14-fold over last year.
It proved that livestreaming could be a potential way for catering industry to promote brands and mitigate losses during the epidemic in China.
(Original Title: Retaining Customers)
* Comments to xyy@chinafrica.cn