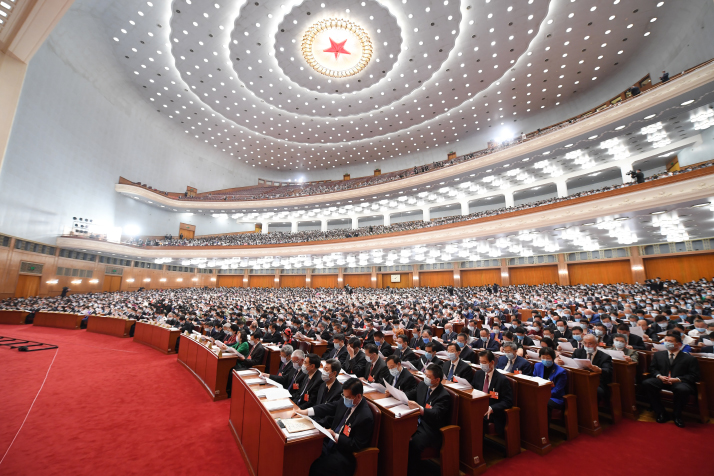 The Third Session of the 13th National People's Congress opens at the Great Hall of the People in Beijing on May 22 (XINHUA)
This year's Two Sessions of China, postponed for more than two months, bear a special meaning as the unprecedented coronavirus epidemic complicates the nation's efforts to eradicate absolute poverty and complete building a moderately prosperous society in all respects.
On May 21, the Two Sessions, the annual meetings of the National People's Congress (NPC), China's top legislature, and the National Committee of the Chinese People's Political Consultative Conference (CPPCC), top political advisory body of the country, convened at a time when China faces mounting pressure to achieve the goals this year against the backdrop of the coronavirus outbreak and global economic recession. Though delayed, this year's Two Sessions will serve as a confidence booster and a new starting point for the nation.
On May 22, Premier Li Keqiang delivered the Report on the Work of the Government at the opening meeting of the Third Session of the 13th NPC. For the first time in a quarter century, the premier announced that China has set no specific economic growth target for 2020 because the country will face some factors that are difficult to predict in its development due to the great uncertainty regarding the COVID-19 epidemic and the world economic and trade environment.
However, Li emphasized the country will work to ensure achieving the development goals of winning the battle against poverty and completing the building of a moderately prosperous society in all respects this year.
Challenging year
China's economy remained stable overall in 2019. The country's year-on-year GDP growth came in at 6.1 percent, contributing to about 30 percent of the growth of the world economy, according to the report.
The report shows that in the year, Chinese people's living standards continued to improve, 13.52 million new urban jobs were added, and the surveyed unemployment rate was below 5.3 percent. Per-capita disposable personal income topped 30,000 yuan ($4,286). Basic old-age insurance, health insurance, and subsistence allowance standards were raised.
These were achieved despite difficulties and uncertainties caused by weak world economic growth, intensified international economic and trade frictions and downward pressure on the domestic economy over the past year, according to the report.
The risks and challenges in 2020, however, are "unprecedented." The shock of the COVID-19 epidemic has sent the world economy into severe recession, disrupted industrial and supply chains, and caused a contraction in international trade and investment and volatility in commodity markets.
China saw its GDP contract by 6.8 percent year on year in the first quarter of 2020, which is "a necessary and worthwhile cost China has paid to save lives."
Currently, domestic consumption, investment and exports have declined and pressure on employment has risen significantly. Enterprises, especially micro, small and medium-sized businesses, face growing difficulties.
The premier asked governments at all levels to be prepared for a tight budget for government spending. Spending for the Central Government will see negative growth, with over 50 percent cut in non-urgent needs. "We must spend the money where it is most needed," he said.
Key focuses
On the basis of a comprehensive assessment of the current situation, Li said the nation will focus on "ensuring stability on six fronts and security in six areas."
The policy of "ensuring stability on six fronts" refers to stabilizing employment, finance, foreign trade, foreign investment, domestic investment and expectations; and the policy of "security in six areas" refers to safeguarding employment, people's livelihoods, development of market entities, food and energy security, stable operation of industrial and supply chains, and the smooth functioning of society. By implementing these policies, "we will be able to keep the fundamentals of the economy stable," Li said.
These priorities are an important reason why no specific economic growth rate was set. "Not setting a specific target for economic growth will enable all of us to concentrate on ensuring stability on the six fronts and security in the six areas," Li said.
Stabilizing employment and ensuring living standards was put at the top of the agenda. The government has set the target of over 9 million new urban jobs, a surveyed urban unemployment rate of around 6 percent, and a registered urban unemployment rate of around 5.5 percent, as well as a consumer price index (CPI) increase of around 3.5 percent.
The epidemic has brought great pressure on employment. While many companies are cutting jobs to survive the hard times, 8.74 million new college graduates will join the job market this year. As part of the efforts to ease the imminent pressure, the Ministry of Education announced a plan during a press briefing on February 28 to admit an additional 189,000 students to post-graduate education.
The government work report states that the key to stabilizing employment is to actively create new jobs and help unemployed people find work, while striving to keep existing jobs secure. Proposed measures include increasing employment support for key sectors and key groups, supporting flexible employment and providing more vocational skills training opportunities.
The report also places high importance on supporting businesses, especially micro, small and medium-sized businesses, which are the main source of jobs. The measures introduced include a cut in tax and fees, which may lead to additional savings of more than 2.5 trillion yuan ($350 billion) for businesses throughout the year, a reduction in production and operating costs, such as electricity and rent, and an increase in financial support.
Poverty eradication
The year 2020 is crucial for China as it is the final year to achieve the target of poverty eradication and realize the goal of building a moderately prosperous society in all respects.
Just a few days before the curtain was raised for the Two Sessions, Atulie'er, a cliff-top village in Liangshan Yi Autonomous Prefecture in Sichuan Province's Zhaojue County, ushered in its big day. Eighty-two households in the village moved to new apartments in the county seat as part of the nation's poverty relief program.
The village, atop a 1,400-meter cliff, was faced with poor accessibility, which hindered its development and created other problems. Villagers there could only get to the nearest market several kilometers away once a week to sell pepper and walnuts and to buy necessities by using an 800-meter zigzag network of rattan (palm stem) ladders with no railings.
Benefiting from the government's tailored poverty relief policies, relocated villagers will live in new apartments that have kitchens and toilets with running water, in an area 75 km away from the county. Besides, after the 84 households move, Atulie'er will see new tourism development. A cable car will be installed to transport tourists to the village, and nearby canyons will be developed to increase income of villagers.
The village's story is just one of the many examples of poverty alleviation in China. Since the 18th National Congress of the Communist Party of China in late 2012, the country has achieved significant progress in poverty reduction, with over 93 million rural people lifted out of poverty over seven years. The poverty incidence has dropped from 10.2 percent to 0.6 percent during the period, and the per-capita net income of registered poor households nationwide increased from 3,416 yuan ($481) in 2015 to 9,808 yuan ($1,381) in 2019.
However, there were still 5.51 million impoverished people by the end of last year. At the same time, COVID-19 added to challenges.
The premier said China will channel greater energy into eliminating poverty in all remaining poor counties and villages, and ensure rural migrant workers from these areas have stable jobs in places where they work.
First, China will work to bolster agricultural production. The area of high-standard cropland will be increased by 5.33 million hectares and a recovery in the production of hogs will be promoted. Second, China will create more channels for rural residents to find employment and increase their incomes. The government will help rural residents seek employment or start businesses in places close to their homes, and expand work-relief programs to ensure that those who return to their homes have a job and income.
Further opening up
Though faced with changes in the external environment, China will stay committed to open wider to the world, keep industrial and supply chains stable, and make opening up a catalyst for reform and development, Li said.
"As the world's second-largest economy, China's post-pandemic revival plan is vital for global economic recovery," Yang Baorong, Deputy Director of African Studies of the Institute of West-Asian and African Studies at the Chinese Academy of Social Sciences, told ChinAfrica.
Yang expressed his confidence in China's economy. China's industrial output increased 3.9 percent in April from a year earlier. "After a hard-fought victory over the epidemic, this is a positive signal for both China and the world," he said.
The signs of post-lockdown recovery in China soothed investor sentiment somewhat and also sent a positive signal for African countries in view of the two sides' close economic ties.
According to the government work report, China will focus on quality in the joint pursuit of the Belt and Road Initiative, firmly safeguard the multilateral trading regime and actively participate in the reform of the World Trade Organization. In addition, the country will make good preparations for the Third China International Import Expo, work actively to expand imports, and foster a large globally oriented market of higher standards.
The current challenge is the damage to international trade and economic cooperation caused by the pandemic, said Zhang Zhongxiang, an expert with African Studies Center of Shanghai Normal University.
The difficulties, however, are temporary. Zhang is optimistic about post-pandemic China-Africa cooperation. "China-Africa cooperation will be stronger, because it is mutually beneficial and further reinforced by their close cooperation in fighting COVID-19," he said.
Hu Biliang, an expert on the Belt and Road Initiative with Beijing Normal University, sees China's commitment in opening up a much needed opportunity for Africa in this difficult time. "African countries need to seize the opportunity to enlarge exports and enhance industrial capacity cooperation with China to eliminate the impact of the pandemic," he told ChinAfrica.
(Print Edition Title: The Path Forward)
Comments to xyy@chinafrica.cn and hufan@chinafrica.cn