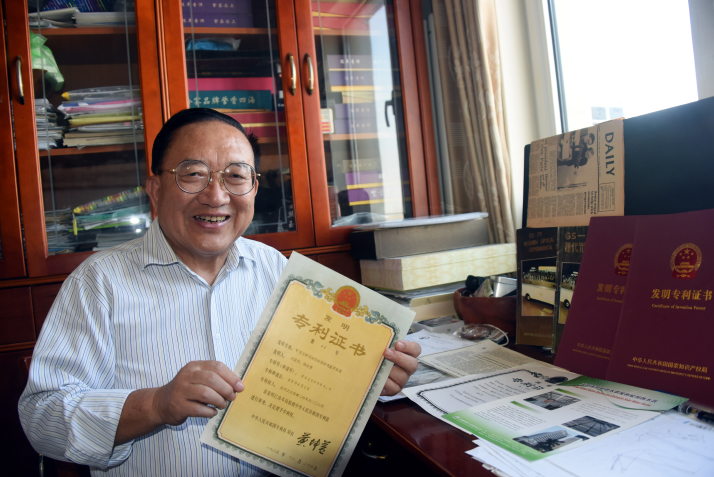 Hu Guohua shows the first Chinese patent certificate he obtained 35 years ago (CNSPHOTO)
June 3 marks the 40th anniversary of China's accession to the World Intellectual Property Organization (WIPO). Over the past four decades, remarkable achievements have been made in China in promoting intellectual property protection.
Establishing a patent system
After China launched the policy of reform and opening up in the late 1970s, its trade with the rest of the world rapidly picked up. At the time, the country operated a reward scheme for inventions and there was not a patent system. Because of the absence of a patent system, counterfeiting behaviors could not be effectively punished, and on the other hand rights and interests of inventors could not be effectively protected, said Xia Shuhua, a researcher at the Institute of Law at the Chinese Academy of Social Sciences.
As an example, Xia cited the case of Yuan Longping, known as "the father of hybrid rice." The U.S. tested his planting techniques in the late 1970s and the results were compelling. But as the U.S. was getting ready to commercialize the techniques, they realized that Yuan did not actually own any of the patents. Indeed, China had 46 technologies related to hybrid rice planting and had made 42 public, without benefiting from any of them. Ironically, a few years later, Yuan encountered financial difficulties when he tried to further his development of hybrid rice technology.
This is why the establishment of a patent system found its way onto the agenda of Chinese policy makers at the time. A patent bill development group was created, of which Xia became a member.
However, some people opposed it at that time with concerns that this system may be against the socialist characteristics of China. On this subject, Xia published an article in People's Daily in June 1980, in which she argued in favor of the patent mechanism, even causing a little controversy.
After some time of discussion, then Chinese leader Deng Xiaoping closed the debate by saying that China should put in place its very own patent system, the creation of which conforms to the spirit of reform and opening up. The legislative process was also accelerated. On March 12, 1984, the bill was passed, opening a new chapter in the history of intellectual property protection in China.
Value of knowledge
On April 1, 1985, the first day that China's Patent Law took effect, the Chinese Patent Office received 3,455 patent applications from all over the world. Such enthusiasm was hailed as "a new world record in the history of patent filings" by Arpad Bogsch, Director General of WIPO at the time. Among the applicants was Hu Guohua, a retired engineer with the then Ministry of Aeronautics and Astronautics of China. Hu stood in line for three days and nights in order to fulfill his dream of becoming the first person to file a patent application in China.
According to Hu, the establishment of the patent system has made it possible to enhance knowledge and rekindle passion for creativity. "Under the old system, inventions belonged to everyone. You only needed a covering letter to get someone else's research results," he recalled. "This practice, though seeming conducive to the dissemination of knowledge, actually hampered innovation. A real invention requires a lot of energy from researchers."
He believes that intellectual property protection inspires confidence and fuels enthusiasm for innovation among today's youth. "Under the protection of the Patent Law, inventions bring not only a sense of accomplishment to individuals, but also tangible benefits once they are marketed."
Hu is now 78 years old, but he is still active on the forefront of creation. During more than 30 years following his first patent filing, he submitted nearly 30 applications, of which more than 10 were validated. China has seen an even bigger wave of applications in the recent years. The number of patents filed grew 313 times in 34 years, rising from 14,000 in 1985 to 4.38 million in 2019.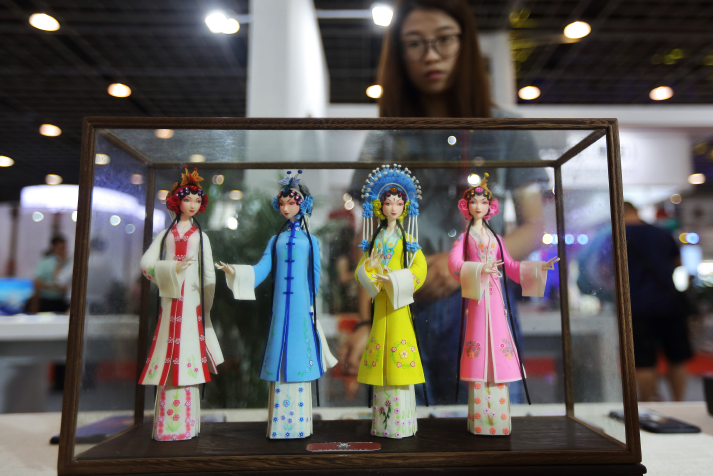 Visitors appreciate the Peking Opera cultural and creative products on display in the 2017 Jiangsu (Nanjing) Copyright Trade Fair in Nanjing, Jiangsu Province, on September 15, 2017 (CNSPHOTO)
Key to competitiveness
In the past, Chinese products were said to be mediocre and unoriginal. Dong Mingzhu, President of Zhuhai Gree Electric, a Chinese appliance manufacturer founded in 1989, wanted to change that narrative.
Up to 2005, Gree Electric had no control over key technologies and did not own any patent. Like most of its Chinese counterparts, the company relied on imported compressors. "What saddened me most was that even when we bought obsolete machines, we still had to pay them royalties," she said.
In 2005, Gree Electric started manufacturing its own compressors and set up a research and development (R&D) team, which today is made up of 14,000 researchers working in 15 institutes. Such a high number of R&D personnel may seem a bit disproportionate for Gree Electric, which has a total of 88,800 employees. "We are not opposed to the introduction of overseas technology and talent, nor are we against collaborating with companies from foreign countries," she said. "We are nevertheless convinced that the technologies that we create by ourselves are the most precious ones."
Thanks to its independent R&D efforts, Gree Electric now owns patents over a number of technologies related to key components. In a national ranking in 2019, the company came sixth in terms of the number of patents granted. As the leader in the category of household appliances, it made into the top 10 of the annual ranking for four consecutive years.
For Dong, innovation is the key leading to business competitiveness, and intellectual property protection aims at shielding this creative engine. Seen as an influential figure in the national field of intellectual property, Dong has a policy of zero tolerance when it comes to violation of intellectual property rights.
In April 2018, the Guangzhou Intellectual Property Court ruled in favor of Gree Electric. Its competitor AUX was required to pay 46 million yuan ($6.48 million) in compensation for economic loss as a result of patent infringement. "Compared to the billions of yuan we spend on R&D each year, these compensations are not very significant. The aim that we prosecute counterfeiters is to change their mentality, bring them on the path of innovation, and create a fairer environment," said Dong.
Copyright compliance
On September 16, 2019, popular Chinese singer Jay Chou released his new song Won't Cry. Over the next 18 days, the song sold 10.28 million copies on music streaming apps owned by the Tencent Music Entertainment Group. Huang Jie, Copyright Enforcement Officer at Tencent Music, said that Chou's feat is far from an isolated case in recent years.
Before joining Tencent, Huang worked at Universal Music, one of the four leading record companies, and has approximately 20 years of professional experience in copyright management as part of the music industry. She has witnessed the decline of physical music formats since 1999 and the revival of the Chinese music industry in digital format from 2015. She believes that this trend is closely linked to the issue of piracy.
"In 2008, the Chinese music industry was a victim of massive piracy, while in 2018, the rate of copyright compliance reached more than 96 percent," said Huang. She attributed the change to the joint efforts of China's National Copyright Administration and the main industry players.
Indeed, in recent years the Chinese Government has stepped up its fight against copyright infringement on the Internet. According to statistics released by the administration, during its 2019 copyright campaign, 1.1 million piracy-related links were removed and 10.75 million pirated products were confiscated. At the same time, Huang is pleased to see that more and more young people are ready to pay for online entertainment services (video, music or games). According to a report by IResearch, a research and consultancy group focused on the Chinese market, the number of paid music subscriptions on the Internet increased by 50 percent in 2019 in China.
An Internet user who goes by the name Dashuaishuai, born in the 1990s, agrees with that. "I subscribe to five music streaming services. I think copyright compliance is firmly embedded in the minds of young Chinese people. Online content is also the product of human creativity. If you want to appreciate it, you have to pay," he said.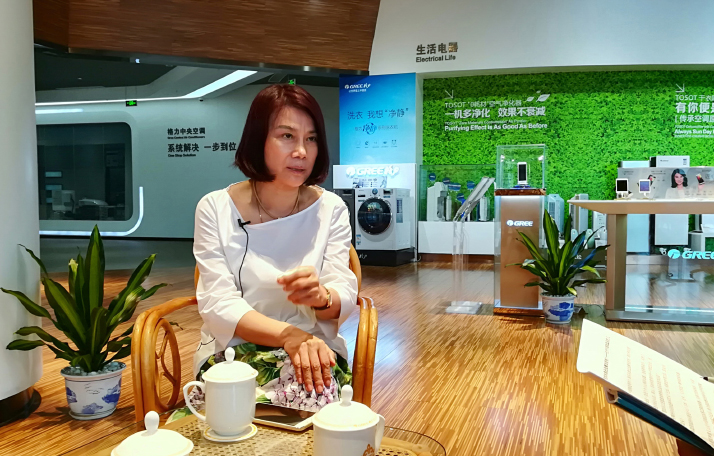 Dong Mingzhu, President of Zhuhai Gree Electric, a company ranked sixth in terms of the number of patents granted in a national ranking in 2019 (XINHUA)
Attractive market
It will be almost three decades since IBM, a U.S. multinational firm specializing in hardware, software and IT services, entered the Chinese market. The development of intellectual property protection in the country, especially over the past 10 years, has had a profound impact on IBM's development path in China.
According to Zheng Minjia, who is in charge of intellectual property at IBM for Asia-Pacific and Greater China, the implementation of a national intellectual property strategy since 2008 has led to a noticeable improvement in related laws and regulations. "The passage of the patent law, the trademark law, as well as the anti-monopoly and anti-unfair competition regulations are all steps in the right direction," she said.
The IBM intellectual property team in China, of which Zheng is a member, was put in place in 2000. It has quickly grown to become IBM's largest intellectual property team outside the U.S. IBM has nearly 5,000 valid invention patents in the Chinese mainland, the largest number outside the U.S. This reaffirms the company's confidence and the scale of the attention its gives to intellectual property protection in China, she said.
Zheng said she was impressed by the rapid increase in the amount of compensation for intellectual property infringement given in recent years. In 2016, the average compensation ruled by the Beijing Intellectual Property Court for patent prosecutions was 1.38 million yuan ($194,300) in first instance. By comparison, three years earlier, the amount was just 80,000 yuan ($11,266) nationwide.
"We hope that China can further facilitate the industrial exploitation of intellectual property, improve the quality of its patents and remain vigilant about the intellectual property issues emerging in the field of new technologies," she said.
(Print Edition Title: Creative Impetus)
Comments to lixiaoyu@chinafrica.cn