A secretary (middle) of a village committee of the Communist Party of China in northwest China's Shaanxi Province introduces honey products via livestreaming on May 15. In three hours, nearly 150,000 people watched the livestream and 1,000 kg of honey were sold. (XINHUA)
Li Xuying is all pumped up: She just finished her live broadcast session. Still in her 20s, Li works as a host on Taobao, an e-commerce platform run by Alibaba Group. On April 21, around 420,000 fans watched her live broadcast. In just half a day, she sold 100,000 yuan ($14,000) worth of black mushrooms, generating about one order every 10 seconds.
"I am very grateful to all our fans for their support. This is the busiest and most exciting day I have had as a host," Li said.
Her live broadcast studio is located in Zhashui County in northwest China's Shaanxi Province. Located in the heart of the Qinling Mountains, Zhashui was previously ranked among the poorest counties in China. The region has abundant production of high-quality black mushrooms, but sales were limited due to lack of advertising and limited sales channels. In 2019, e-commerce company Qinlingtianxia began exploring avenues to sell black mushrooms through livestreaming. Gradually, the number of orders increased.
According to Li, who works at Qinlingtianxia, livestreaming sessions account for more than 85 percent of current sales through Qinlingtianxia's store on Taobao. In March, sales were 30 times higher compared to the previous month. In February 2020, Zhashui was officially taken off the list of China's poorest counties.
On April 20, during his inspection trip to Shaanxi Province, Chinese President Xi Jinping came to Zhashui. He visited the livestreaming studio, where he had a talk with several villagers, including Li. Xi said that e-commerce was an emerging sector with great potential that could promote sales of agricultural products, help rural dwellers lift themselves out of poverty and facilitate rural revitalization.
Inevitable trend
The changing consumption habits and growing role of innovation in the economy are some of the underlying trends that explain the success of livestreaming.
"The popularity of livestreaming marks the beginning of a new era of consumption, and there will be a gradual convergence between online and offline stores," said Song Xiangqing, Vice President of the Commerce Economy Association of China. According to Song, this new sales channel makes it possible to introduce new products to consumers instantly and interactively, greatly enhancing the overall consumer experience.
In several regions of China, the COVID-19 epidemic blocked many of the traditional sales channels for agricultural products. But, livestreaming platforms have enabled many of the affected farmers to start selling their products again, without leaving the comfort of their home.
"Sales of agricultural products through livestreaming platforms have played an important role in the fight against poverty in recent years, especially during the epidemic. This new way not only helps sell products from poor areas and increase farmers' incomes, but also introduces urban dwellers to quality and green agricultural products," said Chen Hongbo, Director of the Department of Policies and Regulations at the State Council Leading Group Office of Poverty Alleviation and Development.
According to statistics published by Alibaba Group, at the end of March 2020, more than 60,000 Chinese farmers were registered as hosts on the Taobao platform. Fields, greenhouses, warehouses and even fishing boats have been transformed into livestreaming studios. The fresh food channel on Taobao alone, which brings together 168,000 types of agricultural products from 832 poor counties in China, has made 2.5 billion yuan ($352 million) in sales since January.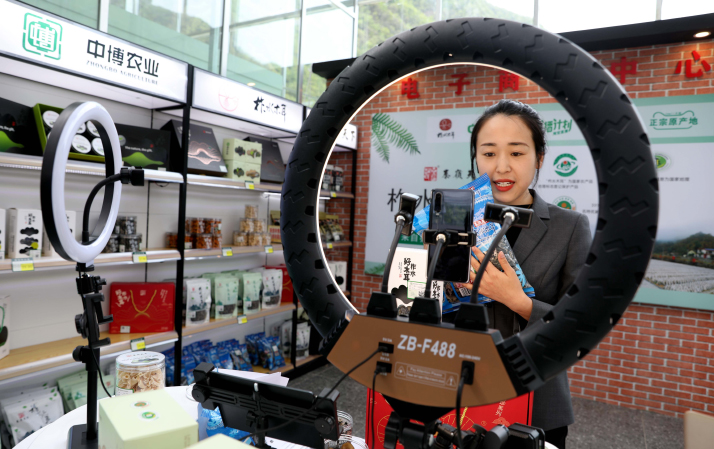 Li Xuying, a saleswoman from the e-commerce company Qinlingtianxia, introduces black mushrooms during a livestreaming session in Zhashui County, northwest China's Shaanxi Province, on April 21 (XINHUA)
Indispensable support
In order to help farmers better adapt to this new kind of sales channel, governments at all levels and main e-commerce platforms in China have taken various measures to support these new hosts, providing technical training or organizing events dedicated to the sale of products from the country's poorest regions. In addition, a number of government officials have put their shoulders to the wheel.
Wu Yusheng is the first secretary of the Gaibao Village Committee of the Communist Party of China, in southwest China's Guizhou Province. He is responsible for helping local villagers escape poverty and raise their income. As soon as he was dispatched to Gaibao Village in February 2018, he began shooting short videos showing the rich traditional culture of the Dong ethnic people and their handicrafts and agricultural products. These videos were then uploaded on Kuaishou, a short video application.
"I never thought it was possible, but the first video was viewed more than 800,000 times. In less than a month, we had tens of thousands of fans. Today, the whole village has managed to lift itself out of poverty," Wu told ChinAfrica.
In October 2019, Kuaishou Technology launched a project to train broadcasting talent for 10,000 villages. According to Song Tingting, Vice President of Kuaishou, the platform has more than 200 million daily users. Since 2019, more than 19 million people have generated income on Kuaishou, 5 million of whom live in China's poor areas.
Alibaba is also a pioneer in the field of poverty reduction in China. As early as December 2017, the company set up a poverty reduction fund with a specific focus on e-commerce. In January 2019, a project to train farmers to help them become broadcasters was launched by Alibaba, with the aim of helping 1,000 farmers in 100 counties to achieve a monthly income of more than 10,000 yuan ($1,400). According to Qi Lan, Project Manager at Alibaba, more than 1.6 million training sessions for farmers were held in 2019, and 100 training centers will be built in 16 provinces of China to help villagers raise their income through e-commerce in 2020.
Of course, as their popularity increases, livestreaming platforms also face a number of challenges. According to Zhu Wei, Deputy Director at the Communication Law Research Center of China University of Political Science and Law, livestreaming platforms should pay more attention to the quality of their products, while the government should better clarify their responsibilities and obligations, while strengthening oversight to ensure their healthy and sustainable development.
(Print Edition Title: Pioneering a New Path)
Comments to lijing@chinafrica.cn