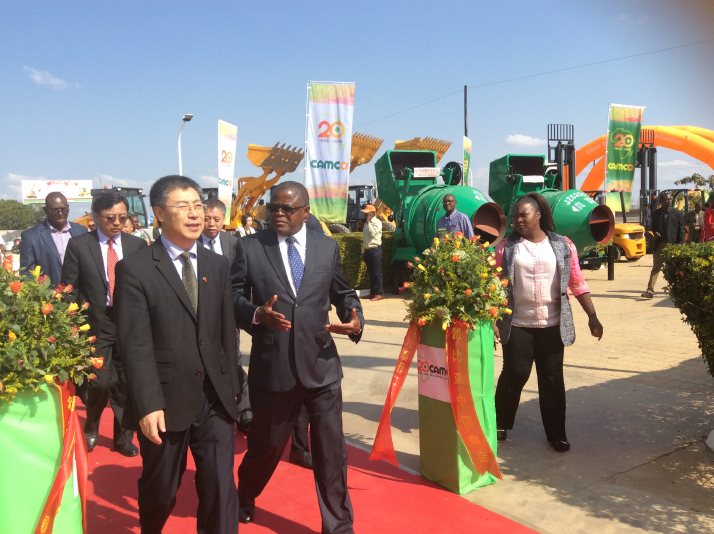 Chinese Ambassador to Zambia Li Jie (left) and Zambian Commerce, Trade and Industry Minister Christopher Yaluma (right) during CAMCO's 20th anniversary celebration (XINHUA)
China's socio-economic emancipation, viewed through the lens of global history, is an integral part of the path of human progress.
As the world's second-largest economy, China has opened its arms to offer developing countries more opportunities in areas of market, investment and growth. Many developing nations in Africa, such as Zambia, have affirmatively responded to that call.
After a realization of the growing importance of China as a business partner both in trade and investment, the Zambia Development Agency (ZDA), in partnership with the International Trade Center through the Partnership for Investment and Growth in Africa project, created a China Desk at the ZDA to facilitate Zambian and Chinese business cooperation in August 2018.
The China Desk also offers strategic and technical guidance to Chinese investors and prospective investors on the investment opportunities available, facilitating trade and possible joint ventures between Zambian and Chinese entrepreneurs.
Tangible trade opportunities
According to latest data from the Chinese Embassy in Zambia, the two nation's bilateral trade volume reached $5 billion for the first time in 2018, a year-on-year growth of 33.9 percent. With China's direct investment in Zambia having maintained a constant growth with an increase of $327 million that year, once again ranking second among African countries, projected Chinese investments that came through the ZDA were in excess of $2 billion, representing about 49 percent of the total estimated investments, according to the ZDA.
It is for this reason that last year, the ZDA invited 12 Zambian companies to market their products at the 2019 China International Import Expo (CIIE) held in Shanghai, China, on November 5-10.
The CIIE is a major initiative of the Chinese Government to firmly support trade liberalization and economic globalization and open the country's market to the world. The CIIE is among the top 10 business forums in the world, showcasing the greatest innovation in the history of international trade.
ZDA Acting Director General Matongo Matamwandi recently noted that Zambian companies were given access to over 3,600 companies around the world with anticipated trading volume of $57.83 billion.
Daisy Meats Ltd., one of the Zambian companies that showcased its beef and pork products at the CIIE last year, believes that the China Desk is a useful and strategic trade platform to help Zambian producers tap into the Chinese market.
Company Director Vanessa Diangamo is elated at how the ZDA, through its China Desk, helped find Chinese market for her meat products.
"We received overwhelming response from the Chinese market as it is one of the biggest consumers of pork products in the world, and we signed a number of memoranda of understanding. What is remaining now is just to sort out logistical issues for us to start exporting our beef and pork products to that country," Diangamo told ChinAfrica.
Diangamo said that the annual CIIE event further opened up trading and export opportunities for most Zambian companies to the massive Chinese market.
She applauded initiators of the China Desk as it will help increase exports for local companies, create jobs and stimulate development through foreign investments and business partnerships in various economic divisions, such as the agro-processing, mining and light manufacturing among other sectors in Zambia.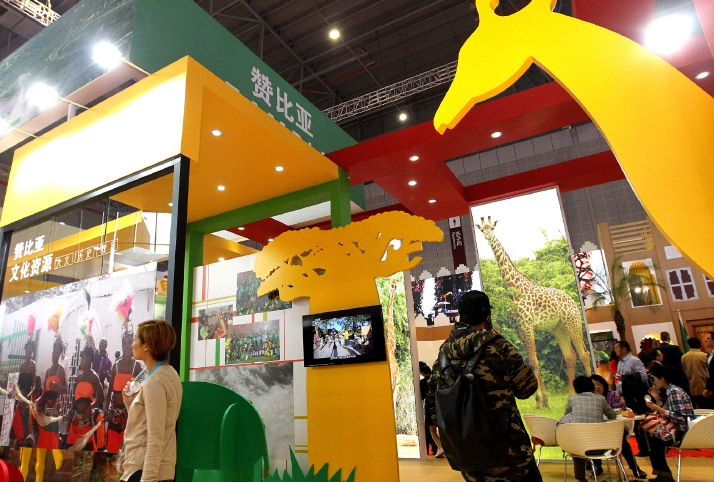 Visitors at the Zambia Pavilion at the Second China International Import Expo on November 6, 2019 (XINHUA)
Benefits to companies
Another local company that attended the 2019 CIIE was Miombo Honey Processing Ltd. Aaron Kantumoya, Director of the company, believes that it is time Zambia has a share of the international export market because the country boasts quality natural honey, a product highly sought after in the Chinese market.
"The ZDA, through the China Desk, has helped us easily find foreign markets. Last year, the ZDA considered us to be among the local companies to participate in the CIIE. It was an awesome experience being given the exposure at a global trade platform which will open more economic doors for us in the future," said Kantumoya.
Lubinda Haabazoka, President of the Economics Association of Zambia, has also voiced his confidence after China's move to further open up its market to products from all over the world.
"We just need to work out ways of tapping into that big market, as Zambia stands to benefit a lot from exporting products to China, given the size of the population of that country," said Haabazoka.
Economic analyst Mambo Haamaundu indicated that since Zambia has a lot of organic foods that go to waste due to lack of proper export mechanisms, the China Desk will help local firms create jobs by means of adding value to their products in readiness for an available Chinese market.
Equally, since China established its diplomatic ties with Zambia on October 29, 1964, Chinese enterprises and financial institutions have also laid a foundation for industrialization and agricultural modernization in the country.
Increased investment
Chinese Ambassador to Zambia Li Jie recently disclosed that over $3.8 billion has been invested in Zambia by Chinese enterprises in various fields, adding that more than 600 Chinese enterprises are currently operating in Zambia.
Li further revealed that last year alone, Zambia attracted about $5 billion in investments, with Zambia's exports to China exceeding $4.1 billion.
CAMCO Group is one of China's leading companies engaged in agricultural and engineering machinery trade in Zambia. It has enabled local agriculture and construction sectors to flourish through its modern equipment.
CAMCO Group has been operating in Zambia for more than 20 years. Its Chairman Li Tie recently told ChinAfrica that from its inception, he saw value in Zambia's ready market for heavy agricultural and construction equipment.
"Zambia is a big country with a population of around 17 million people and that means they need machinery either big or small that can meet their demands to start a business," said Li, adding that the country's social stability and good climatic conditions make it attractive for economic investment.
Reporting from Zambia
(Printed Edition Title: Opening Trade Doors)
Comments to zanjifang@chinafrica.cn