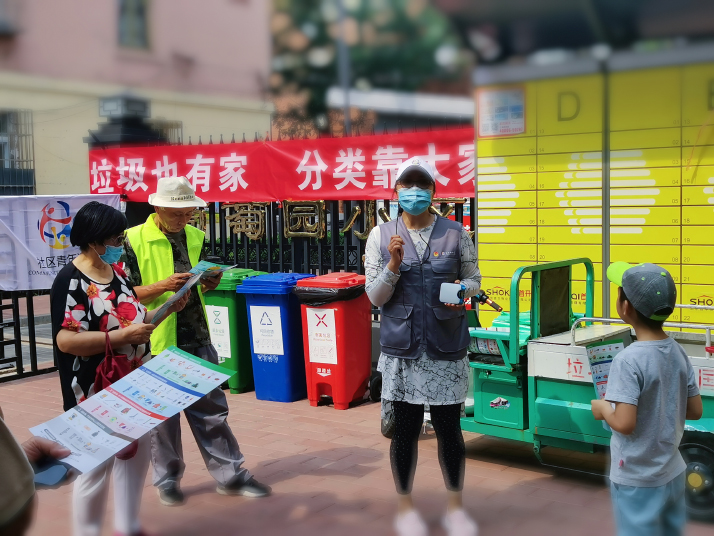 Social Worker Wang Yuan explains trash sorting rules in Zhanlanlu Sub-District in Beijing on June 8 (XIA YUANYUAN)
Wang Yuan, a social worker in Zhanlanlu area in Beijing's Xicheng District, has received a number of queries from residents about the "puzzle" of trash sorting.
Since May 1, all residents in Beijing have been required to classify their household trash into four different categories: kitchen waste, recyclables, hazardous waste and other waste. The policy has had a noticeable effect since its implementation, but some problems have also cropped up.
"Though most residents believe that waste sorting is necessary, some complain about the inconvenience it has brought to their daily lives and think it is too complicated," Wang told ChinAfrica. "But it is understandable as the practice has just started."
In response to community feedback, the municipal government said it would fine-tune the requirements in coming days to encourage residents to participate in creating a better living place.
"Waste sorting is not a one-off campaign, but a long-term effort," said Chang Jiwen, a senior environment policy expert at the Development Research Center of the State Council.
A necessary step
This is not the first time for Beijing to carry out trash sorting. Early in 1996, Dachengxiang Community in Xicheng became the first neighborhood to require residents to classify garbage. At the end of 2011, the city published China's first household waste management regulation, which took effect on March 1, 2012.
However, the previous regulation didn't specify fines for individuals and organizations that failed to sort their garbage properly. "Mere encouragement is not enough for citizens to change their habits," said Hao Zhilan, Director of the Urban Construction and Environmental Protection Committee of the Beijing Municipal People's Congress, at a meeting in late May.
The current policy clearly assigns responsibilities for all parties concerned. Property management companies, for example, should be responsible for the residential communities and alleys they serve while owners of public buildings for their assets.
Individuals who fail to follow the regulations repeatedly will be fined a maximum of 200 yuan ($28) or participate in community service, while organizations will receive a maximum 50,000-yuan ($7,060) fine.
The Chinese Government has set a target to apply compulsory garbage sorting in 46 major cities by the end of 2020. To promote the program, the country invested almost $3.09 billion in 2019.
According to the statistics issued by the Ministry of Housing and Urban-Rural Development in 2017, the annual output of garbage in China had exceeded 200 million tons. If not sorted out properly, there are hazards to soil, air, water sources and health.
Beijing, for example, produces nearly 26,000 metric tons of household waste every day, and its 29 garbage disposal facilities are already operating at their full capacity, according to Sun Xinjun, Director of the Beijing Municipal Commission of Urban Management.
Multiple benefits
According to the China Association of Urban Environmental Sanitation, garbage classification can not only reduce two-thirds of garbage that needs to be disposed, but also cut the disposal cost and usage of land. It is conducive to improving the quality of garbage and making incineration or landfill more harmless.
In neighborhoods across Beijing, four-color garbage bins have been set up. Green bins are for kitchen waste, blue for recyclables, red for hazardous waste and gray for other waste. Residents have to figure out the right classification, especially kitchen waste, which is heavy in weight and cannot easily be incinerated like other garbage due to dampness.
Wang told ChinAfrica that separating kitchen waste from other types can help reduce organic matter in landfills, lessen odor and leachate, and protect incineration facilities.
Nangong Garbage Disposal Plant in Daxing District of Beijing treats kitchen waste in a bio-safe manner. In a 28-meter-deep garbage storage well that can hold 10,000 tons of garbage, two huge grab buckets move up and down together, continuously throwing garbage into two incinerators with a temperature above 850 degrees Celsius. This incineration plant can dispose of 1,200 tons of household waste every day and generate about 350,000 kilowatt-hours of electricity.
"After the trash sorting, the calorific value of waste can be increased by more than 20 percent, which greatly improves power generation capacity of waste incineration," said Yuan Manchang, Deputy General Manager of the plant. "It also contributes to emissions reduction."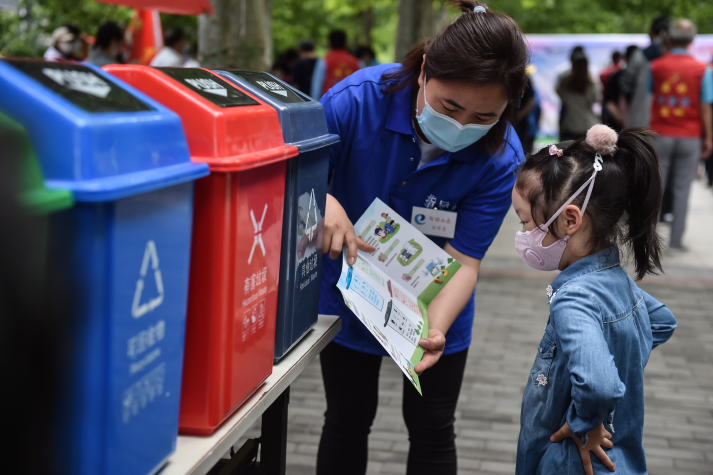 A community worker shows a girl trash sorting rules in a residential community in Beijing on May 23 (XINHUA)
Public participation
It is the first step that is the most difficult.
Gao Guolong, a retiree, has been helping with managing trash collection in a residential community in Fengtai District of Beijing. Now, he is also responsible for monitoring and guiding residents in the community to sort garbage correctly.
"At the beginning, some of the residents were reluctant and couldn't sort the trash properly, but now most people can do it well after we gave them essential tips," Gao told ChinAfrica.
A recent survey carried out by the Ministry of Ecology and Environment revealed that over 90 percent of respondents believed waste sorting is necessary. However, just 30 percent said they were doing "well" or "very well" to address the issue. The poll showed that a lot needs to be done to get this practice embedded in the everyday lives of citizens.
According to Sun, achieving these goals will not be easy as it will require a change in the habits of millions of households and the operations of businesses and government departments.
An effective method adopted by Shanghai, which began mandatory garbage sorting in July 2019, is to incorporate the basic knowledge of sorting trash into reading materials for young children. This approach has been so effective that there have been cases where children have actually guided their parents on sorting their trash.
In addition, to better guide citizens to sort their waste properly, the Beijing Municipal Commission of Urban Management has cooperated with Beijing Gehua CATV Co. Ltd. to launch a mini program called Beijing Garbage Sorting on social media platform WeChat. Smartphone users can either input the name of garbage or take a photo and upload it on the program to inquire which category it belongs to.
(Print Edition Title: Trash to Treasure)
Comments to xyy@chinafrica.cn