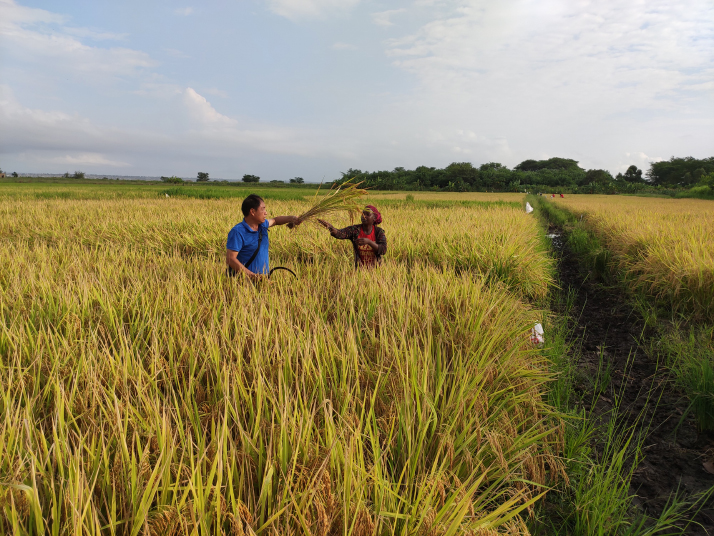 He Changyong and a Mozambican farmer take pre-harvest samples from the trial field (COURTESY)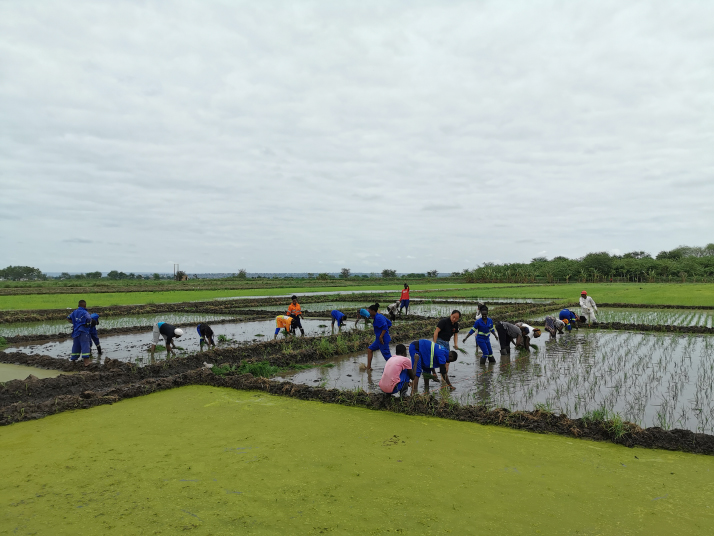 He Changyong conducts a field training session on rice transplanting (COURTESY)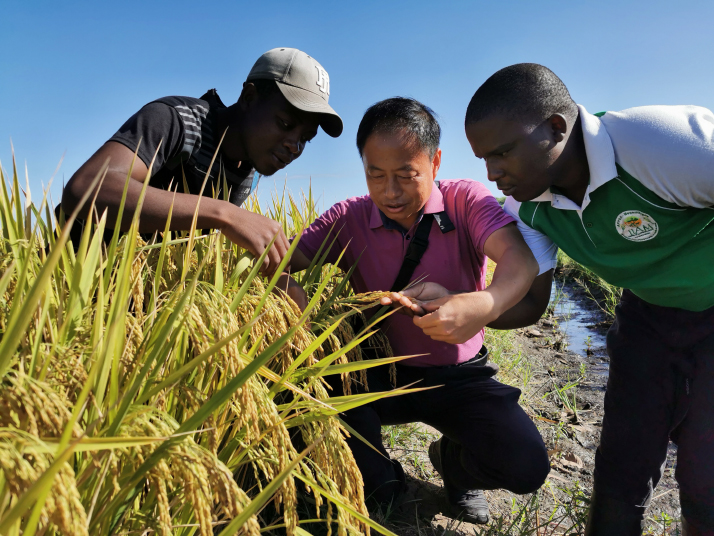 He Changyong teaches rice-growing techniques to Mozambican farmers (COURTESY)
December is the hottest time of the year in Mozambique. Under a hot sun on December 25, 2019, more than 30 technicians and trainees were learning rice transplanting techniques in a test field of the Mozambique Agricultural Research Institute. Most of them had never planted rice before. Their faces were radiant with excitement. Surrounded by the trainees, He Changyong, a Chinese crop expert, was there to guide them and give them technical advice.
Despite the scorching 35-degree Celsius heat, He worked for more than five hours in the field. At the end of the two days of training, his face, neck and legs were burned by the sun. "I am heartily happy to see that they are really learning how to grow rice. It's all worth it," he said. According to He, he and his students were able to start the transplanting work in some 6.67 hectares of the trial field.
With nearly 30 years of experience in crop cultivation, He is the head of the third Chinese expert group under a Sino-Mozambican agricultural cooperation project.
"I was born in the countryside and spent my childhood in the fields. I have been dedicated to agriculture from a young age. My dream is that people around the world do not have to worry about putting food on their table," said He. In 1987, he entered China Agricultural University to pursue his dream. With the development of agriculture in China, the challenge of food security was gradually resolved in the country. However, thinking that many people on the African continent were still facing a food crisis, He decided to dedicate himself to the cause of China-Africa agricultural cooperation.
"I am very proud to be able to take part in this great cause. Although my wife and son are very supportive of my work, I still feel guilty because I cannot be near them. All I can do is contact them as much as possible to make up for my absence," he said.
Since 2004, He has visited several African countries such as Nigeria, Ethiopia and Eritrea to carry out agricultural cooperation projects. On December 27, 2018, he and nine other Chinese agricultural experts with different expertise arrived in Maputo, the capital of Mozambique, to start a new three-year project.
"Food security is a top priority for African countries because it is crucial for their stability and development. I hope that my knowledge and experience can help Mozambique's agricultural development," He said.
Mozambique's potential
When he first arrived in Mozambique, He found that the country had a fertile natural environment and more than 900,000 hectares of arable land suitable for rice cultivation. He was therefore puzzled by the lack of food security in Mozambique, despite the country's excellent land resources. He and his group conducted extensive research on various agricultural areas, and found that the actual area under rice cultivation is only about 300,000 hectares, with a production per hectare of roughly 1.3 tons only.
"In addition to the weak agricultural infrastructure, the main reason is the lack of advanced rice cultivation techniques and human resources with the necessary skills, which is also part of our work," said He. Under the current rice production conditions, it will not be difficult to achieve an average yield of five tons per hectare in the near future, according to He.
To study and explore high-yield cultivation techniques and rice varieties adapted to local conditions, He opened up a 1,600 square-meter rice demonstration field at the Umbeluzi trial field of the Mozambique Agricultural Research Institute. While teaching and sharing rice cultivation techniques, he worked with local agricultural experts to formulate experimental plans and management methods, as well as to organize several technical field training sessions. Thanks to their joint efforts, the highest yield of Chinese hybrid rice in the experimental field reached about 11 tons per hectare, while Macassane – a local rice variety - achieved a yield of more than 10 tons per hectare, more than six times the national average, setting a new record in Mozambique.
"In fact, soil conditions at the trial site were not optimal, so there is still room for improvement," said He. The demonstration field at the Umbeluzi trial field, where rice had not been grown on a large scale for many years, achieved a 30-percent higher yield than the other fields.
In addition, He visited several rice-producing regions in Mozambique, including Chokwe, Saramanga and Marracune, giving advice to local rice organizations and producers, which was greatly appreciated by Mozambican agricultural officials, technicians and farmers alike.
"In a friendly and cooperative spirit, He and his group cooperated very well with us and achieved very satisfactory results," said Daniel Maposse, an official at the Mozambican Ministry of Agriculture and Food Security.
Sustainable development
"Only by sharing technology and cultivating more talent can we achieve sustainable agricultural development," said Maposse. To that end, He and his team have presented a collection of 23 advisory reports for local agricultural officials.
In June 2020, He also compiled a technical manual for rice cultivation, based on practical problems encountered during training and demonstrations. In order to convey more accurate information and help local farmers improve their techniques, he also had the manual translated into Portuguese.
In addition, based on the actual agricultural demand of Mozambique, He and his group carried out training programs in various fields, especially animal husbandry, processing of agricultural products and veterinary medicine. Up to March of this year, the Chinese experts had organized more than 20 training sessions with more than 600 participants, and distributed nearly 800 training manuals.
"We have always followed the concept of teaching people to fish rather than giving them fish, in order to establish an efficient and practical technical system and truly promote the sustainable development of Mozambique's agriculture," said He.
(Print Edition Title: Growing Food Security)
Comments to lijing@chinafrica.cn