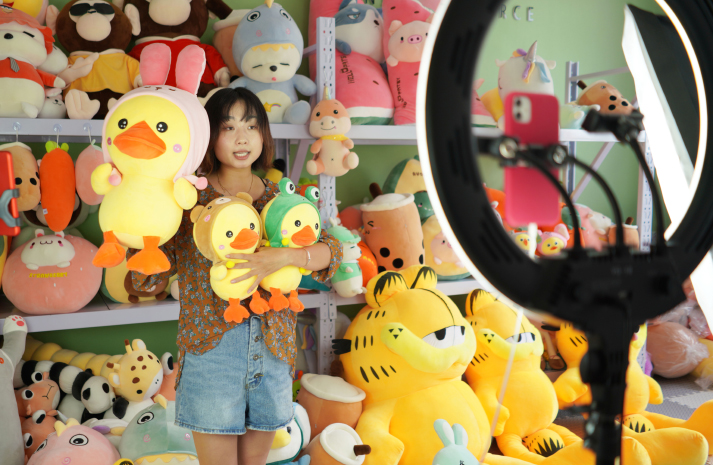 Livestreaming is booming in popularity in China (XINHUA)
It is barely 6 a.m., but Fan Zipeng is already busy in a livestreaming studio. His work will soon begin: to promote and sell products on an e-commerce platform, using his mobile phone to reach a vast audience of potential consumers. The 23-year-old is no longer as nervous as he was during his first show, even if he is not yet a professional livestreaming host.
Fan is a third-year e-commerce student at Yiwu Industrial and Commercial College (YICC) in Zhejiang Province, east China. And livestreaming is part of his school curriculum.
Livestreaming e-commerce emerged on a large scale in China in 2019, but the service witnessed a boom in popularity in 2020 due to the COVID-19 epidemic. Such a boom also meant that a shortage of professionals in this sector became increasingly severe. Universities, businesses and even local governments are therefore making efforts to train livestreamers or to enact preferential policies to encourage people to join this profession.
According to an industry report, in the month following this year's Spring Festival, which fell on January 25, the demand for e-commerce livestreaming hosts increased by 83.95 percent compared to the same period last year. The number of employees needed increased by 132.55 percent, with an average salary of 9,845 yuan ($1,404), much higher than the average salary of new graduates in 2019.
In July, the Ministry of Human Resources and Social Security added livestreaming sales host to the list of officially approved professions. This recognition came with various measures to facilitate the training of new professionals.
University-business cooperation
Fan is just a beginner, but that did not stop him from making his mark. He achieved sales worth around 300,000 yuan ($42,780) on his fourth day of livestreaming.
"Our teachers teach us theories in the classroom, but we also need to put them into practice" he told news website Zgyww.cn.
In fact, his school has been running livestreaming e-commerce courses since 2017. It may seem simple, but it is not enough just to shout "buy" to have success in this field. One needs a wide range of knowledge, such as how to select products, how to prepare what to say, how to operate and manage the business, among other things. Each aspect is a specialty of its own and each member of the livestreaming team must find its place in this chain, according to insiders.
After three years of reform, the courses have been greatly improved and are now more systematic. Classes in the livestreaming studio look like a scene from a wholesale market: Students are doing everything they can to entice fans to buy their products.
"From a business perspective, they need more hosts to sell their products online," said Zhao Chimin, an official with the SME Business School at Alibaba Group, a Chinese e-commerce giant.
In May, a livestreaming training project was launched by YICC and Alibaba, attracting more than 280 Chinese and foreign students. Three students from Malaysia, Peru and Guatemala also attended the training. "The courses are rich in content and useful. I want to master the technique in order to share our products with Chinese consumers," said Ye Yifan, a student from Malaysia preferred to be known by his Chinese name.
According to statistics from the Human Resources and Social Security Bureau of Yiwu, more than 500,000 people work in ​​e-commerce in the city. From January to May, more than 54,000 livestreams were made, with sales worth over 8.09 billion yuan ($1.15 billion).
With increased demand and good job prospects, the YICC E-Commerce Livestreaming School opened on June 15, the first of its kind in the province, following the creation of another one in Yangzhou in Jiangsu Province, east China, the first in the country. The school has already signed training cooperation contracts with three Chinese companies.
The graduates of the livestreaming school are very popular in the job market, and their wages are some of the highest among new graduates. "Our goal is not to train famous influencers on the Internet, but students who are able to find their own place in the chain of the livestreaming industry," said Chen Xuhua, Dean of the E-Commerce Department of the school.
Attracting more and better
According to iiMedia Research, a market consultancy company, the value of the livestreaming industry in 2019 amounted to 433.8 billion yuan ($61.9 billion) in China. The number of livestreaming viewers would be around 524 million in 2020, with a market volume of more than 900 billion yuan ($128 billion). This explains why many local governments have taken steps to attract more professionals to further promote this sector recently.
The Shanghai Municipal Government, among others, has implemented a series of policies to reduce or eliminate rents and taxes, facilitate hukou (household registration) acquisition, and provide training for live­streaming professionals. At the end of June, Li Jiaqi, China's most famous livestreaming host, was given Shanghai hukou, which is extremely difficult to acquire, making headlines all over the Internet.
In Guangzhou, Guangdong Province in south China, livestreaming professionals can receive a grant worth 500,000 yuan ($71,300) when they buy houses. They also have priority to move into apartments reserved for young talents and enjoy preferential policies for their children's education.
"At a time when the economy is slowing down, livestreaming sales are growing rapidly against all odds. This will stimulate the economy and improve business performance," said Li Yougang, Deputy Director of the Guangzhou Livestreaming E-Commerce Association Preparation Group.
However, several problems are still hampering the sector, such as the spread of false information and the difficulty of protecting consumers' rights. In June, the China General Chamber of Commerce drafted standards for industry operations, services and assessment, which regulate, among other things, product quality and the conduct of hosts. On July 1, the standards of conduct for livestreaming sales released by the China Advertising Association went into effect.
As the industry becomes more and more standardized, trust in hosts and practitioners will gradually increase. After a few days of hands-on practice, Fan feels he might have become addicted to this emerging profession. "I think the prospect of livestreaming is promising, so I will continue on this path in the future," he said.
(Print Edition Title: Talents in Demand)
Comments to glj@chinafrica.cn