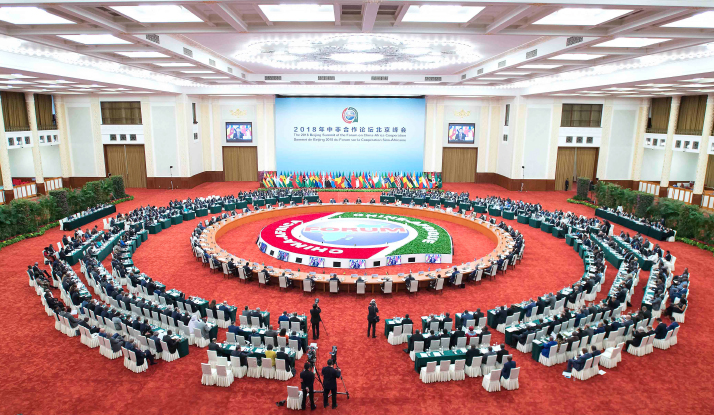 The roundtable meeting of the 2018 Beijing Summit of the FOCAC is held at the Great Hall of the People in Beijing, capital of China, September 4, 2018 (XINHUA)
The biggest challenge to his diplomatic career - that's how Ethiopian Ambassador to China Teshome Toga Chanaka describes 2020.
The unexpected novel coronavirus pandemic resulted in 300 Ethiopian students stuck in Wuhan, the capital city of central China's Hubei Province (where the country's first case was reported). "The embassy phones were ringing off the hook at that time [with our people wanting help and information]," Chanaka recalls.
However, despite the dire situation he also witnessed how the China-Africa partnership triumphs in the face of adversity.
The ambassador called on the students to strictly adhere to the local epidemic prevention regulations, after having personally witnessed the national effort waged by China and how the nation united as one in the face of the health threat.
Chanaka also witnessed how China came to Ethiopia's assistance as his country battled with its own threat of the novel coronavirus disease (COVID-19). Apart from dispatching medical teams and anti-pandemic materials, Chinese President Xi Jinping announced construction of the Africa CDC headquarters in Addis Ababa, capital of Ethiopia, would begin this year ahead of schedule, to help the continent ramp up its disease preparedness and control capacity.
The construction of the Africa CDC headquarters is a commitment by China made at the Forum on China-Africa Cooperation (FOCAC) Beijing Summit in 2018 and a concrete example of building a China-Africa health community.
As FOCAC celebrates its 20th anniversary in October 2020, the results of the platform can be seen across Africa. Over the past two decades, FOCAC has become an important platform for collective dialogue and an effective mechanism for practical cooperation between China and Africa.
And that cooperation has been strengthened as the two sides are now fighting COVID-19 together.
"It is of great importance to ensure the smooth organization of FOCAC activities within this year and to look forward to the meeting in 2021 with a view to better planning for our cooperation in the next stage, and bringing about more tangible benefits to our two peoples," Chanaka told ChinAfrica.
According to schedule, the next FOCAC meeting would be held in 2021 in Dakar, capital of Senegal.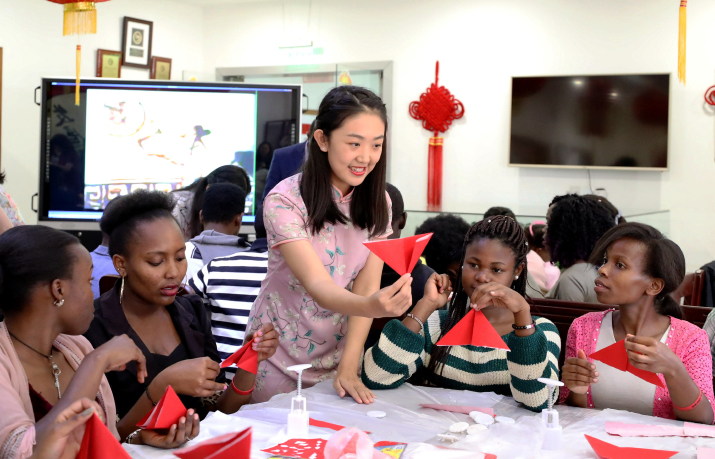 A Chinese volunteer teaches paper-cutting to students of the Confucius Institute at the University of Nairobi on September 21, 2018 (XINHUA)
Healthcare cooperation priority
"Today, we will fly to Ethiopia carrying medical supplies donated by China to Africa. Thank you, China!"
"Safe journey! Long live China-Africa friendship!"
This is part of the motivating dialogue between an Ethiopian Airlines crew and the Guangzhou Airport Control Tower on March 22, which touched many people across both countries. On that day, large quantities of medical supplies donated by China's Jack Ma Foundation and destined to 54 African countries arrived in Addis Ababa, on an Ethiopian Airlines cargo flight.
One message on a label attached to the packaging of materials read: "When people are determined, they can overcome anything." The words are a famous quote of the late President of South Africa, Nelson Mandela.
The focus on healthcare cooperation between China and Africa was reiterated at the FOCAC Johannesburg Summit held in 2015 in South Africa, which listed public health cooperation as a priority area.
Since the outbreak of the COVID-19 pandemic, China-Africa health cooperation has stepped up a notch and the two sides are cooperating with greater solidarity. During the most difficult period in China's fight against COVID-19, African countries provided China with valuable support. Since the spread of COVID-19 in Africa, China has reciprocated, deploying 148 medical staff to 11 African countries to share experiences.
The outbreak and spread of the novel coronavirus also highlighted the significance and necessity for strengthened medical and health cooperation between China and Africa. Therefore, in June, the Extraordinary China-Africa Summit on Solidarity Against COVID-19 was jointly proposed and held online by China, South Africa, the rotating chair of the AU, and Senegal, the co-chair of FOCAC.
Speaking at the online event, President Xi Jinping pointed out that the implementation of the FOCAC Beijing Summit initiatives will be accelerated, and greater priority will be given to cooperation on public health. China will participate in the construction of the Africa CDC headquarters and the two sides will strengthen the cooperation between Chinese and African partner hospitals, said Xi.
Improving lives
Industrialization was highlighted as one of the eight initiatives that will help Africa fast track its economic transformation at the 2018 FOCAC Beijing Summit.
According to Chinese State Councilor and Foreign Minister Wang Yi, in terms of infrastructure, China had helped build more than 6,000 km of railways and roads, respectively, as well as nearly 20 ports and more than 80 large power plants in Africa by 2019. These have boosted the process of industrialization on the continent and enhanced Africa's ability for independent development.
Lloyd Mhone, a resident of Blantyre City, Malawi, had no access to some of the local and international television channels before 2018. However, that changed with the arrival of Chinese decoders and now the shop-owner can access more than 21 channels in the comfort of his home.
In 2018, the Malawi Government launched a satellite TV project with assistance from the Chinese Government aimed at reaching 500 rural communities. The initiative has since become an important means for people living in rural communities to access important information through a variety of satellite TV channels.
"It helped many of us to participate in most of the government activities, such as elections. In the past, it was very hard for us to access most of the local channels. Now, everything has changed so much that we are not behind with current affairs and world entertainment," Mhone told Xinhua News Agency.
By 2019, a number of major Chinese-assisted infrastructure projects had been completed, including the Ethiopia-Djibouti Railway, Kenya's Mombasa-Nairobi-Naivasha Standard Gauge Railway and Cote d'Ivoire's Soubre hydropower plant. These projects have provided transport and energy to develop local economies.
Furthermore, China has also assisted in the construction of more than 130 medical facilities, 45 gymnasiums and 170 schools to improve African people's livelihood.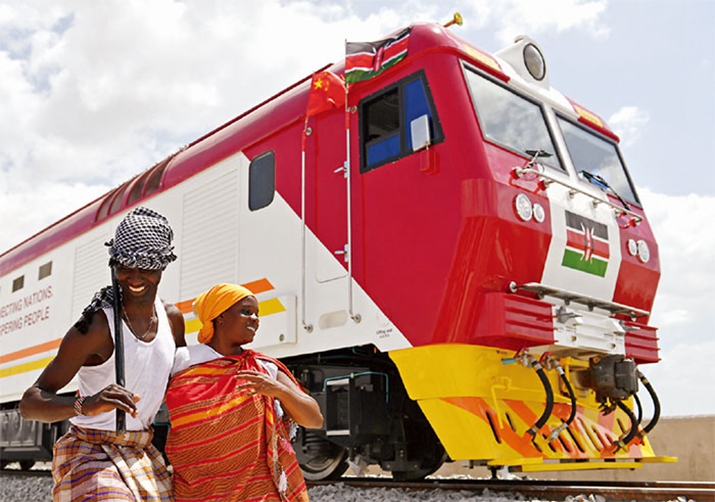 On January 1, 2017, local people in Mombasa, Kenya, pass by the first batch of diesel locomotives on the Mombasa-Nairobi Railway that were manufactured by China (XINHUA)
Green partnership
Cooperation in the environment has also been an important area for China-Africa cooperation. For half a century, the Koshe dumpsite has been the only landfill in Addis Ababa. As the city has expanded, the area has become part of the urban landscape, attracting hundreds of waste pickers who make their living from salvaging trash.
A major tragedy struck the dumpsite in March 2017, when a landslide killed 115 people living in the locality and injured several.
But a new waste-to-energy plant transformed the site and revolutionized the city's entire approach to dealing with waste. The power plant, built by a Chinese company, is the first of its kind in Africa, and began operations in August 2018, after almost four years of construction. It sits on 7 hectares in a 37-hectare area that housed the 50-year-old Koshe dumpsite.
Born and brought up in Koshe, 29-year-old Habitamu Dagne knows only too well the positive impact Reppie Waste-to-Energy Plant has brought to neighboring communities and the entire city.
"We had to put up with the bad smell emanating from the waste [in the old dumpsite], as well as smoke from the frequent fires either erupting from the methane gas produced by the decomposing trash or started by scavengers in attempts to separate metals from plastics," said Dagne.
Now, with a daily garbage disposal capacity of 1,400 tons and an annual power generation capacity of 185 GWh, the new plant plays a crucial role in the city's pollution treatment.
In addition, the leachate water is also treated for recycling. Each day the plant treats 100-200 tons of leachate water which could be used for irrigation purposes in local community.
The waste-to-energy plant is just one example of China cooperating with African countries in implementing a green energy strategy and improving environmental management.
At the 2018 FOCAC Beijing Summit, China decided to implement 50 green development, ecological and environmental protection assistance projects. Since then, a number of demonstration projects, including small-sized hydropower, solar energy, wind energy, methane, and clean stove facilities, have been launched in Africa.
"There is a lot China can offer to Africa to drive green development of this continent," said Erik Solheim, former Executive Director of United Nations Environment Program (UNEP), adding that the FOCAC will provide a platform for African countries to learn from China's concept of ecological civilization and possibly replicate it to promote their own environment-friendly economic growth.
Strengthened trade ties
China-Africa trade has always been a pillar of cooperation efforts.
In August, a cocoa trading center was opened in central China's Hunan Province to connect Africa, the world's leading cocoa producer, to China's fast-growing appetite for chocolate.
The African Cocoa Marketing Center, established in Changsha, the capital of Hunan, will initially buy cocoa mainly from Ghana, before bringing in products from more African countries. It has been hailed as a first for African cocoa in China, a growing market for the continent's products that range from coffee, tea and fresh produce.
"I am confident that every tasty chocolate enjoyed in China has some quantity of Ghana's premium cocoa as part of its ingredients," said Edward Boateng, Ghana's Ambassador to China.
In recent years, Hunan Province has strengthened trade cooperation with African countries. Last year, the first China-Africa Economic and Trade Expo was held in Changsha. The expo, announced at the FOCAC in September 2018, was established to provide a platform for deepening economic and trade cooperation between the two sides. A total of 84 deals worth $20.8 billion were reached in trade, agriculture, tourism and other fields during the event.
According to Wang, in terms of trade and investment, the volume of trade between China and Africa exceeded $200 billion in 2019, and China has now been Africa's largest trading partner for 11 successive years. China's stock of direct investment in Africa has reached $110 billion, and more than 3,700 Chinese enterprises have invested and started businesses in various parts of Africa, providing a strong driving force for the sustained economic growth on the continent.
Even in the face of the unprecedented COVID-19 pandemic, China-Africa economic and trade cooperation has not come to a stop. Over 1,100 Chinese projects continue operating in Africa. During the first four months of this year, China's investment in Africa grew by 4.4 percent, compared with the same period last year. The trade volume between China and Africa reached over $80 billion in the first half of this year, according to data released by the Ministry of Commerce of China.
"China's continuous economic and trade activities, and various exchanges through digital platforms have reinforced Africa's economic recovery potential," said Zhang Mengying, an assistant research fellow of the China-Africa Institute. "It also creates more local employment opportunities, helping African societies maintain stability, especially during the pandemic."
(Print Edition Title: Time-Tested Ties)
Comments to xyy@chinafrica.cn