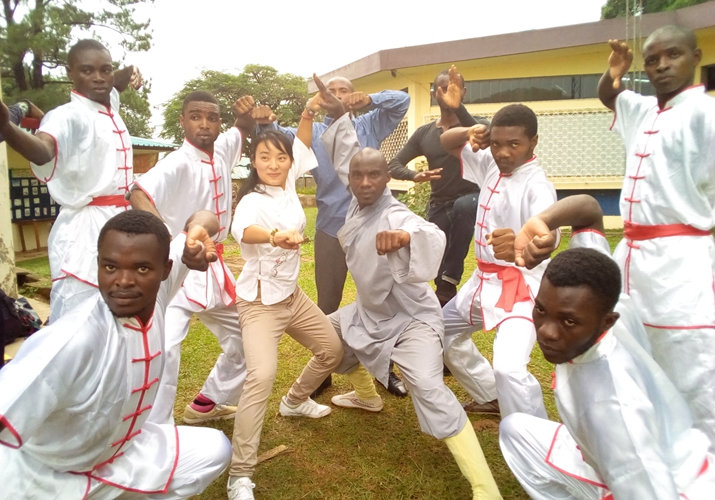 Erisien Fabrice Mba (center) surrounded by students from the Confucius Institute of the University of Youndé II (COURTESY PHOTO)
Every Wednesday evening, regardless of the weather, people from all over Yaoundé, capital of Cameroon, gather to attend the kungfu classes offered by the Confucius Institute of the University of Yaoundé II. Open to all, the lessons are rich and varied in content, ranging from basic exercises to the teaching of Chinese martial arts culture. Students are so captivated that they often discuss their lessons even when the class is over. Their enthusiasm is, in turn, a great source of motivation for their instructor Erisien Fabrice Mba, also known by his Chinese name, Li Mubai.
Fascinated with Chinese martial arts since his childhood, Mba borrowed the name "Li" from actors and kungfu icons Bruce Lee and Jet Li, of whom he is a huge fan. His martial arts instructor gave him the first name Mubai, in reference to the wooden planks used to make molds. His Chinese name reflects his commitment to molding and training as many young Africans as possible, who are all just as passionate, motivated, and dedicated as he is about kungfu.
Beginning of the dream
Mba was born in 1979 in Sangmélima, Cameroon. Having lost his father at a young age, he was raised by his mother who ran a small stall at the local food market and struggled to support her family. He sometimes went to school in rags, hungry and barefoot. In front of the other pupils in his class, most of whom came from affluent families and were the teaching staff's favorites, he often felt excluded, undervalued, and unappreciated.
His older brother, who worked as a projectionist in a cinema, would often take Mba to his workplace on weekends. It's in these huge dark rooms that he first discovered the monks of the Shaolin Temple. "I was overwhelmed by the prowess of actors like Bruce Lee, Jackie Chan and Jet Li, and all those on-screen brave men and women who were standing up against injustice using kungfu as a weapon," he recalls.
In 1986, Mba experienced another defining moment when he noticed a Chinese worker performing a strange dance, incorporating beautiful movements, at the Yaoundé Convention Center. While he hadn't known at the time that the man was practicing another style of fluid Chinese martial arts called Taijiquan, Mba started imitating him from a distance. The Chinese man then invited Mba to practice with him. "His gesture made me understand that he appreciated me and saw something in me. I needed to feel that I was worth something and that I could be seen as something other than a lost child," said Mba. From that day on, he started to see Chinese martial arts, or Chinese kungfu, as a legacy and a way to define himself. He was determined that nothing would stand in his way to becoming proficient in this ancient discipline.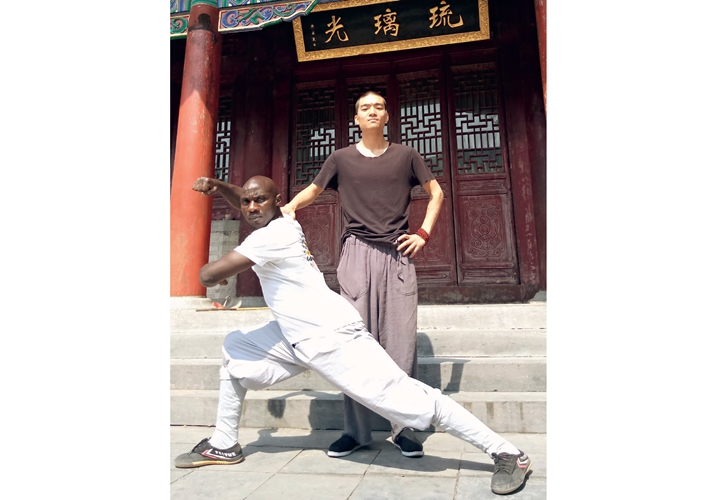 Erisien Fabrice Mba during his stay at the Shaolin Temple in 2019 (COURTESY PHOTO)
Facing Shaolin masters
When his mother passed away in 2000, the young man moved to Yaoundé with two goals: to continue his studies and become one of the country's best kungfu practitioners. Since there was no association in place to supervise and teach kungfu lovers, Mba decided to take the initiative and launch an association promoting Chinese culture.
Although difficult to achieve, this project finally saw the light of day on April 10, 2010, with the establishment of the Association for the Promotion of the Practice of Chinese Martial Arts in Cameroon. In less than two years, assisted by instructors that he had met during his internship of kungfu before 2010, Mba introduced Chinese martial arts in 22 major public and private schools in Yaoundé. The association later attracted the attention of the Confucius Institute of the University of Yaoundé II, with which it merged in October 2011.
When the Confucius Institute informed him that the Shaolin Temple also welcomed young foreign students, his face lit up with joy. "Pursuing my kungfu training at the Shaolin Temple was in my dreams I had every night while sleeping on my little bamboo bed," he said.
This dream eventually came true. Thanks to a scholarship from the Confucius Institute, Mba visited the Shaolin Temple three times between July 2015 and October 2019 to perfect his skills, be assessed, and finally be given the title of master in Shaolin, along with his Buddhist name Shi Yanxin. This experience enabled him to discover the great treasure of the Shaolin Temple's three jewels, namely martial arts, traditional Chinese medicine (TCM), and Zen Buddhism. Li has also mastered the Chinese language, even acting as translator for other foreign students studying at the Shaolin Temple.
While as a beginner, he mainly saw kungfu as a defense mechanism and a weapon allowing him to dominate others. But in China, the young man came to understand kungfu's true meaning. "Chinese kungfu's goal is to help people improve themselves, rise above mediocrity, push them to surpass themselves, and put them at the service of others. As Shaolin monk Master Shi Yanchen points out, "Just as the sun does not shine for itself and rivers do not drink their waters, the kungfu practitioners, like nature, live to help others."
Promoting Chinese culture
Upon his return from the Shaolin Temple, Mba was quick to put these teachings into practice. When his association was established, he had set his sights on providing a platform for learning and finding partnerships and opportunities for underprivileged young Cameroonians. As he is well aware of the many professional opportunities related to Chinese culture, Mba is helping young people gain alternative knowledge through the association, that includes massage, sports coaching, nutrition, phytotherapy and Zen coaching. "It is all very well to train children in martial arts. But if they are hungry, they will inevitably misuse their knowledge," Mba told ChinAfrica.
At the same time, Mba is pursuing his activities to promote kungfu and TCM, assisted by the 126 members of his association, which is now present in schools, universities, companies, and various districts of the city.
Mba's kungfu skills and contribution to its development in Cameroon have been acknowledged by the country. He was ranked Black Belt 5th Duan by the Commission of the Cameroon Kungfu Federation and appointed national technical director of kungfu in Cameroon by the Ministry of Sports and Physical Education.
In the future, Mba hopes to build a modern training center that will introduce young people to jobs related to kungfu and Chinese culture, that includes medicine, theatre, cinema, agriculture, painting, drawing and calligraphy.
(Print Edition Title:

Cameroon's Jet Li

)
Comments to lixiaoyu@chinafrica.cn