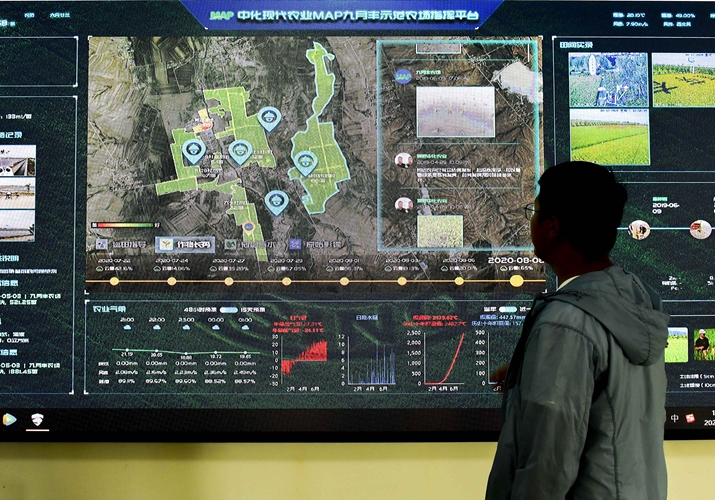 A staff member checks plant growth based on satellite images and data on a large screen at a family farm in Yongji County, Jilin Province in northeast China on August 12, 2020 (XINHUA)
At China's Central Rural Work Conference, held in Beijing from December 28 to 29, 2020, President Xi Jinping stressed that with China at the historical juncture of marching toward its second centenary goal, which is to build a modern socialist country, a number of tasks are currently essential and deserve the full attention of the Communist Party of China (CPC). These are the tasks of consolidating and extending China's poverty alleviation achievements, advancing comprehensive rural vitalization, and accelerating the modernization of the agricultural sector and rural areas.
Xi said efforts must be made to increase the efficiency and quality of the agricultural sector, make rural areas desirable places to live and work in, and ensure that farmers are well-off. Xi also underlined the importance of speeding up breakthroughs on core and key agricultural technologies.
Song Hongyuan, former head of the Research Center for the Rural Economy at the Ministry of Agriculture and Rural Affairs (MARA), said that China's agriculture has entered a stage of high-quality development, as the country is meeting the need of an increasing number of more demanding customers for quality agricultural products. However, high-quality produce is currently in shortage, while the supply of basic and bulk agricultural products exceeds demand.
"Accordingly, agriculture should turn to technology," Song said at a forum on rural vitalization held by Peking University in Beijing in December 2020.
Making progress
On the southern margin of the Taklimakan Desert in Kashgar Prefecture, Xinjiang Uygur Autonomous Region in northwest China, there is a 20-hectare piece of saline-alkali land for growing rice. The land, located close to the farthest point in the world from the ocean, used to be too poor to support vegetation due to its severe salinity.
Three years ago, Yuan Longping, a renowned agronomist, dubbed China's "father of hybrid rice," led a trial program of planting rice in saline-alkali soil in areas including Xinjiang and Heilongjiang Province in northeast China. Through genome sequencing technology, scientists in Yuan's team have been able to nurture improved rice varieties that can grow in saline and alkaline soils like those in Kashgar. The scale of this field experiment has been expanding over the past three years, and rice varieties are constantly improving.
Yuan said he hoped that China could soon put 6.67 million hectares of saline-alkali soil into rice production, which would be very likely to boost the country's total rice yield by around 30 million tons.
"That is equal to the annual grain output of Hunan Province in central China," said Yuan, who turned 90 in September 2020. "It can help feed over 80 million people, which will be a huge contribution to the country's food security."
In addition, quality rice from saline-alkali soils is full of micronutrients, and its content of calcium, iron, protein and potassium is significantly higher than that of ordinary rice.
Whole process mechanization has helped farmers in Jianyang, a town in southwest China's Sichuan Province. Zheng Huaming, the manager of a local production base for vegetable mechanization, takes radish production as an example: The entire production process for 30 hectares of land, from sowing to harvesting, can be completed by fewer than 10 people. Additionally, while standard production techniques allow for two radish harvests per year, whole process mechanization allows Jianyang farmers to make three.
"Without machines, cleaning and truck loading 10 tons of radishes require 50 farmers working for an entire day, while now it only takes eight farmers less than half a day," Zheng said. Smart agriculture has been promoted across the countryside in China. Another example is the thousands of intelligent fertilization systems that have been developed by Join Hope, a Chinese modern agricultural technology company in Xinjiang. Farmers can use a smartphone app to remotely set fertilizer application times, amounts and other settings of machines installed on their land. According to the company's statistics, the smart system not only saves labor and time, but also helps conserve water and fertilizer, and increases yield.
Similarly, one can rarely see farmers working at any orchard in Lushui, Yunnan Province in southwest China. All regular tasks, including irrigation, fertilizer application, environmental monitoring, surface meteorological observation and insect pest control are completed automatically. Data gathered by the system are analyzed to improve future production.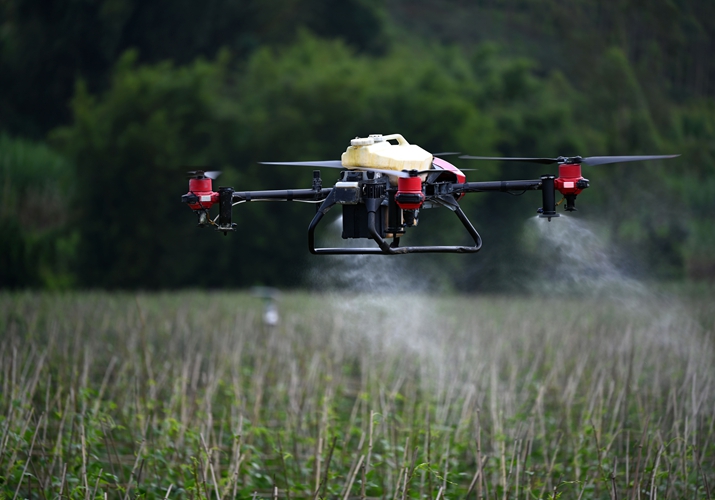 A drone dusts green beans with pesticide at a farm in Wangmei Village, Guangxi Zhuang Autonomous Region in south China, on September 20, 2020 (XINHUA)
Policy and talents
A plan to push forward the digitalization of agricultural development and rural governance was unveiled jointly by the MARA and the Office of the Central Cyberspace Affairs Commission in January 2020. According to the plan, digital technology will see faster integration with the agricultural industry and that the proportion of the agricultural industry involved in the digital economy would increase. By 2025, the agricultural digital economy should account for 15 percent of the value added within China's agricultural sector.
Hundreds of modern agricultural technology demonstration bases have been built across the country. According to the MARA, advanced technologies, high caliber technological talents, and sustainable mechanisms are encouraged to gather at these bases to conduct trials.
Building infrastructure is the primary task in advancing agricultural technology, and national and provincial agricultural information and technology research and development centers should be established so that basic data and big data can be improved, and technologies like 5G and the BeiDou Satellite Navigation System can be applied in the field, said Han Fujun, Deputy Chief Engineer of the Information Center of MARA while addressing the forum at Peking University.
The application of agricultural technology also creates new forms of employment, such as drone operators for dusting pesticides, and agricultural professional managers who provide organizational, operational and technical support services for farmers.
Yuan Ning is a farm drone operator. He said that compared with traditional plant protection, dusting pesticides with a drone can improve the efficiency of pesticides and prevent accidental overuse that occurs from time to time in traditional planting. "I need to be proficient in both drone technology and agricultural knowledge. Any mistake in the flight altitude and speed of drones, or the selection of pesticides and their ratio, will affect the final results of pest management," Yuan told People's Daily.
(Print Edition Title:

Wings of Technology

)
Comments to zanjifang@chinafrica.com