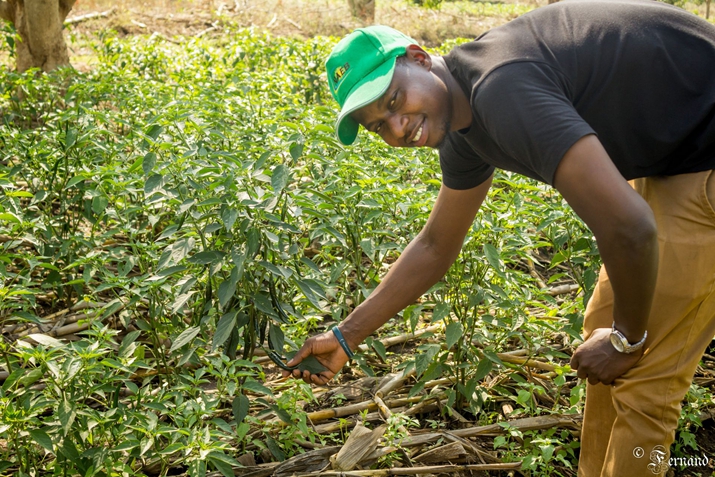 Dieudonne Twahirwa, the head of Gashora Farms Rwanda posing in his chili garden. Dry chili export protocol with China will benefit Rwandan farmers (Gashora Farms)
In September 2019, Dieudonne Twahirwa, a Rwandan entrepreneur, landed a mega deal worth $500 million to supply chili products to a Chinese company for five years.
However, due to the fact that there wasn't a protocol in place for the export of dry chili from Rwanda to China, he could only export chili paste and a few other processed products, and these would fetch less money compared to what dry chili would.
He realized there was a need to engage with the Chinese Government for the establishment of such a protocol.
With assistance from the government of Rwanda, Twahirwa embarked on the process of seeking export approval. Among other things, Chinese officials visited Rwanda in November last year to inspect the local chili farms to ensure that the quality of Rwandan chili met the requirements of the Chinese market.
Fortunately, things went well, and in March this year, the export protocol became a reality.
Inked between the Ministry of Agriculture and Animal Resources of Rwanda and the General Administration of Customs of China, the deal certified that the quality of Rwanda's dry chili met the required standards.
Soon, Twahirwa can start exporting dry chili to China, which will benefit not only him but also up to 1,500 farmers who supply chili to his company.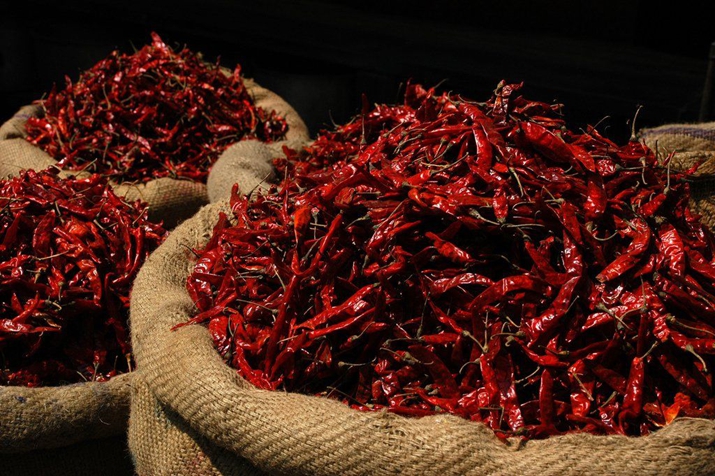 Dry chili from Rwanda (Gashora Farms)
Huge market
Speaking to ChinAfrica, Twahirwa said he was very excited about the export protocol because of what this big market meant for him and Rwandan farmers.
"We are so happy to be going into this huge market. We have a deal in place to supply 50,000 metric tons of dry chili worth $100 million every year, for five years. For us, the protocol is an exciting development," he said.
He noted that exporting chili in a dry form has many advantages.
"First of all, it has a high demand. Second, it is not perishable like fresh chili. For example, currently, I have some dry chili in stock which I have kept for some time. If it was fresh chili, it would have already expired and I would have incurred losses," he said, adding that dry chili is also not too vulnerable to price fluctuations.
Rwandan fresh chili is exported to European countries, but there is sometimes a risk of perishing and price fluctuations.
"Fresh chili prices keep fluctuating. There are also some logistical issues involved, for example, the need for air transportation. Due to such issues, we were not always keen to encourage our farmers to plant the crop on a large scale, as we fear losses," Twahirwa told ChinAfrica.
The risks involved in the export of fresh chili came to the fore in August last year when Rwandan exporters who had sent shipments to the U.K. incurred losses after their produce perished, having been held for longer time during inspection in the country.
Good quality, abundant supply
Emile Munyemana, a small-scale chili farmer in Rwanda, told ChinAfrica that the quality of the country's chili is good, and in addition to this, the farmers can produce it in all seasons of the year since there are irrigation schemes in place.
"The quality of our chili is good. Our climate is good and we have rains. In addition, our Ministry of Agriculture has put in place irrigation facilities that make it possible for us to irrigate our crops. So, we can grow chili even in the dry season, which allows us to export the produce throughout the year," he said.
Farmers like Munyemana grow chili on a small scale and supply it to bigger companies like Twahirwa's Gashora Farms which handle the export processes.
As larger markets become accessible, such farmers can be given opportunity to expand farming to meet the demands of the foreign countries.
This also brings more employment opportunities to Rwandans - not only the farmers, but also those who work in the export processing field.
Closer economic ties
James Kimonyo, Ambassador of Rwanda to China, said the protocol is yet another proof of the excellent relations between Rwanda and China.
"A number of Rwandan companies have already signed cooperation agreements with Chinese buyers of dried chili and were eagerly waiting for the signing of this protocol," he said.
He added that the addition of dry chili to Rwandan products allowed into the Chinese market is "a big win for Rwandan chili growers" as China is the biggest consumer of chili in the world with more than 500 million people consuming spicy food on a daily basis.
The last few years have seen the Chinese market put in place mechanisms for welcoming Rwanda's products. For example, about two years ago, Chinese e-commerce giant Alibaba Group opened its doors to Rwandan products when the electronic World Trade platform (eWTP) deal was inked between the two countries.
Thanks to the eWTP deal, Alibaba provided a channel for Rwandan products to reach Chinese consumers.
So far, coffee has arguably been the most outstanding Rwandan product selling online in China, though chili is also catching up.
According to the data from Alibaba, sales of Rwandan coffee in China via the company's online platforms increased by 400 percent in 2020.
According to the National Agricultural Export Development Board, in the 2020/2021 fiscal year, Rwanda garnered $113.9 million from agricultural exports, which is a decline from the $120.6 million in the same period of the previous year.
If all goes well and farmers start their dry chili exports to China, it can help the country emerge from the recent setbacks in agricultural exports.
(Print Edition Title: Hot Pursuit)
Reporting from Rwanda
Comments to zanjifang@chinafrica.cn