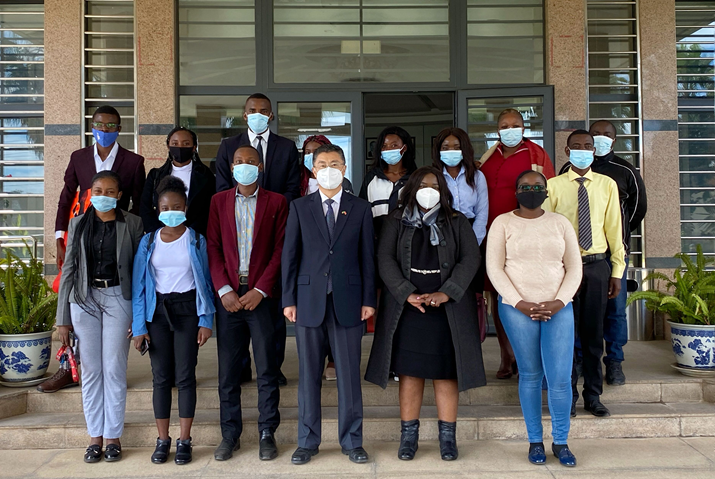 Some of the student beneficiaries at the UNZA with Chinese Ambassador to Zambia Li Jie (COURTESY PHOTO)
As Africa continues to brim with a young labor force, abundant natural resources and wide ocean fronts perfect for global trade, there is a growing desire among its people for greater economic prosperity.
In this context, the significance of China's rapidly expanding education and training cooperation in Africa cannot be overemphasized.
China is the largest single provider of university scholarships to students from Sub-Saharan Africa, awarding about 12,000 out of a total of 30,000 bursaries that were distributed by the top 50 global donors, according to the Global Education Monitoring Report 2020 released by the United Nations Educational, Scientific and Cultural Organization (UNESCO).
In Zambia, educational cooperation with China has undoubtedly achieved fruitful outcomes in recent years, as the Asian nation ascribes great importance to the development of education in the Southern African country.
According to an old saying, education breeds confidence, confidence breeds hope and hope brings peace. For this reason, the Chinese Ambassador Scholarship (CAS) program has played a great role in sponsoring outstanding Zambian students from modest backgrounds to attain education, and contributing to the development of the country.
According to the Chinese Embassy in Zambia, the purpose of the scholarship is to help young Zambian students from vulnerable families overcome their financial difficulties in order to realize their dreams and have a successful career.
Higher education
During the three years from 2015 to 2018, China had provided 30,000 scholarships to African students and financing of $60 billion to implement 10 cooperation plans, one of which was for higher education; at the Beijing Summit of the Forum on China-Africa Cooperation (FOCAC) in 2018, China again pledged to provide Africa with 50,000 government scholarships and 50,000 training opportunities for seminars and workshops, and would invite 2,000 young Africans to visit China for exchanges in the next three years.
Through institutions of higher learning such as the University of Zambia (UNZA), China trains about 200 Zambians annually, which includes short courses on agriculture, aquaculture, small and medium business, management, and sports, among others.
"Faced with new developments and challenges, China will continue to improve institution building, develop new ideas and expand areas of cooperation with Africa to bring our cooperation to greater heights," Chinese President Xi Jinping said at the opening ceremony of the FOCAC Beijing Summit.
The China-Zambia educational cooperation plays a vital role in talent training, technology progress and cultural exchanges with fruitful outcomes.
As the future of China-Africa relations lies in young people, China is providing young Africans with more training and job opportunities, and opening up more space for their development.
"My academic life has literally been a struggle since high school as I always narrate this story to my fellow students and friends. Many thanks to the Chinese Embassy in Zambia for this rare scholarship opportunity as I want to improve my family's livelihood after I graduate," said Andy Ilunga, a third-year student pursuing a bachelor's degree in education at the UNZA.
Angela Tembo, another student at the UNZA pursuing a bachelor's degree in natural sciences, noted, "I am from a humble background where life isn't easy without university education. Having been considered for this scholarship is a great turning point for my future and that of my family."
"Educational cooperation between China and Zambia has achieved fruitful outcomes in recent years because the Chinese side attaches great importance to the development of education," Chinese Ambassador to Zambia Li Jie said recently when talking with the students from the UNZA who are sponsored by the CAS.
Li said that his embassy stands ready to continue to work with Zambian universities such as the UNZA, and also welcomes excellent Zambian students to pursue higher education in China.
The Chinese envoy has since encouraged students to work hard and become envoys of China-Zambia friendship and cultural exchanges.
Speaking at the same event, UNZA Deputy Vice-Chancellor Tamala Kambikambi expressed gratitude to the Chinese Embassy for the support, and spoke highly of the development of China and Chinese education.
"As an institution, we look forward to enhancing cooperation with the embassy and promote educational and cultural exchanges between the two countries," Kambikambi said.
Building careers
On their part, the students thanked Li for the embassy's support, saying they will cherish the opportunity to learn in the UNZA and contribute to Zambia's national development and the Zambia-China friendship.
"We cherish this opportunity and we promise to study hard to live up to the ambassador's expectation and make our due contribution to Zambia's national development and the Zambia-China friendship," said a student representative who expressed his appreciation for the support rendered by Li and the Chinese Embassy in Zambia.
Due to economic underdevelopment in the country, many students in the tertiary education are unable to fulfill all the academic requirements due to financial difficulties. This leads to emotional stress and, if not checked, affects their academic performance.
Although financial support to students in Sub-Saharan Africa has been stagnant since 2000, China's ongoing socio-economic partnerships in the region have resulted in an increase in aid for African students at both local tertiary institutions and in China since 2010.
According to World Education Services, an organization verifying academic credentials, some 30,000 Africans received scholarships between 2012 and 2015, and China has promised additional support.
UNESCO data show that China has increased the total scholarships – new and ongoing - for 2019–22 to 50,000. This reflects an increase of 20,000 over the number of scholarships that were made available in the preceding three years. It represents an additional 5,000 scholarships a year.
"You know what, in life – once you have hope for a better future, there will always be good people to help you. I look forward to seeing more Zambian students from humble backgrounds benefit and get empowered by this Chinese academic initiative," Ilunga added.
(Print Edition Title: Funding for Future)
Reporting from Zambia
Comments to zanjifang@chinafrica.cn