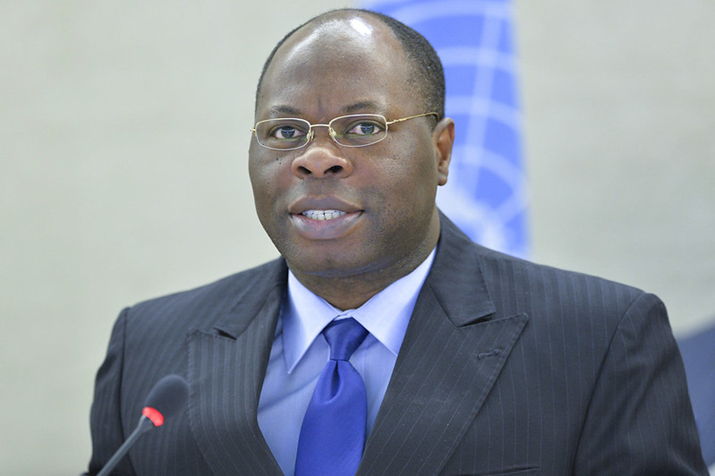 Gabonese Ambassador to China Baudelaire Ndong Ella
The just concluded 20th National Congress of the Communist Party of China (CPC) focused on carrying forward the great founding spirit of the Party, which builds strength and upholds the fundamental Party principles to build a modern socialist country in all aspects and advance the great rejuvenation of the Chinese nation on all fronts. The Party has dedicated itself to achieving lasting greatness for the Chinese nation, said Gabonese Ambassador to China Baudelaire Ndong Ella in an interview with ChinAfrica.
Ndong Ella's comments came as the five-yearly CPC National Congress concluded in Beijing. He said he has been keenly following discussions at the congress because of the strategic importance of this meeting to China and its allies. The meeting outcomes would pave the way for the next phase of the country's development and define the future of its foreign relations, which Gabon is most interested in as a friend and partner of China.
He is impressed by the remarkable accomplishments the CPC has achieved in all fields since its 18th National Congress in 2012.
The Party has successfully led the Chinese people and made solid progress in developing whole-process people's democracy and advanced law-based governance across all fields. The CPC has also succeeded in promoting a developed and active socialist culture, he said.
The CPC has applied a holistic approach to safeguarding national security and ensuring social stability. The Party has safeguarded China's sovereignty, security and development interests.
"The Party has also devoted great energy and resources to modernising the national defence and armed forces, and building a strong military for the next era," Ndong Ella said.
Finally, the successful battle against the COVID-19 pandemic is one of the greatest achievements of the CPC; the Party has put in place the dynamic zero-COVID policy to protect the people's health and safety, and has recorded tremendous achievements in the epidemic response.
Concerning China's commitment to its foreign policy goals of upholding world peace and promoting common development, Ndong Ella said as Chinese President Xi Jinping mentioned in his speech, peace, development and win-win cooperation are essential for modernisation, maintaining relative stability and achieving development in the world.
"Gabon is deliberating the application of this concept to continue to foster peace and development in our country," he said.