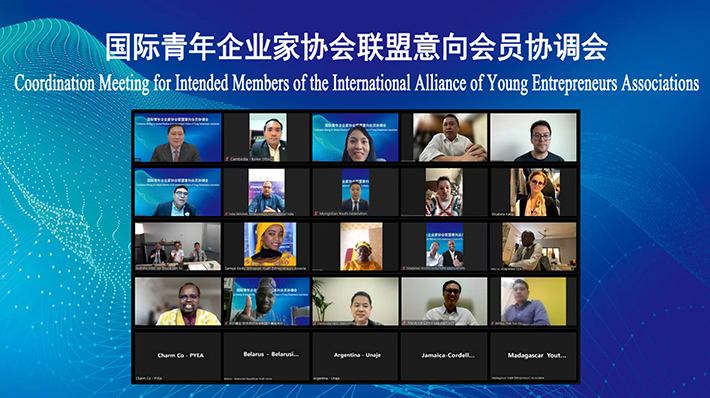 The China International Youth Exchange Centre (CIYEC) will partner with global youth entrepreneur associations to establish the International Alliance of Young Entrepreneurs Associations (IAYEA), Zhang Hua, director of the CIYEC, announced at a coordination meeting with the intended members of the IAYEA held online on 20 December 2022.
The IAYEA will serve as a platform for exchange and cooperation among young entrepreneur organisations and youth-led entrepreneurship organisations from various countries to promote the development of youth entrepreneurship, Zhang noted.
The alliance will contribute to global economic recovery, and make new contributions to building an open global economy, according to Zhang. "The global economy is facing the worst recession since World War II. It is incumbent on young entrepreneurs to build confidence and promote economic recovery."
The alliance will provide policy consultation in areas such as economic and trade cooperation, business investment, and technological innovation, organise practical cooperation and exchanges among young entrepreneurs to set outstanding examples, promote youth employment and entrepreneurship in all countries, and support incubation projects and business innovations, among other things.
Organisations for youth entrepreneurs from six African countries - Ethiopia, Nigeria, Guinea, Tanzania, Mali and Madagascar - attended the meeting. The Federation of China-Africa Friendship Associations also attended the meeting as a strategic partner.
Ali Ag Amaye Cisse, first vice president of the Young Entrepreneurs Association of Mali, said that the platform is a great initiative for young entrepreneurs in Africa, especially Mali, who lack experience, know-how and skills, among other factors, to establish successful businesses. "The youth of Mali and Africa in general, as you know, are our strength. [Nurturing] successful young entrepreneurs is at the heart of our priorities," he said.
"Our expectations from the IAYEA are to have more training in entrepreneurship and leadership, and sustainable development for a better world," said Delphine Camara, president assistant of the Network of Young Entrepreneurs of Guinea, expressing hope that the new alliance can promote exchanges among global youth entrepreneurs, provide financial and technical support to them and defend their interests.
According to the coordination meeting, the IAYEA will be officially established in Beijing in mid-April 2023. So far, youth entrepreneur organisations from about 20 countries have applied for membership.
CIYEC is a Beijing-based institution focusing on international youth exchange and cooperation under the All-China Youth Federation. It has established cooperative ties with youth organisations in more than 120 countries and regions.