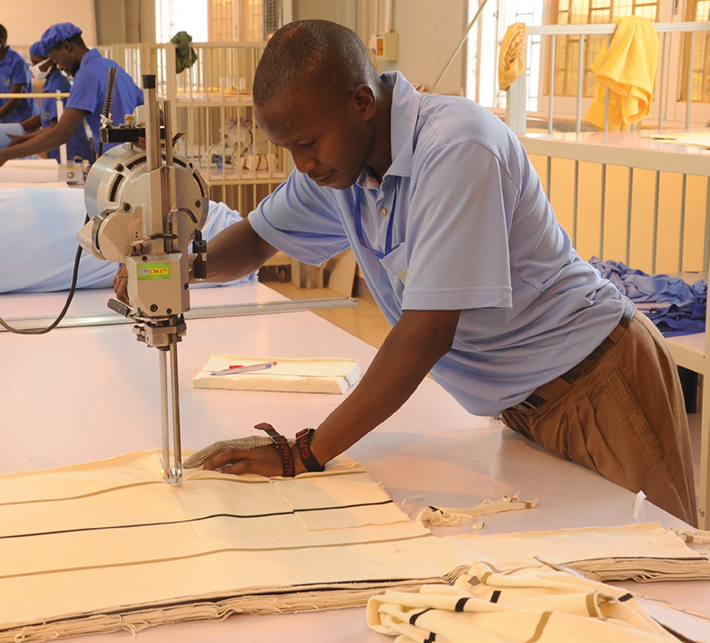 After completing a training programme at C&H, Rwandan interns can get the skills necessary for working in the textile industry
The Kigali Special Economic Zone (KSEZ), which is only a 10-minute drive from the airport in the capital city of Rwanda, is now attracting manufacturers from all over the world, helping Rwanda transition into a regional manufacturing hub in line with the strategy outlined in its national vision for 2035.
The services sector and agriculture have historically been the main drivers of Rwanda's economic growth, while manufacturing, which made up barely 15 percent of the country's GDP in 2015, has often lagged behind.
Now, the government is determined to boost manufacturing in order to lessen its reliance on imports and increase the number and quality of jobs created through technology transfer. It aims to encourage experienced entrepreneurs to invest in this industry to achieve this goal.
Chinese entrepreneur Ma Xiaomei has heeded the government's call and set up C&H Garments, Rwanda's first modern garment factory, in the KSEZ. Some of Ma's fondest memories of the land of a thousand hills are also connected to this factory.
'A proof of concept'
Using her expertise in textile technology, Ma founded her first business in Kenya, Future Garments, in 2007, which employed 1,500 people and exported clothes to retailers like Walmart and Target. The Rwandan government ultimately became interested in her extensive professional background in the textile industry as a technician and then as a company owner in several African countries since 2001.
The government invited her in 2014 for a business trip. Due to its landlocked location, which prohibits direct access to the main shipping channels on the east coast, the Chinese entrepreneur was first unconvinced of its export potential. However, a change of heart resulted from the seriousness and ambition of the Rwandan government to phase out Western second-hand clothes and promote Made in Rwanda initiative.
Rwanda has improved its domestic manufacturing in several ways by fostering an atmosphere that welcomes international investment. One of the driving forces behind the development was the creation of the KSEZ in 2009, a union of the Kigali Industrial Park and the country's free trade zone. It offers infrastructure, such as sewage treatment facilities and fibre optic connections, that is hard to get elsewhere in the country.
For international investors, the Rwanda Development Board (RDB), a government agency tasked with encouraging foreign investment in the country's economy, provides simplified registration procedures and individualised service. Gaining Ma's trust also required the Rwandan government's promise to co-finance training programmes.
In July 2014, the RDB signed a memorandum of understanding with the Chinese investor to set up a factory in the country. The CEO of RDB, Clare Akamanzi, described the partnership as a boost for local manufacturing: "If successful, this investment will serve as a proof of concept that will bring further investment to Rwanda."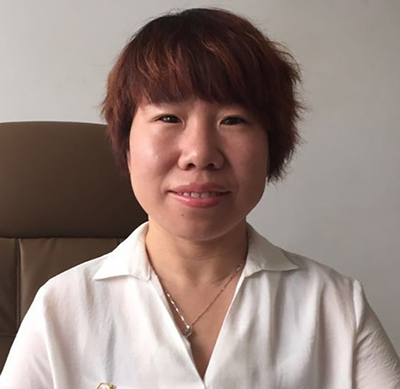 Ma Xiaomei, a Chinese investor and founder of Rwanda's first modern textile factory
Technology transfer
Ma gave the new business in Rwanda her full attention in order to live up to expectations. In September 2014, her company hired more than 200 people during its initial recruitment drive. An additional 300 Rwandans were employed as the factory's core production staff before it officially launched in KZES in 2015. Two-thirds of these new employees were women.
Ma brought renowned Chinese and Kenyan trainers and acquired more than 10 containers of fabric specifically for training, given that the Rwandan textile sector lacked technical manpower. She also established an embroidery training programme by bringing expert embroiders from Guangzhou and Suzhou, two Chinese cities renowned for this skill, in order to address the rising demand for hand-embroidered goods from local designers and international companies.
Although Rwandan employees' lack of professional experience in an international company presented obstacles initially, Ma was pleased to see that they picked up new skills very quickly. "They were already able to produce at the level needed for export markets in just one or two months. Rwanda is remarkable in this regard," Ma told ChinAfrica.
"Our staff are passionate, focused, and ready to learn and make a good income. We are happy to assist them in achieving their objectives," she said.
According to Jean Claude Nshimyumukiza, an employee at C&H, trainees who successfully complete the C&H training programme are awarded a certificate that may be useful for looking for work elsewhere. This young group leader has found that the company has given him more than just employment chances; it has also given him the chance to obtain professional experience and refine his abilities to organise the workforce and manage production procedures.
"I can now go and start my own factory after learning so much here," he remarked. More than 2,000 local workers, including nine senior managers, were employed at the facility before Ma left the country in 2019.
Made in Rwanda
Rwanda, like many other African countries, was a major importer of used clothes from the US. In order to address this, the country, together with other East African Community (EAC) members, raised taxes on these imported goods in March 2017 and launched a Made in Rwanda campaign. The textile industry used Ma's factory, which is producing a wide variety of clothing primarily for global markets, as a model in this respect.
In 2018, in response to the EAC measure, Donald Trump's administration suspended the duty-free treatment to all the products in the garments industry covered by the African Growth and Opportunity Act (AGOA) for that region. Rwanda has persisted in maintaining that preventing the invasion of used clothes is important to boost its local manufacturing capabilities, even while other members of the organisation have given in.
Considering that 80 percent of C&H's products were shipped to the US, Ma acknowledged that the new US policy hurt the company's operations. She had to make the painful choice in 2019 to sell her ownership rights to another Chinese investor who could obtain European orders, after seeing a major decline in orders from her former customers.
She was delighted to learn that C&H is now operating at maximum efficiency and boosting exports to countries in East Africa. Ma has travelled back to Kenya in order to open a new clothing factory. She still holds her time in Rwanda dearly, though. If one were to use the words of Chinese President Xi Jinping in his signed piece published in the Rwandan daily The New Times before his state visit to the East African country in July 2018, she has nonetheless played a "positive role in growing the manufacturing sector."