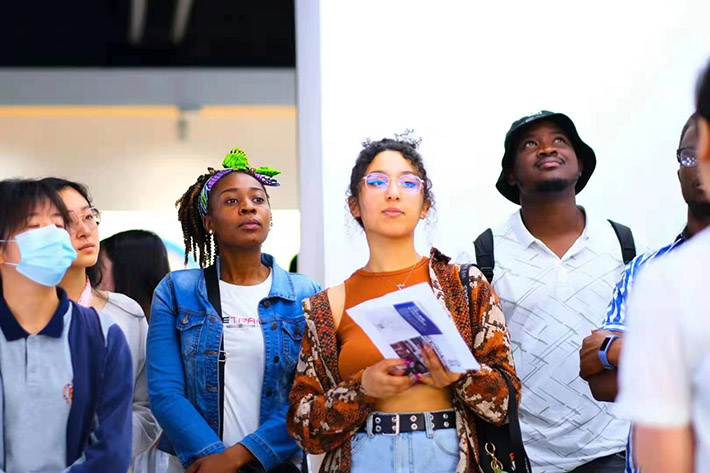 Yasmine Edderssi (centre) serves as a judge for an interpretation competition for Chinese students at the UESTC in Chengdu, Sichuan Province, in May 2021
If it was not for my interest in Chinese culture, I would not have been a doctoral student at the University of Electronic Science and Technology of China (UESTC). As a graduate student in the School of Public Affairs and Administration, I participated in many seminars and cultural activities, which made me more passionate about China.
As a matter of fact, I became interested in Chinese culture when I was a teenager. I have always been curious about this ancient civilisation and its highly complex language and distinctive cuisine. To a Moroccan like me, China looked like another planet that I wanted to explore.
The first step I took was to learn the language, even though I was expected to learn Spanish as a third language like everyone else and choose Europe as the destination of foreign study. But I stuck to my choice and joined the Confucius Institute. After one month of learning, I decided to travel to China for the first time. I spent a whole month in Beijing and Tianjin. The trip was full of excitement. On my way back to Morocco, I decided to return to China one day, because visiting a place as a tourist isn't enough to learn about a culture.
Passion for learning
A year later, I found myself in Nanjing alone with my suitcase and backpack, looking for Nanjing University. I was determined to learn the language. During the first three months, I made a lot of progress and passed the level-3 HSK exam, or Chinese proficiency test. I also participated in many activities and visited numerous places of interest. I made dumplings and learnt how to play mah-jong from my Chinese friends. Nanjing is an exciting city with a brilliant history. During my stay in the city, I had the chance to visit the Nanjing Presidential Palace and Sun Yat-sen Mausoleum. One of my favourite activities was to have picnics in Xuanwu Lake.
But unfortunately, soon after that, we were in the middle of the COVID-19 outbreak. The pandemic changed the way I saw China. Seeing how the people united to fight a virus no one knew much about and how the government handled the situation inspired me to study public administration.
My passion for learning and exploring brought me all the way from Nanjing to UESTC in Chengdu. I was lucky to get a full scholarship at such a good university. My adventure in the UESTC started from the first day I arrived. Two years went by quickly, leaving me with 10 years of unforgettable memories. University life is definitely not only about participating in activities; my career goal was to become a good administrator by combining theoretical knowledge and lessons from the Chinese experience, which one can't accomplish without going deep into the culture.
Studying in China doesn't just give you a chance to learn about China but also to meet people from all around the world. At the UESTC, the international students' office organised many activities for the foreign students, such as a cultural show focused on diversity, which featured a different country every week. I made friends with people from Pakistan, Thailand, Chile, Ghana, France, and so on. I also made friends with many Chinese people from different backgrounds with whom I got to discover Sichuan cuisine, and they introduced me to different dishes like Mapo Tofu, Kung Pao Chicken, and of course, hotpot. Before coming to Sichuan Province, I could not tolerate chili pepper. But after coming to Chengdu, I started putting chili oil on everything and am definitely taking some with me to Morocco. One of my Chinese friends also invited me to celebrate Chinese New Year with her family, and I was surprised by the amount of food on the table. Then my friend explained that because people are not supposed to cook the following day, the food is prepared and consumed for two days.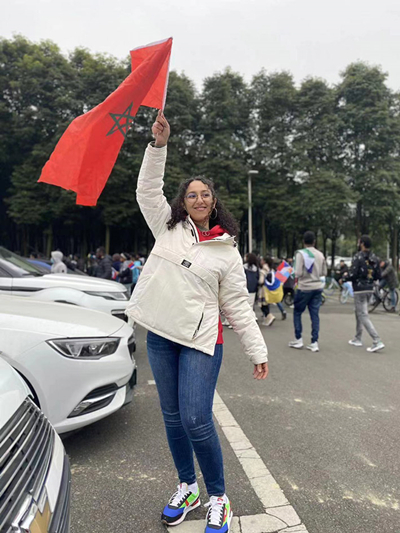 Yasmine Edderssi
Knowledge sharing
I believe that an international student in any part of the world should not only focus on academic achievement but also introduce his or her culture and learn from the local culture, which was my goal in China. I wanted to become an ambassador for Chinese culture in my home country Morocco and worldwide. I worked hard academically and earned second place in exams. I worked even harder to embrace the Chinese culture and was awarded the first prize for excellent performance and was recognised as an outstanding international student of the UESTC.
One of the most significant moments in my life at the UESTC was when I had an opportunity as an international student to make a short film about Sanxingdui, which later inspired me to go into media studies. As a participant in a youth film project, I directed, shot, and edited the short film The Head Turners. I was responsible for coming up with an original idea and creating a story that shows history is not all about dead people, and China doesn't only have the Great Wall. There is 5,000-year civilisation that needs to be understood. This experience showed me another side of Chinese culture.
Making the short film was hard work. I had to shoot from early in the morning till the night. It was exhausting but worthy. I was determined to show the beauty of Sanxingdui through my lens. After the first screening of my short film, I got a lot of positive feedback. People understood the message I was trying to convey in my film. I was interviewed right away by Xinhua News Agency. They published an article about my experience in Sanxingdui.
That was all that I wanted, but a few months later, I was contacted by Dragon TV to be part of a documentary on global culture. We had an interview, and we shot my daily life on the campus and also me working in the Jinsha Site Museum. That's when I knew I had achieved one of my goals for coming to China. It motivated me to continue my journey and go for Ph.D. studies where I can combine my passion for Chinese culture, language, administration, and media.
Now I am a Ph.D. student at Shenzhen University studying political communication. I hope that I can combine my experience in China and my knowledge to contribute to the Chinese-Moroccan relations.
The author holds a master's degree from UESTC and is currently a Ph.D. candidate in political communication at Shenzhen University