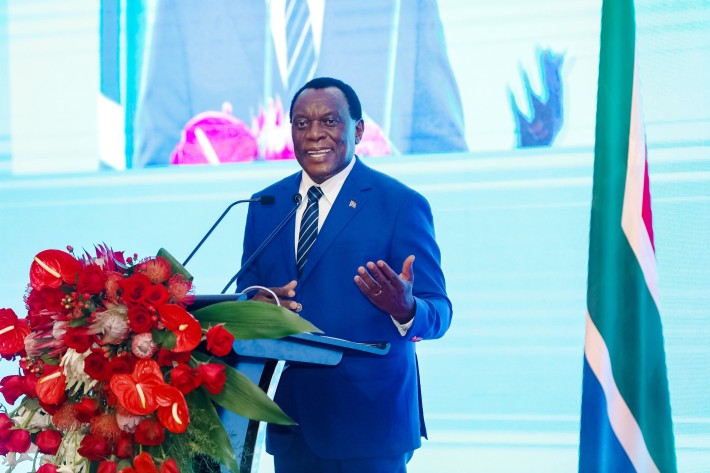 South African Ambassador to China Siyabonga Cyprian Cwele
China and South Africa have enhanced their wide-ranging bilateral relations in the past 25 years, elevated the relationship to a Comprehensive Strategic Partnership and adopted the 10-Year Strategic Programme of Cooperation (2020-2029), said South African Ambassador to China Siyabonga Cyprian Cwele in his speech at an event held on 27 April to celebrate the Freedom Day of South Africa and commemorate the 25th anniversary of the establishment of the country's diplomatic relations with China.
China's Vice Minister of Foreign Affairs Deng Li said in his speech that in the past 25 years, the relationship between the two countries has achieved significant development. South Africa has become the top destination in Sub-Saharan Africa for Chinese tourists, and has established the largest number of sister province and sister city relationships with Chinese peers. The two countries support each other on issues related to each other's core interests and major concerns, effectively safeguarding the common interests of developing countries.
The trade ties between China and South Africa are full of vitality and potential. Cwele said that over the past 25 years, China-South Africa economic and trade relationship has developed rapidly from $1.4 billion in 1998 to $56.7 billion in 2022, an increase of nearly 40 times. China has been South Africa's largest trading partner since 2009, and South Africa has been China's largest trading partner in Africa since 2010
South Africa's main exports to China include iron ore, steel, agricultural products, chemical products, as well as wood and pulp. The main products imported by South Africa from China include mechanical equipment, steel products, chemicals, textiles, as well as vehicles and ships. According to Cwele, more than 180 Chinese companies have successfully conducted business in South Africa, covering areas such as energy, mining, technology, automotive industry, heavy equipment, and financial services.
At the Fifth South Africa Investment Conference in Johannesburg on 13 April, South African President Cyril Ramaphosa said that the country has set a new target to mobilise approximately 2 trillion rands (about $110 billion) in new investments over the five-year period of 2023-2028. Cwele said he expects more Chinese companies to invest in South Africa.
"More and more Chinese big companies are investing in South Africa. And what is good about the Chinese companies is that they are coming not only with better financial resources, but also more modern technology. Their investment is yielding positive results with new technologies," Cwele told ChinAfrica.
Cwele said that since joining the Belt and Road Initiative (BRI) in 2015, South Africa's infrastructure has been greatly improved. These projects have played a vital role in strengthening South Africa's connectivity with other countries and the development of the African Continental Free Trade Area.
"We want to align the BRI with our national development plan. The BRI should also be aligned with the African Union's Agenda 2063, which is the development plan for the whole continent. What is good with China's infrastructure assistance is that they create infrastructure to connect the cities [of a country] and then connect to your neighbours, because that's what the African continent free trade requires," Cwele told ChinAfrica.
This year, South Africa assumes the chairmanship of BRICS, taking over from China. South Africa will host the 15th BRICS Summit from 22 to 24 August in Johannesburg.
Deng said that China supports South Africa in taking over the BRICS rotating chairmanship to make this year's BRICS Summit a success. "I believe that this year, South Africa will be full of highlights and write a new chapter for BRICS cooperation. China will work with South Africa in jointly promoting the construction of the BRICS mechanism, creating more cooperative achievements, and injecting strong momentum into the unity and cooperation of developing countries.