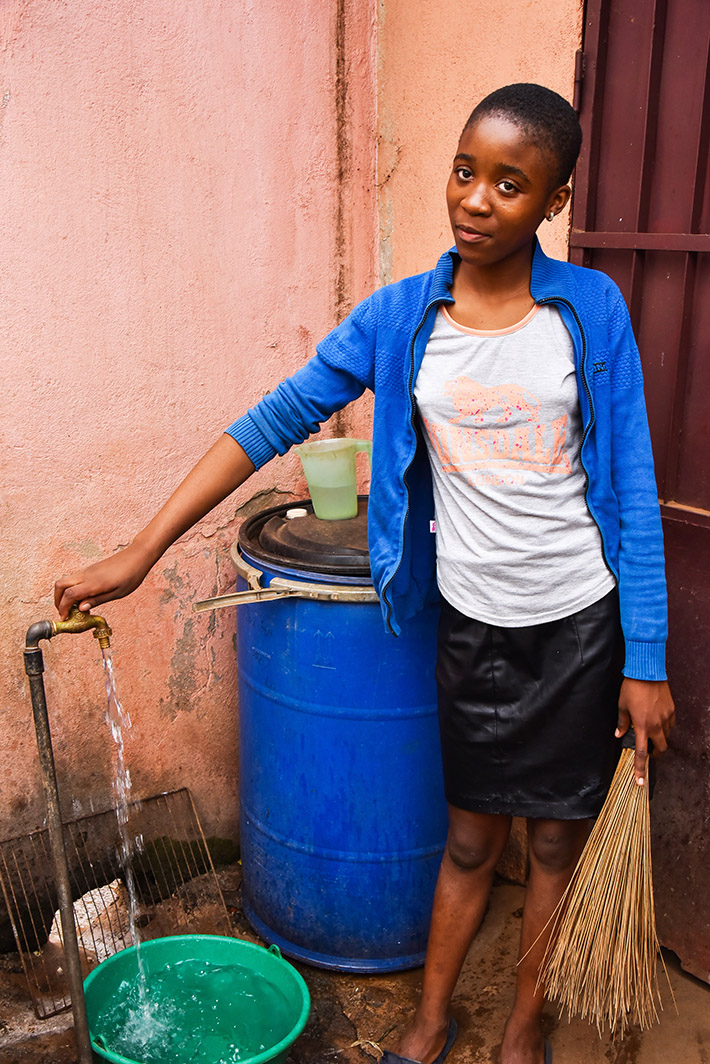 A girl fetches water in Bafoussam, Cameroon, on 2 March
China and Cameroon have a strong and blooming relationship. The proof can be found in the magnificent $123-million memorandum of understanding (MoU) that was signed on 28 August 2023. The Export-Import Bank of China and Cameroon Water Utilities Corp. (CAMWATER), the government agency in charge of providing drinking water, signed the deal.
Provision of drinking water to nine towns in Cameroon is the centrepiece of this MoU. Gaston Eloundou Essomba, minister of water and energy of Cameroon, presided over the ceremonial event with Blaise Moussa, managing director of CAMWATER. The project's principal contractor, Chinese firm CGCOC, and CAMWATER worked closely to coordinate the project between China and Cameroon. Moussa is, however, ultimately responsible for bringing this huge project to a successful finish.
A graduate of the National School of Administration and Magistracy, Moussa is a superb technocrat with a plenty of knowledge. He has risen to the top levels of Cameroon's institutions thanks to his professional excellence. ChinAfrica had a conversation with Moussa in order to fully understand this project. He discussed the crucial components of this significant undertaking during the interview.
ChinAfrica: What is the significance of this deal you have with China?
Blaise Moussa: Saying that this agreement is just essential would be oversimplification. It is an essential step towards enhancing the quality and quantity of drinking water distribution in cities, towns, and smaller areas as part of our broader goal, which is supported by the government. The state's responsibility, if not its goal, is to guarantee that all of its residents, regardless of where they live, have fair access to drinking water, the most important resource of all. The relationship between CAMWATER, the project's owner, and the Chinese firm CGCOC, the project's principal contractor, is a representation of the close cooperation between Cameroon and China that is embodied in this project.
With an outstanding daily capacity of supplying 150,000 cubic metres, China recently built the Yato Drinking Water Treatment Plant to increase water supply capacity of the city of Douala. Can you provide us additional information about this project and how it will affect Douala?
In fact, this project has significantly raised the standard of living for those who live in Douala, our economic centre. The city's water supply has significantly changed as a result of China's tremendous assistance, which includes financing in the amount of $50 million and the technical teams' knowledge. The Yato water treatment facility, which is situated on the Mungo River, now has a daily capacity of treating 160,000 cubic metres, up from 100,000 cubic metres. Additionally, the distribution network has been extended by more than 95 km, and the storage reservoirs have been enhanced by 17,000 cubic metres. The construction of new pipelines to provide purified water to various regions was one of the project's highlights. One of the project's most impressive accomplishments is the 450-metre pipe bridge across the Wouri River, which is visible when travelling on the bridge connecting Douala and Bonabéri.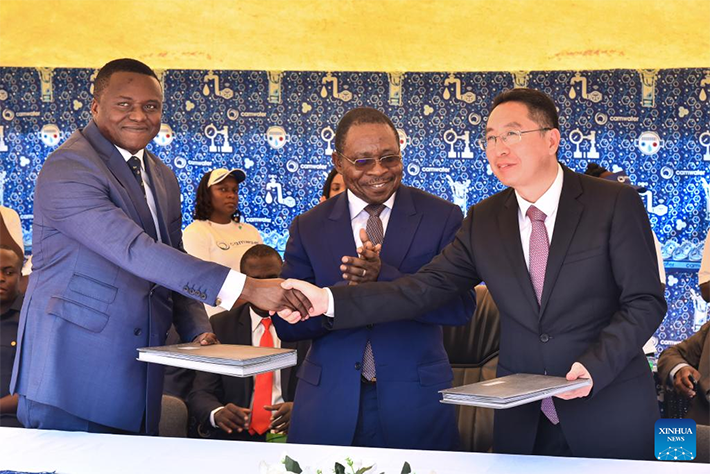 Blaise Moussa (left front) shakes hands with the representative of the Export-Import Bank of China (right front) during the signing ceremony of the memorandum of understanding on a water project, with Cameroon's Minister of Water and Energy Gaston Eloundou Essomba (centre)
What do you think of China's promise to help the Cameroonian government to provide access to clean water for its citizens?
China has always maintained a significant presence in our nation, making contributions to several development initiatives that go far beyond the provision of drinking water. We are not surprised by China's commitment to the water industry because it is consistent with its investment and sophisticated technological know-how. Due to China's extensive terrain, it has comparable hydrological and climatic issues to Cameroon. It has qualified engineers, creative methodological technicians, and water specialists as a consequence. Collaboration with a partner who possesses such knowledge makes sense and is helpful for Cameroon in order to increase the security and sustainability of its water supply.
What will be the daily production capacity for these towns?
A total of 120,000 cubic metres will be produced overall and distributed among the communities. That's a substantial amount of material. The distribution will undoubtedly change depending on the size of the towns, the regions, and the population density.
Do you have any intentions to expand the idea to other cities, without disclosing any trade secrets? Which ones come next, if so?
On this topic, there is nothing private to discuss. It is true that CAMWATER is testing a variety of projects, each with a unique level of complexity and significance. To list them all here would take a lot of time. I want to emphasise, nonetheless, that we are moving in a direction that is obvious thanks to our Five-Year Priority Investment Programme. With a budget of around $2 billion, this plan outlines every purpose we have for the upcoming years throughout the whole scope of our country. It is crucial to consider the situation in terms of the projects themselves as well as their feasibility from an economic, budgetary, and environmental standpoint. The majority of this investment is made possible by donations from the federal or state governments.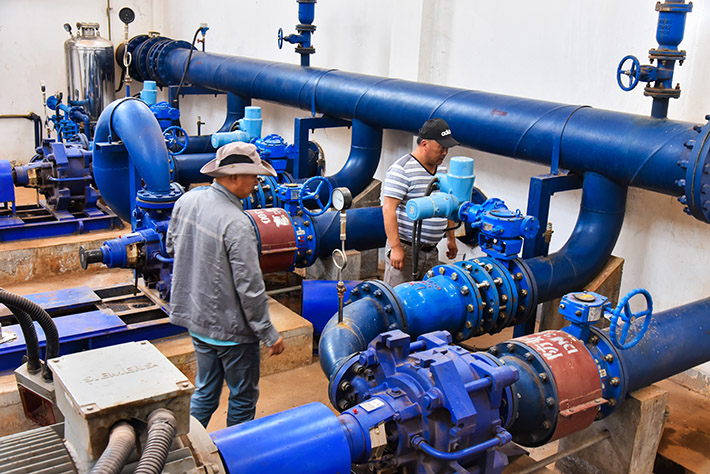 Workers check the treated water pumping station at a Chinese-built water treatment plant in Bafoussam, Cameroon, on 2 March
It is important to consider if a project of this size can improve the expertise of the CAMWATER team in terms of technology transfer. Have you spoken about this matter with your Chinese business partners?
It is obvious that every new project is a chance for people and organisations to grow, advance, and create. Because of this, knowledge will always be the foundation of contemporary economies. CAMWATER, which has a reputation for having strong technical abilities, has amassed priceless knowledge as a result of diverse experiences around the nation. Today, the management of the organisation is centred on this intellectual and technological history. To put things in perspective, we have 1,600 staff who work in 117 communities around Cameroon to ensure the country's residents have access to clean drinking water. For us, this is a major source of pride. Our desire to establish CAMWATER as one of Africa's top businesses in our industry will only grow as more projects and partners come on board.