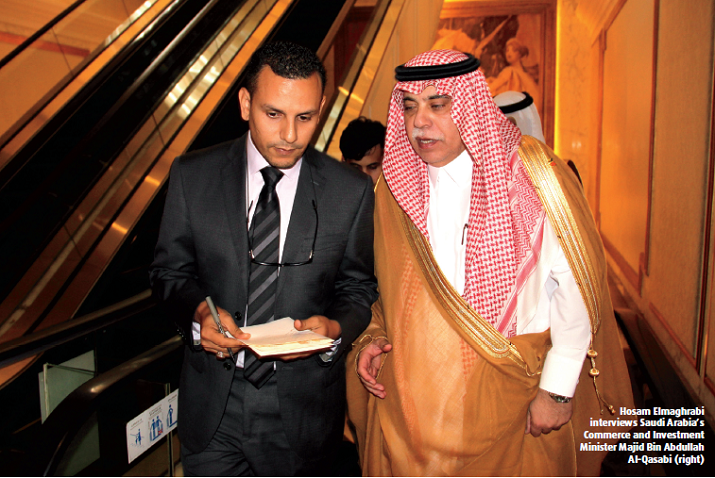 Hosam Farouk Elmaghrabi believes that the early bird catches the worm. He starts his working day at the Arabic department of China.org.cn, a media website managed by China International Publication Group (CIPG). It's only 7:45 a.m., but the 38-year-old editorial consultant from Egypt looks full of energy. Such diligence is most likely the reason why Hosam was granted the Chinese Government Friendship Award, the highest distinction award given to foreign experts by the Chinese Government. And indeed, his friendship with China is no passing fad.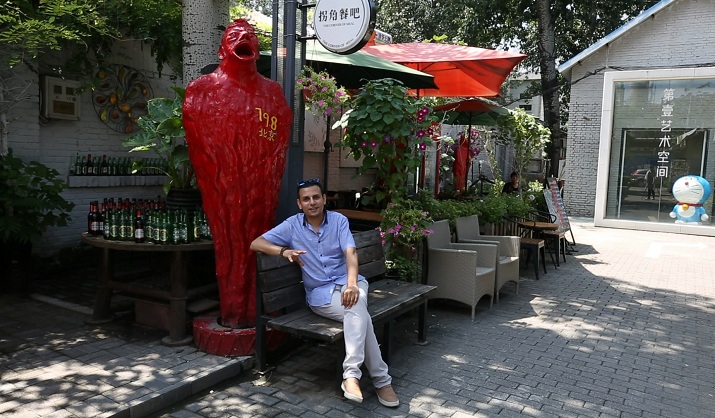 Enjoying life in Beijing
A love story like no other
Elmaghrabi met his wife - a Chinese national - at a party in Cairo, Egypt 14 years ago. It was love at first sight for both of them, and they got married just one year later. They lived for three years in Egypt before moving to the Chinese capital. This life-changing decision was made out of love. "I did not want my wife to stay away from her family too long. My brothers take care of my parents, so it was my turn to follow her to China," he said.
In 2005, the couple arrived in Beijing to start a new chapter in their life. Surprisingly perhaps, Elmaghrabi did not feel homesick. "Egyptian and Chinese cultures have many things in common. For example, we attach particular importance to the family. So I did not experience any real cultural shock," he told ChinAfrica in fluent Mandarin. His wife, who introduced him to the language, obviously played a major role in helping him integrate with the local culture.
Now been married for 13 years and father of a 12-year-old girl, the Egyptian could not be happier, living in a city he now considers as his own. "Whether it is shopping, traveling or daily life, everything is convenient. So much that I'm afraid of not being able to adapt to life elsewhere," he said, laughing.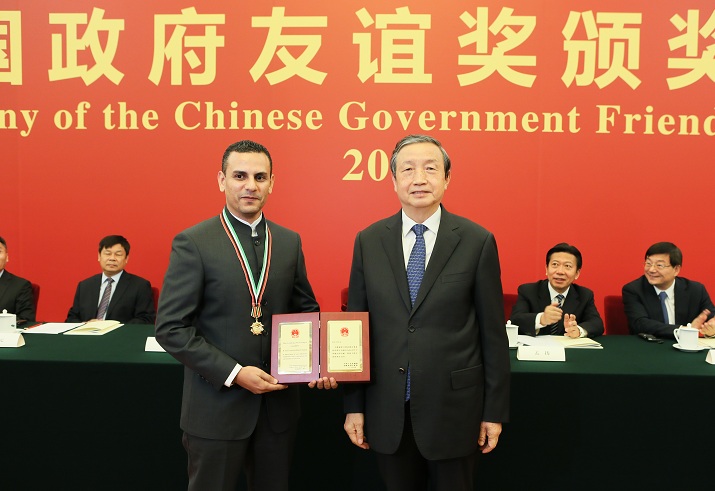 Presented with the Chinese Government Friendship Award
China-style integration
Before coming to China, Elmaghrabi taught Arabic language to illiterate elderly people in Cairo. Upon his arrival in Beijing, he worked as an Arabic teacher for nearly five years in China Islamic Institute and Beijing Municipal Islamic Institute in succession. Later in 2010, he was hired as an editorial consultant at China.org.cn, within the Arabic department. This new assignment became a way for him to stay aware of the latest news and deepen his knowledge of his adopted country.
"He's extremely hardworking, and has a high sense of responsibility. He never complains and is always ready to help," said Yang Shaomin, one of his colleagues. "He pays attention to the slightest detail, verifies everything and never leaves room for doubt," she said of Elmaghrabi who she considers her brother.
Beyond his daily editorial work, Elmaghrabi also goes out in the field to cover major events, like the G20 Summit in Hangzhou or the Belt and Road Forum for International Cooperation. During these occasions, Elmaghrabi had the chance to meet and interview a number of Arab politicians, resulting in high-profile interviews with the Egyptian President, the Egyptian Minister of Foreign Affairs and the Sudanese Minister of Internal Affairs, to name just a few.
In 2016, he took part in the creation of more than 20 media reports for China.org.cn, including not only political interviews, but also cultural and social topics.
To better understand China, Elmaghrabi takes advantage of his free time to travel around the country and discover the habits and customs of its different regions. He has a special love for the Xinjiang Uygur Autonomous Region, and is impressed by its modern infrastructure where ethnic minorities and Han people live in harmony.
As a self-described "jack of all trades," he also tried his hand at video production as part of his job. Video, he said, is an effective means of communication to share his views and experiences of China. This summer, with the help of his colleagues, he initiated a bilingual online program aimed at getting Arabic-speaking audiences to discover the country.
His efforts have not gone unnoticed: Elmaghrabi has been awarded the title of the best foreign worker of China.org.cn every year for the last five years. And at the end of September, he reached a new peak in his career by being awarded the Chinese Government's Friendship Award for his remarkable contributions to the modernization of the country.
Although he is deeply touched by such an honor, he is quick to add that this would not have been possible without what he calls his "two families:" his own and his Chinese colleagues. "Without them, I would not be who I am," he said. "I'm really happy to see that my efforts are being recognized and rewarded. This shows that China guarantees equal opportunities to succeed for foreigners."
Talking about his future projects, Elmaghrabi said modestly that he wishes to continue his career in the media world, convinced that with the knowledge and experience he has accumulated, he will always be in a better position to present another aspect of China to the Arab world.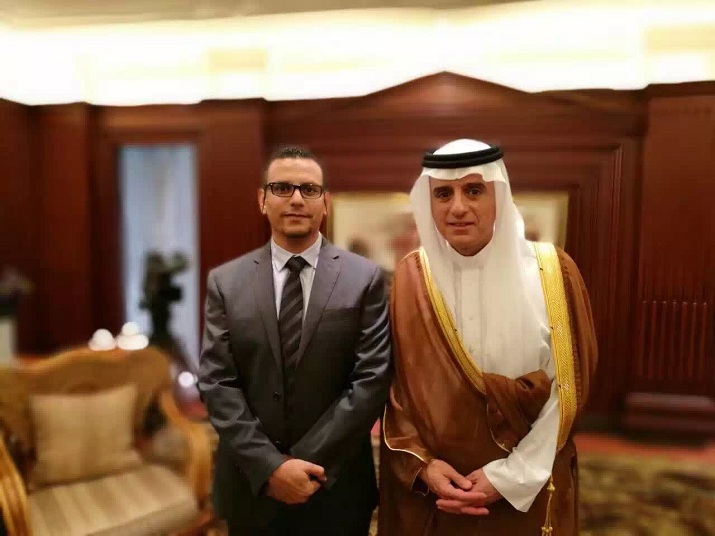 Meeting Saudi Arabia's Foreign Minister Adel Al Jubeir