When Li Guofeng heard his high school teacher describe Ethiopia in geography class 30 years ago, he told himself that someday he would go there and see the place for himself. He was so deeply impressed by his teacher's description that he can still recite what he learned.
"My teacher told me that Ethiopia is the 'Roof of Africa,' with a moderate temperature, abundant rainfall and a humid climate. Ethiopia is the 'water tower' of the continent, with its countless lakes," he said.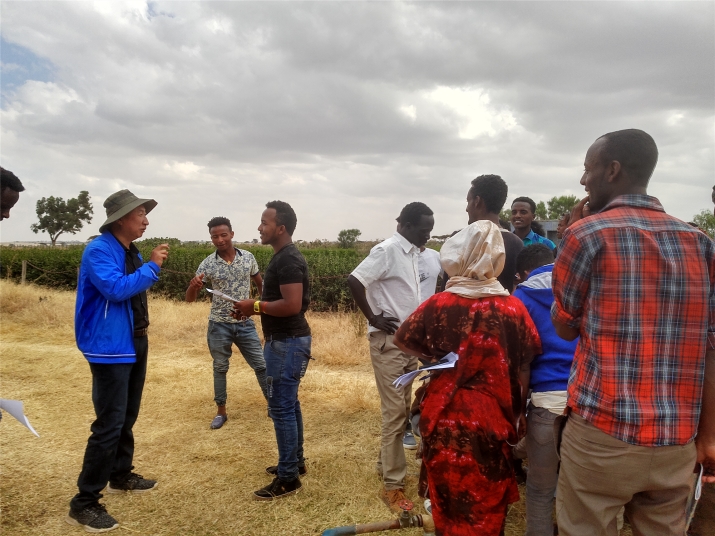 Li Guofeng in discussion with his students in the field (COURTESY PHOTO)
Born in north China's Hebei Province, Li is now 47 years old and a chief agronomist. In 2012, he applied to take part in a China-Ethiopia agricultural cooperation project, and was finally able to set foot in the country he had so often dreamed of in his youth.
Six years later, he is still in Ethiopia, where he works to spread new corn cultivation techniques at Agarfa Agricultural Technical Vocational Education and Training (ATVET) College. Having had spent four years in the country from 2012 to 2014 and from 2016 to 2018, Li has observed that despite the rich natural resources, local agriculture remains underdeveloped in the country.
"As an agricultural technician, I have the responsibility to do what I can to serve the country," Li told ChinAfrica.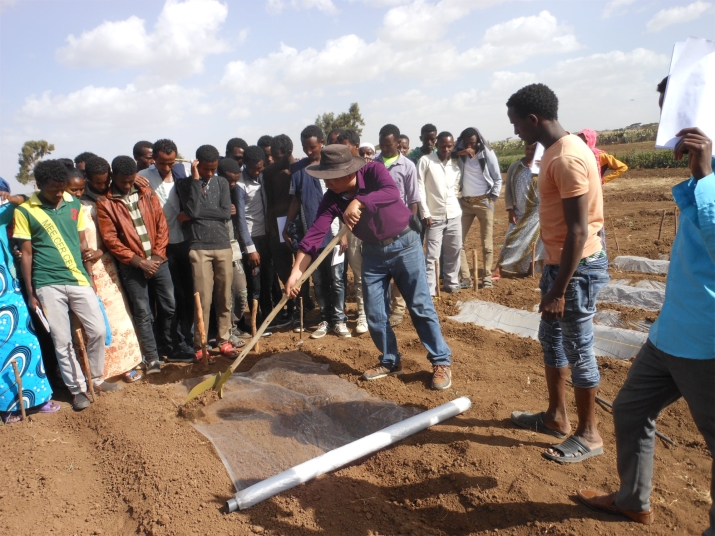 Li Guofeng demonstrates the use of geomembranes (COURTESY PHOTO)
Acting as a change agent
Corn is a staple in Africa. In Ethiopia, however, corn farming is facing a weather-related challenge: The country has two rainy seasons each year, from April to May with 200-300 mm of rainfall and from July to September with 600-700 mm of rainfall. Traditionally, corn is grown in July and harvested in October, because the rainfall from April to May is insufficient to germinate this crop. It, therefore, lies dormant in the first half of the year.
To solve this problem and increase corn yields, Li studied the methods used in the dry provinces of west China. After soliciting advice from Mohamed Yesuf, Director of the Melkassa Agricultural Research Center of Ethiopia, and Lealem Tilahun, who heads up corn research at the center, Li put forward the idea of covering corn fields with geomembranes, thus preserving rainwater and ensuring that the plants have sufficient moisture.
Using this technique, it is now possible to grow corn in February and harvest in June, yielding 50,000 ears of corn per hectare, with a value that can reach up to 300,000 birr ($11,000). Meanwhile, corn yields for seed plants can only fetch 30,000 to 50,000 birr ($1,100 to $1,800). Moreover, with this technique, it is now possible to harvest twice a year, which greatly increased the income of farmers.
In April 2017, Akele Mollale, Vice President of Agarfa ATVET College, visited the demonstration area and was amazed by the results. "This low-cost Chinese technique to save water offers huge opportunities in the dry regions of Ethiopia," he said, asking Chinese experts to popularize it first in the surrounding communities. This year, the technique continues to be tested on other plants, such as sweetcorn, waxy corn and Chinese millet.
Telila Bekele is among the most studious of Li's students. He lives in a small village more than 200 km from the college. His family of seven lives within modest means, as their only income depends on his father's work in the fields and his brothers herding cattle. To improve their livelihood, Li gave the family seeds, geomembranes and fertilizer, in addition to training his father to grow corn using geomembranes over an area of ​​1,500 square meters. Even though part of the corn field was destroyed by wild animals, they still managed to sell more than 40,000 birr ($1,500) of corn last year. Telila's father now plans to buy a television this year and a motorcycle the following year.
"Teaching them how to use a practical and effective technique is much better than giving them money and food directly. That is, it is better to teach people how to fish than to give them fish," said Li.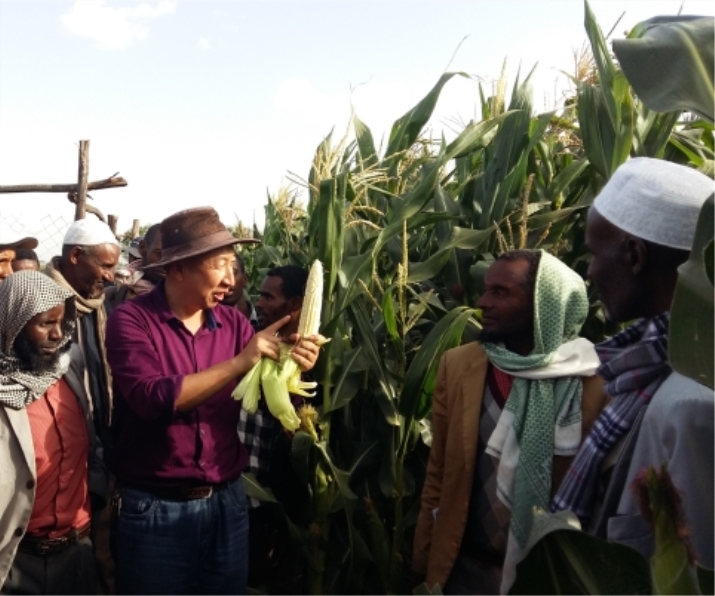 Li Guofeng and his students assess corn production (COURTESY PHOTO)
Earning trust
During his first term in Ethiopia from 2012 to 2014, Li was facing a thorny problem: mealybugs, soft-bodied pests which feast on cotton plants, were everywhere. Because of this parasite, Ethiopia's cotton fields were reduced by 60,000 hectares in 2013. In China, mealybugs have only been found in parts of south China's Guangdong Province, but no effective countermeasures were available to deal with them. After conducting research in cotton production areas, Li had an idea to tackle this scourge.
Li presented a proposal to well-known Ethiopian cotton expert Miesso Hemba at the Werer Agricultural Studies Center on how to address the mealybug scourge. Hemba experimented with Li's plan and the tests' results exceeded their expectations. Li was subsequently invited to take part in a seminar on this topic held in Addis Ababa on June 7, 2013, organized by the UN Food and Agriculture Organization (UNFAO).
"UNFAO invited me to submit an academic report, which shows that they trust in Chinese experts and confirm the image of China as a great responsible country. It was the experience that impressed me the most," said Li.
"Infrastructure conditions are relatively poor in Ethiopia. For example, electricity and water supplies as well as access to Internet are unstable. Furthermore, Ethiopians speak many different languages, which is a big obstacle when providing technical training. However, our Ethiopian friends trusted us and helped us overcome all these difficulties," said Li.
(Comments to glj@chinafrica.cn)