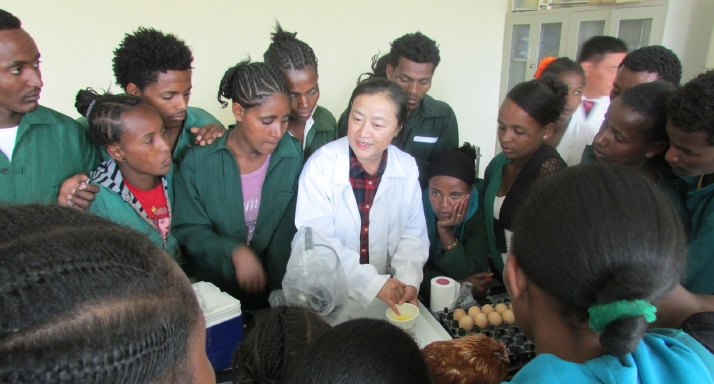 Ma Lina gives a class at a poultry lab (COURTESY PHOTO)
For 55-year-old Ma Lina, this year will mark both her return home and her official retirement from her profession. The Chinese animal husbandry and breeding expert, who has spent the past five years teaching at the Holeta Agricultural Technical and Vocational Education Training (ATVET) College in Ethiopia, has been a sterling agricultural ambassador for China in Africa during this time.
Her first trip to Africa dates back to 2004, when Ma was dispatched to Nigeria by then Ministry of Agriculture of China and the Food and Agriculture Organization of the United Nations, as part of a South-South agricultural cooperation program. Once there, she was quick to forge a deep friendship with Nigerians.
Back in her hometown of Chengdu in southwest China's Sichuan Province in early 2007, she began her work of pig breeding, but never gave up on the idea of returning to Africa. Seven years later, a new opportunity opened up. With the ongoing economic restructuring in China, livestock farming was no longer a pillar of local agriculture in Sichuan. Ma took this opportunity to go back to the African continent in late 2013.
Despite the inevitable discomforts of everyday life in a foreign land, Ma said she has never regretted her decision. "When I see the thirst for knowledge in the eyes of my students, I feel the heavy weight of responsibility on my shoulders. So I give everything I have in the hope of helping them pass the COC (Center of Competence Test) assessment and introduce them to modern breeding techniques from China," she told ChinAfrica.
But her efforts are not limited to training. As one of the first Chinese instructors sent to Holeta ATVET College, she is responsible for the introduction and demonstration of new techniques not only to teachers and students in her college, but also to farmers in neighboring villages.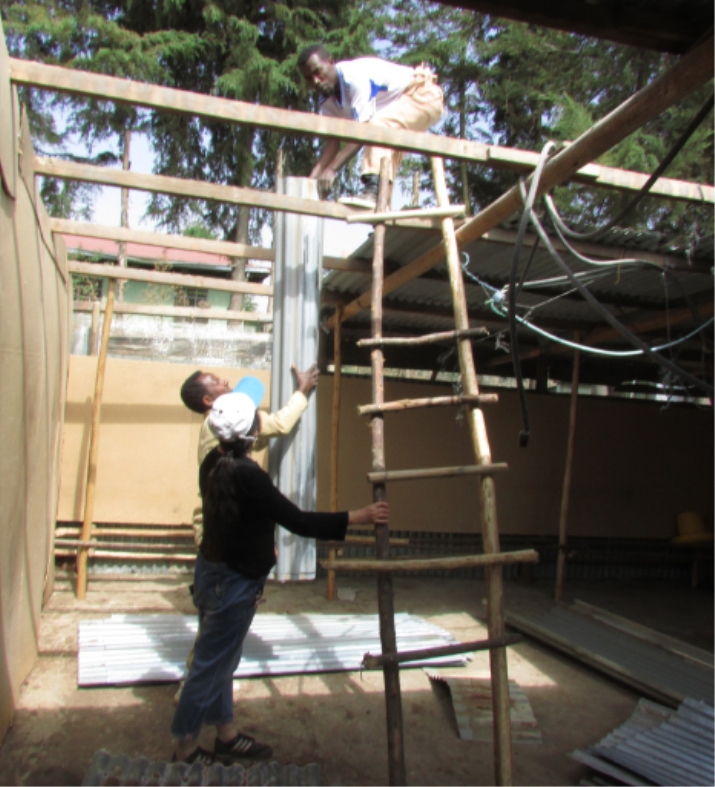 Renovating the hen coop (COURTESY PHOTO)
Cross breeding
Chicken farming is an important economic activity in the Oromia Region of Ethiopia where Ma was based. However, local chicken breeds are small and slower-growing. In addition, they do not produce a lot of meat. Seeing this, Ma was reminded of a technique in China, where farmers cross local rooster breeds with chosen hens to produce hybrid chickens. This technique is already widespread in rural areas in China, and with good reason. Compared to other breeds, these hybrid hens have more meat and grow faster, and are usually ready for slaughter after 110 days. It is no surprise that they often enjoy a higher selling price on the market, and therefore are becoming increasingly popular among Chinese farmers.
Convinced of its effectiveness, Ma repeatedly suggested this technique to college management, but to no avail. In fact, because of tight budget restraints, the college was reluctant to accept her proposal - the cost of feeding the chickens alone could amount to more than 20,000 Ethiopian Birrs ($740).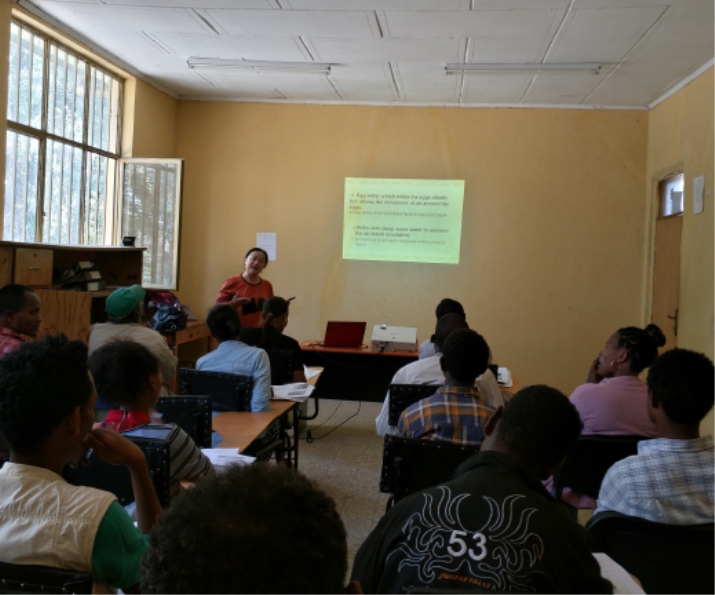 Ma Lina trains local technicians and farmers (COURTESY PHOTO)
To address their concerns, Ma modified her project, minimizing potential expenses. The new plan was accepted and implemented in 2017. At the end of the trial period, 100 hybrid hens were bred. Although this technique is far from being a recent discovery, it is the first time it was used in Oromia Region.
Merga Nagassa, Dean of Holeta ATVET College, said Chinese agricultural instructors acted as drivers of change in the country. "If these demonstration projects of agricultural techniques can be implemented, not only will the quality of the teaching in the college improve, but local farmers will also benefit," he said.
Fixing the chicken coop
After taking care of the hens, Ma turned her attention to where they were hatching: the college's chicken coop, which was built more than 10 years ago. With an old roof made of rusty iron sheets, rain leaks were a major problem. In addition, it was common for rats to sneak inside the coop and attack chickens. This led to a spike in disease transmission in the henhouse, hindering breeding efforts. As a result of these problems, the chicken coop was abandoned around five years ago.
As the college did not have enough money to build a new one, Ma proposed to fix the old chicken coop.
Following her proposal, and despite its financial constraints, the college spared no effort to raise funds in order to refurbish the chicken coop. At the beginning of March, the henhouse restoration work, which became one of the eight demonstration projects of the Chinese agricultural mission for this year, was completed.
It included changing the door, windows and roof, and also building a new wall and adding facilities such as roosts and nest boxes for laying hens.
Ma's work was recognized as being the "first class." In a letter of thanks sent in early July to Han Changfu, Chinese Minister of Agriculture and Rural Affairs, his Ethiopian counterpart Eyasu Abraha highly praised the performance of the Chinese mission and of Ma in particular.
"Availing Chinese agricultural senior experts to share their experience and expertise with Ethiopian instructors has played a pivotal role in helping them with basic knowledge, skills and attitudes that inevitably make them successful in their professional career," wrote the minister.
(Comments to lixiaoyu@chinafrica.cn)