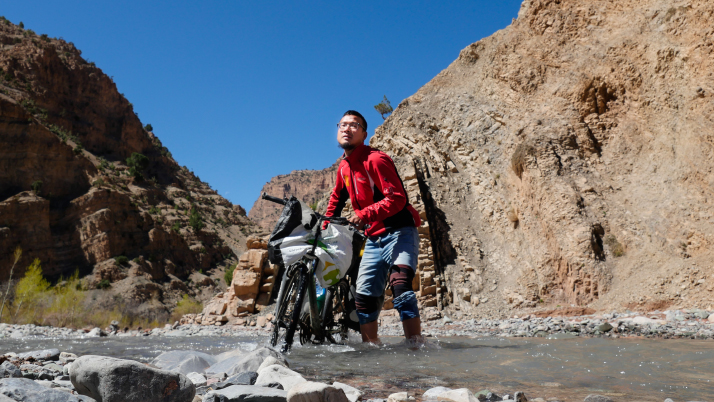 Yuan at the foot of the Atlas Mountains in Morocco
Yuan Jianglei has an amazing story to tell. The 27-year-old is one of a handful of people who can say they have cycled through Africa - solo. Yuan began his epic adventure in the West African country of Benin, ending 10,544 km and 333 days later in his hometown of Ningbo, east China's Zhejiang Province.
The journey, which came to a celebratory end in September 2017, took him through 16 countries.
"This is an amazing experience," Yuan told ChinAfrica. "Personally, I love outdoor sports. I can have greater freedom, watch different sceneries and experience different cultures and lifestyles, especially in Africa, a continent which is very dear to my heart."
The ride was underpinned by a charity program initiated by Yuan, aiming at improving local people's access to drinking water and electricity in Benin, a country where Yuan had worked as a Chinese teacher for more than two years.
Yuan arrived to teach Chinese at the Confucius Institute at University of Abomey-Calavi in south Benin in 2014. After graduated from Chongqing Jiaotong University in southwest China, he applied to the Confucius Institute Headquarters for a volunteer job and was sent to Benin.
During his two years' stay in the country, Yuan got to travel widely and came to love the surroundings. On the one hand, he was awed by its natural beauty and unique culture. On the other hand, he was shocked by the country's harsh natural conditions and stringent supplies of water and electricity.
"Though living in poor conditions, local people around me were optimistic," recalled Yuan. "That's why I hope to do more to help them." Learning about Yuan's aspirations, local Chinese company Apsonic, a motorcycle company under the Sincerity International Group Ltd., an investment and trade company headquartered in Hong Kong, agreed to give $1 to Yuan's charity for every kilometer he cycled. The funds collected were used to build a well and solar power station in Nipouni, a village in north Benin, which Yuan had previously visited and found to lack both water and electricity.
"Actually, cycling back home was to realize my own dream; but I also want to do something for my friends in Benin," said Yuan. In addition, he wanted to help those people he met on his journey through Africa who helped him along the way.
A journey of friendship
Yuan started his journey in September 2016 and passed through countries such as Togo, Mali, Senegal, Gambia, Mauritania, Morocco and some Asian countries before coming back to China.
"The most unforgettable part of the journey was the friends I made during the trip," Yuan told ChinAfrica. He received a lot of helping hands from locals and was moved by their kindness. "Even though we spoke different languages, a smile or a greeting line spoken in the local language was enough to break down cultural barriers," said Yuan.
The most difficult part of the journey was in Mauritania. The 440-km section from the capital Nouakchott to Atar, a town in the central west of the country, which he had planned to finish in three days, took him eight days to complete owing to heavy sandstorms. Yuan said there was only one grocery store every 50 to 100 km where he could buy some cookies. Police stationed at road blocks along the route would offer him some water for free so that he could quench his thirst and keep moving.
The most impressive experience also happened in Mauritania. Yuan recalled one day when it was almost dark, he couldn't find a spot suitable for camping. Becoming anxious, he caught sight of a small farm. He tentatively called out "Hello" in Arabic several times until eventually the owner of the farm came out, who not only allowed him to stay overnight, but also gave him a local style head scarf as a reminder of his journey.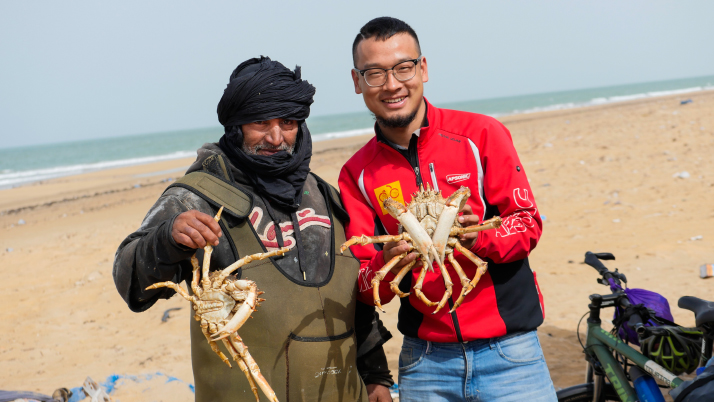 Yuan samples local seafood in Morocco
"Thanks to the scarf, I was able to continue riding in spite of the scorching sun and the sandstorms in the desert," said Yuan.
In Morocco, Yuan was warmly welcomed by Tolba Saadbouh, a man of the Sahrawi ethnic group. He stayed overnight in Saadbouh's home where he was treated to a feast of king crab. After bidding his farewell and never expecting to see Saadbouh again, Yuan had to contact him for help after his bike broke down 70 km outside the village. Upon the request, Saadbouh immediately drove his van to meet Yuan and took him to the next city to fix his bike.
"I was helpless. I didn't expect that Saadbouh would travel so far to help me. I was really moved," said Yuan.
An adventure
Although Yuan had carefully planned the trip and received help from many African friends, he didn't avoid every accident. As the strong wind slowed him down in Mauritania, he wouldn't have been able to leave the country before his visa expired if he cycled all the way. This prompted catching a freight train in Choum, a town in north Mauritania. Yuan recalled that because the train stopped only briefly at Choum, he was still trying to load his bike and belongings when it began to pull out. Luckily, a shepherd who was already on board managed to help him to get on the train as it moved off.
It is these memories that remind Yuan of just what an amazing life-changing experience he has had.
When he returned to Benin on March 6, six months after completing his ride home, to fulfil the promise he made to the people of Nipouni, he was warmly greeted.
The charity project, along with this remarkable journey, was recorded by Yuan who is busy producing a 28-episode documentary to share his epic adventure.
"I hope people can get to know a more authentic Africa and a completely different world from ours through my camera lens," said Yuan.