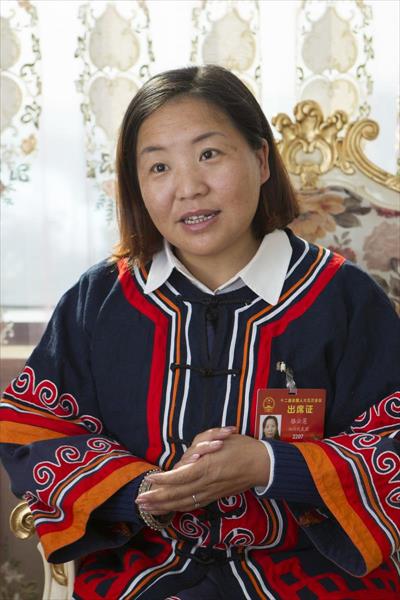 Luo Yunlian
Luo Yunlian was a virtual prisoner in her village 15 years ago, living on a steep cliff in southwest China's Sichuan Province. The only way the more than 400 people living in Gulu, an ethnic Yi village at a height of 2,000 meters above sea level, could reach the outside world was by using long ladders. It was a precarious journey made even more dangerous by the wild Dadu River below.
In 2002, with financial aid from the local government, the villagers built a narrow track as a means of getting to the nearest village. Although the danger of using ladders was eliminated commuting still took three hours.
But things have changed. Luo, secretary of the village sub-branch of the Communist Party of China, was elected as deputy to the NPC in 2013. Since then, she has submitted proposals for better infrastructure and transport in her hometown and hopes someday Gulu will have a road, which can transform the village.
"We need a road, not only for villagers to go out but for visitors to come in," she said.
Due to Gulu's remote and rugged terrain, building a highway would be a tough job and immensely expensive. The required budget could be as high as 40 million yuan ($5.8 million), according to the local transport authority.
Nevertheless, Gulu's dream for a road has not been forgotten by the government. With Luo's efforts and more funding, the village infrastructure has been gradually improved.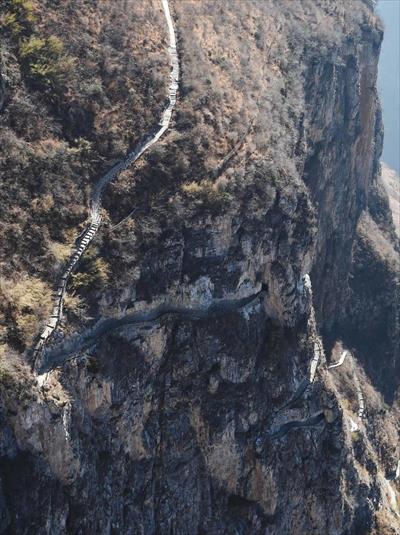 The road leading to Gulu Village
Last October, a 750-meter ropeway was built across the Dadu River at a cost of 24 million yuan ($3.48 million). Today, it is the villagers' main link to reach nearby communities.
"The ropeway has resolved the commuting problem of our 400-year-old village," Luo said. "Villagers' destinies have changed completely."
There has been some criticism though. Social media critics have asked whether a village with a mere 400-plus people deserved so many resources. Many suggest that the villagers should move to another place instead.
But it would have been hard to persuade the villagers, who have lived in Gulu for generations, to leave their home and relocate to another place, according to Luo. It is therefore important to improve transport infrastructure for the village because it concerns people's livelihood and development.
"Due to its special landscape and green environment, Gulu is attracting more tourists," Luo said. She attributes it to the targeted poverty alleviation policy of the government. "In the future, we will focus on tourism development," she added.