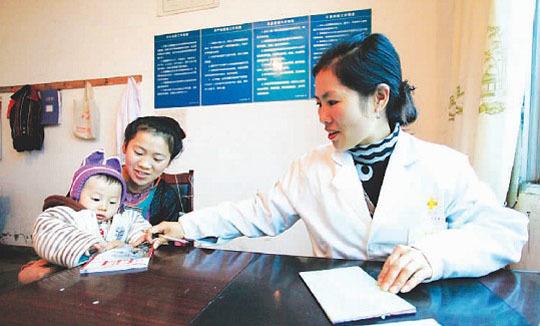 Li Chunyan in her clinic
Li Chunyan, born in 1974, is a doctor in Datang Village, Congjiang County, Guizhou Province. Although she has been working in difficult conditions for decades, but she has never forgotten her duty: to help her patients as much as she can.
As a doctor, Li Chunyan saw with her own eyes a gradual change in the mindset of her fellow villagers - from "consulting a sorcerer" to "going to see the doctor."
In 2000, she got married and settled down in Datang Village with her husband. In the same year, she graduated from medical school after three years of study. Upon her arrival in the village, she immediately realized that the inhabitants there were not used to seeing a doctor. Many people had never resort a doctor when they get sick. So she took upon herself to open a small clinic right there. With the support of her family - her husband had to sell their two oxen - she was able to collect 2,000 yuan ($300) and accomplish her goal.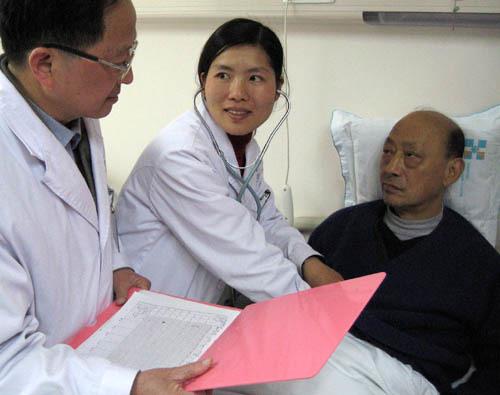 Li Chunyan (center) gets trained in a hospital in Shanghai
However, due to their extreme poverty, villagers were not able to pay for the medical treatments when they got sick. Li voluntarily paid all the bills. This also put her in a heavy debt. On several occasions, she decided to close her clinic and go to work in big cities with her husband, so as to earn money to pay off her debts. But she changed her mind the moment she was about to leave her village. "If I leave the village, the villagers would have to go to sorcerers when they get sick. I don't think sorcerers could help them," she said. "They need me."
After the media reported her story, she began receiving donations from many people. Thanks to the help, she was able to repay her own debts and continue to support her practice. Later, with helps from the local government and charity organizations, a new 270-square-meter clinic was built in 2006.
Since the introduction of the New Rural Cooperative Medical Care program, rural patients do not need to pay so much and they could pay their own bill when they get medical treatment. This also makes Li even busier every day. She often has to work until 2:00 to 3:00 in the morning.
With the money she earned by growing oranges, she established "Chunyan Fund" to help training doctors in her village and the surrounding areas. "I hope to help more people by change their habit of resorting to sorcerers when they get sick," she said.