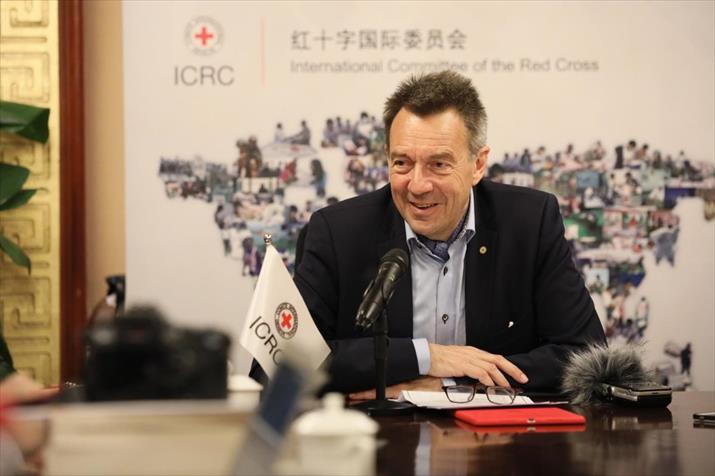 Peter Maurer, President of the ICRC, at a media briefing in Beijing (COURTESY PHOTO)
The International Committee of the Red Cross (ICRC) can make a valuable contribution to the Belt and Road Initiative by fostering solid partnerships with the Red Cross Society of China for long-term cooperation within this framework, said Peter Maurer, President of the ICRC when he was in Beijing for the Belt and Road Forum for International Cooperation on May 14-15.
According to Maurer, the ICRC has significant and often long-term operations in 40 countries along the Belt and Road. "It has a deep understanding of local security and humanitarian dynamics, as well as first-hand knowledge of development challenges," he said.
"The Belt and Road Initiative is about development, and development requires stability and peace. If these conditions are not present, humanitarian action has to jump in," said Maurer. "Providing neutral, impartial and independent humanitarian assistance in sometimes protracted conflicts and situations of violence can create an environment conducive for development."
In recent years, conflicts and wars have occurred in some African countries such as Somalia, South Sudan and Mali. "The conflicts and violence are destroying social stability and development progress," he said.
According to him, African countries are different in terms of language, culture, religion, tribes, tradition and climate. "But our starting points are the needs of people. We will look at each context specifically, and design solutions depending on the contexts," said Maurer.
He noted that inclusiveness is a key factor for the success of the Belt and Road initiative. To achieve great success, a diversity of stakeholders needs to be involved. He said he looks forwarding to more cooperation with China in humanitarian assistance.
"China's experience, knowhow and resources will be helpful for humanitarian activities around the world. The ICRC will be an important partner in that effort to help places outside of China," he said.
Established in 1863, the ICRC is at the origin of the Geneva Conventions and the International Red Cross and Red Crescent Movement. It's an impartial, neutral and independent organization whose exclusively humanitarian mission is to protect the lives and dignity of victims of armed conflicts and other situations of violence and provide them with assistance.