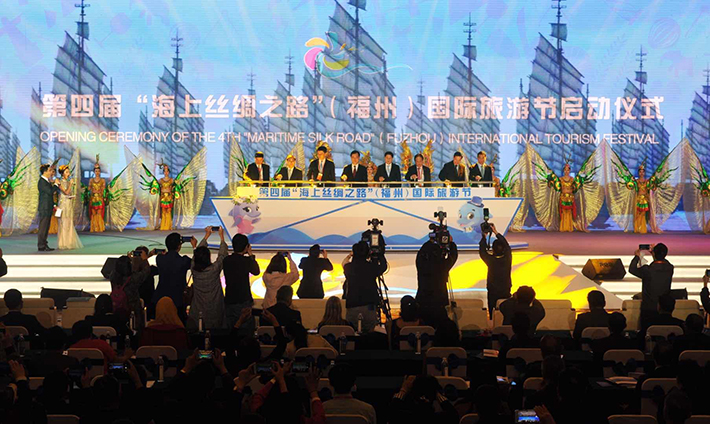 The opening ceremony of the Fourth Maritime Silk Road (Fuzhou) International Festival (WANG XIANG)
The Fourth Maritime Silk Road (Fuzhou) International Tourism Festival was launched on November 30 to much fanfare.
The festival not only showed the world the development of southeast China's Fujian Province and its capital Fuzhou City as a result of Maritime Silk Road tourist cooperation, but also shared with participants in the tourism industry worldwide the promotion strategies and practice of China's top drawer tourism products. This provided a platform for countries and cities along the Maritime Silk Road to showcase their tourist attractions, tourist investment and financing projects.
The festival was sponsored by the Ministry of Culture and Tourism and Fujian Provincial People's Government, and was undertaken by the People's Government of Fuzhou and Fujian Provincial Department of Culture and Tourism. Held at the Fuzhou Strait International Conference and Exhibition Center, the theme this year was Expanding Cooperation along the Maritime Silk Road to Share a Better Life.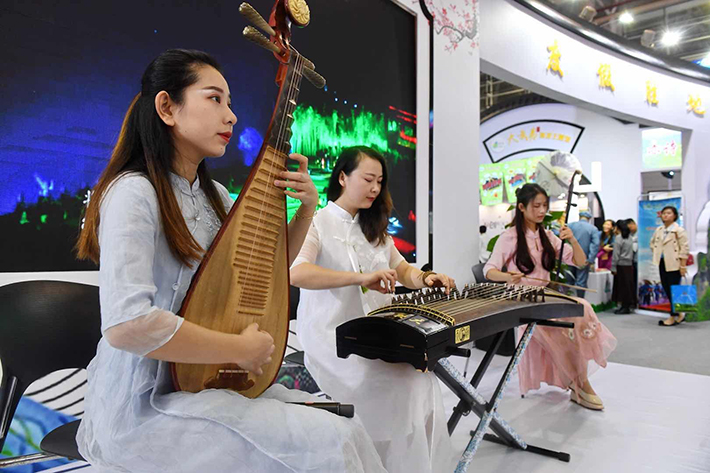 Three musicians play traditional Chinese instruments at the opening ceremony (WANG XIANG)
Fuzhou has been a host of the prestigious forum since its inception four years ago. The annual convergence allows participants to discuss issues pertaining to tourist cooperation and cultural exchange across borders and to work together in promoting win-win cooperation in tourism among countries and regions along the Maritime Silk Road.
According to the organizing committee of the festival, in 2017, Fuzhou's GDP reached 710.4 billion yuan ($102.1 billion) with a year-on-year growth rate of 8.7 percent. Fuzhou has built an industrial cluster worth 2 billion yuan ($287.4 million) made up of food, manufacturing, electronic products, information technology and construction materials. This makes it one of the cities that boast a high industry cluster density and complete supporting facilities in the coastal region of China.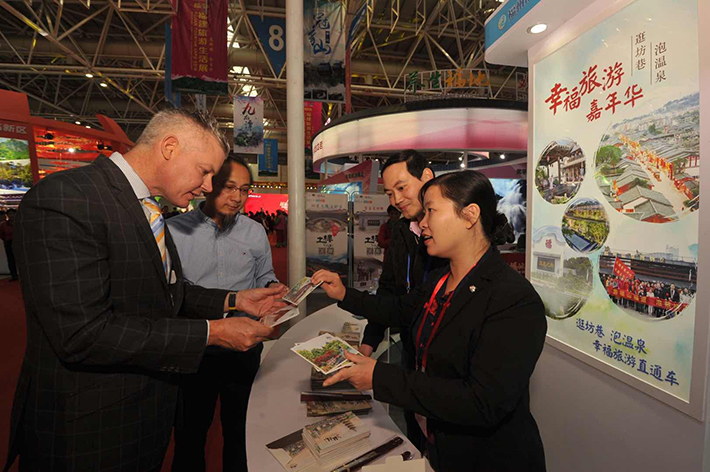 A local travel agency from Fujian Province introduced their scenic spots to participants (WANG XIANG)
This year, the festival witnessed nearly 1,000 participants, including representatives of embassies and consulates of countries such as Myanmar, Croatia and Panama and tourism department representatives from the Belt and Road such as Hungary, Malaysia and Turkey.
A number of local Chinese companies also secured their own exhibition stands at the festival to enhance Chinese participation. Among other key activities was a float parade which ran under the theme Maritime Silk Road Connects the World - Have Fun in Fuzhou. Troupes of performers showcased the customs and cultures of the countries along the Maritime Silk Road.