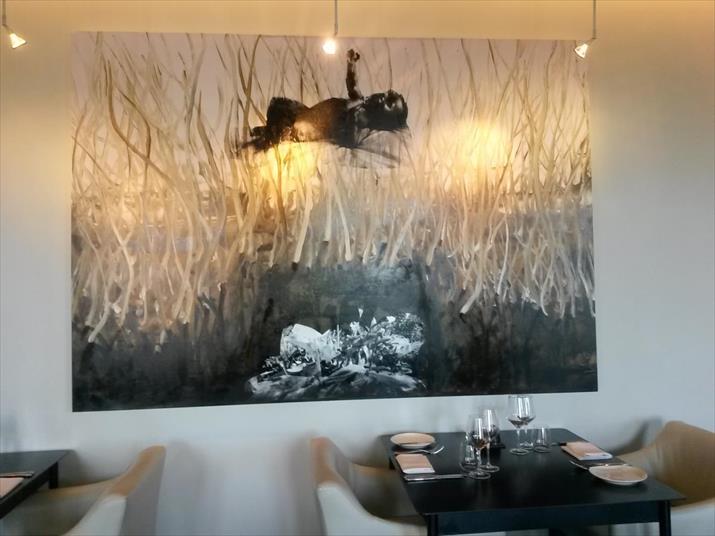 Dash restaurant Queen Victoria Hotel
On a blisteringly cold afternoon I enter through the welcoming automatic glass doors into the warm and quant Wonderboom Airport in Pretoria to board my Airlink flight to Cape Town.
It seems a world away from the hustle and bustle of the closest other commercial airport which is OR Tambo in Kempton Park, Johannesburg (situated about 50 km away) and which also happens to be the biggest local and international airport in the country.
Wonderboom Airport is strategically located to serve commercial passengers and air force activities as well as offering private flight training and providing hanger space for privately owned aircraft. Airlink is also the only commercial airline operating from here.
The location is great for commercial passengers wanting to travel to Cape Town from Pretoria. No more the schlep of sitting in traffic and negotiating trucks...
The two-hour flight lands smoothly and on time and I make my way to my grand abode at the Cape Town Waterfront, the brand spanking new Queen Victoria Hotel. We are staying at the Manor House right next door to this five-star boutique hotel.
Butlers at your service
Out the front door pops a dashing young man dressed in a suit and smilingly introduces himself as Alex as he welcomes us and carries our luggage into the mini foyer. With a quick signature we are all checked in and he shows us to our rooms. In pops another young man similarly dressed. His name is Gershwin and he is our OTHER butler - yes dear reader, at the Manor House guests have two butlers at your service 24 hours a day...
He explains how everything in the fabulous double room works and enquires after our ambient needs regarding the room temperature. He pours us a lovely bubbly Graham Beck Method Cap Classis (South African champagne and most excellent) and shows us the patio with its beautiful view of Table Mountain. The bedside lights are suspended from the ceiling by a wire and the room has an ultra-modern yet classic feel with whites, greys and mauves dominating the color scheme.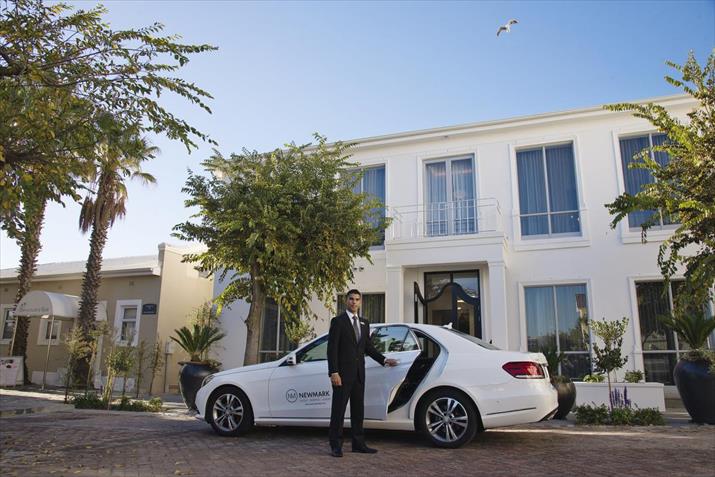 Newmark Hotels five-star service
The butlers are trained by the Butler Academy in Cape Town according to the highest global standards. They will even notice if you're right or left handed and will hang your clothes accordingly! From booking theatre tickets to unpacking luggage, no request is too big or small in terms of catering to for the discerning guests that these suites will appeal to.
The bathroom is a white marble delight with a massive bath the centerpiece and shower to fit an elephant. They are the only hotel with exclusive Molton Brown bath products made from the world's most precious ingredients - divine darling!
The Manor House is actually a unique offering in the form of an annexure of the Queen Victoria Hotel which opened in May. It consists of only four executive suites to complement the other properties of Newmark Hotels, Reserves and Lodges in the V&A Waterfront.
These include the iconic Dock House Boutique Hotel and Victoria & Alfred Hotel; all situated in the bustling V&A Waterfront with its myriad of shops, restaurants and entertainment options.
Luxury suites
The four super-luxury suites at the Manor House is supported by the dedicated team at the Queen Victoria Hotel and the suites enjoy unrivaled and uninterrupted views of Table Mountain, each with their very own private patio or Juliet balcony. A private dining room will also be available for up to six guests at a time for that extra exclusive dining experience. All menus will be tailored to specific guests' preferences and prepared by the Queen Victoria Hotel's top rated restaurant, Dash. Staying at one of Newmark's Waterfront properties certainly has its perks, as guests can use either of the sister hotels' facilities: their new artisanal-style all day dining restaurant Ginja, fully functional gym (available 24 hours), relaxing spa treatments at the Sanctuary Signature Spa next door, as well as full conference facilities at The Forum.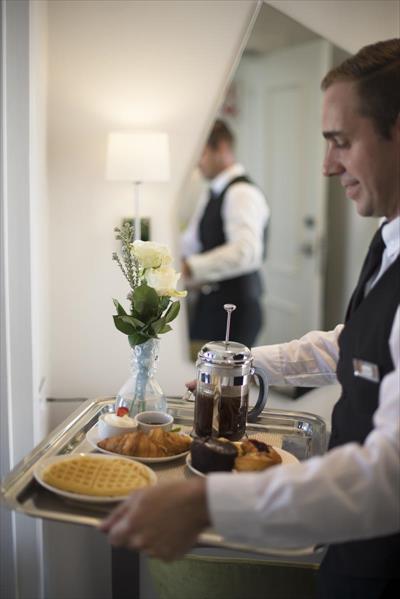 Butler service to make you feel like royalty
Newly renovated and decorated, the interiors were designed by the renowned Francois du Plessis. In close proximity to the hustle and bustle of the Waterfront, the Manor House is tucked away, quietly exclusive and provides an appealing and contrasting haven of luxury.
We relax on the balcony for the afternoon and after a delightful shower it's time or dinner. Unfortunately a bath was out of the question since Cape Town is experiencing a severe drought at the moment but hopefully by the time this article is printed the much awaited winter rains would have arrived.
For dinner we are kindly hosted by the amazing staff at Dash. Dash is the restaurant and bar offering at the Queen Victoria Hotel, named after the Queen's favorite pet. The space is the ultimate in sophisticated fine dining. The room has vast black beveled mirrors that cover one wall and is a clever combination of coolly modern and comfortably pleasant, with just the right number of crystal chandeliers to up the ante. The art on the walls is breath-taking and just another example of extremely refined taste showcased here. Our waiter is with us in a jiffy and has us in stitches with his quips and character all night long.
Seductive cuisine
The beetroot-cured salmon with horseradish apple slaw, a mélange of savory and sweet, looks delicious, but my photographer opts for the Caesar salad with anchovy toast and quail eggs which she pronounces as rich, and delicious but just the right size for a starter. She is positively giddy about the quality of the anchovies. I have the double baked gorgonzola soufflé, biltong shavings and hazelnuts and never was there a soufflé so light and heavenly. Don't miss the selection of palate-cleansing sorbets, including tomato granita with a drop of vodka, or rose, with a sugared rose petal before moving on the main courses. Other delectable starter options include chicken liver parfait with port soaked cherries and crispy maple bacon; asparagus with olive toast, nut crush and parmesan snow and tempura prawns. For said main course we both order the line fish of the day which is kingklip with lemon butter poached prawns, honey and ginger glazed radish and a passion fruit and lime sauce. Excellent flavor and texture parings. If you are a meat eater I suggest the fillet of beef with spinach purée, melange of vegetables and jus or the pan fried loin of venison, parsley mash and carrot purée. For dessert we are seduced by the hot chocolate fondant with orange ice cream and bitter sugar brittle and we share the Cape cheese board which includes Queen Victoria cheddar with preserves and salted breads. The chocolate fondant oozes just the right amount of chocolaty heaven and the orange ice cream is a triumph. Prices are a bit on the steep side - expect to pay about $60 per person including wine - but the service, ambience, quality of ingredients and standard of wines all make it thoroughly worth it. It is obvious that the wine was chosen with great care to complement the cuisine by someone who knows what he is doing. Many iconic South African treasures feature on the wine list with a small international presence.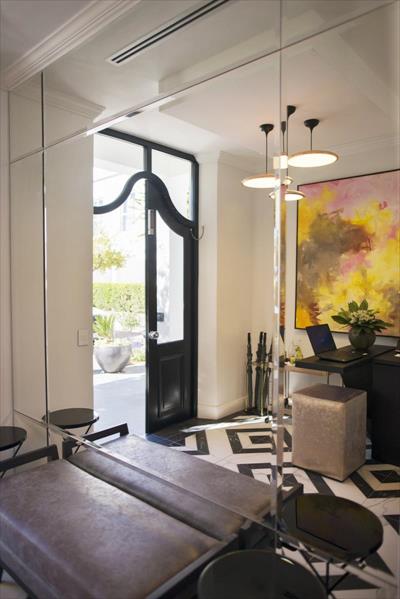 Charming decor at the Manor House
After filling in a little form indicating what we would like to have for breakfast the next morning, I sleep the sleep of the innocent that night in my humungous bed with its crisp linen and the sea breeze gently stirring outside.
On cue, Alex arrives at our door at 9 the next morning with a tray filled to brim of delectable pastries, yogurts, juices, fruits, coffees, teas, hot chocolates and a full English breakfast besides.
Being brought breakfast in your suite must be the height of indulgence. I have appointments the entire day and I hop back and forth between the Manor and my meetings, but every time I come back I am greeted with the same wonderfully hospitable smiles and enquiries about my needs and I really feel special. This is not for show - the people entrusted here with your care are the exact right people for the job.
I leave the Manor House the next day, very sad to say good bye but already plotting my return!
Contact:
http://www.newmarkhotels.com/accommodation/hotels/queen-victoria-hotel/
For reservations:
reservations@newmarkhotels.com
Tel: +27 21 427 5900
About Newmark
Newmark Hotels, Reserves & Lodges is a successful hotel management company that is distinguished by the passion and vision it creates as an experience for its guests. With a heritage spanning 40 years, the company has become an industry leader and created a tradition of excellence with a portfolio of boutique hotels & lodges that appeal to discerning guests. www.newmarkhotels.com
www.newmarkhotels.com
For more information please contact:
+27 21 418 1466
http://www.newmarkhotels.com/accommodation/hotels/victoria-alfred-hotel/
Getting there:
Airlink offers a wide network of regional and domestic flights within Southern Africa and operates as a franchisee to South African Airways (SAA).
Route Specific Information: There are daily direct scheduled flights between Pretoria and Wonderboom airport and Cape Town.
Connectivity: Through their alliance with SAA, travelers connect conveniently with SAA, their Partner airlines and other carriers throughout Southern Africa and the world.
Frequent Flyer Program: Airlink is a member of South African Airways Loyalty program -Voyager.
Website: www.flyairlink.com
Flight Bookings: Online, booking agent or SAA Central Reservations on +27 11 978 1111.