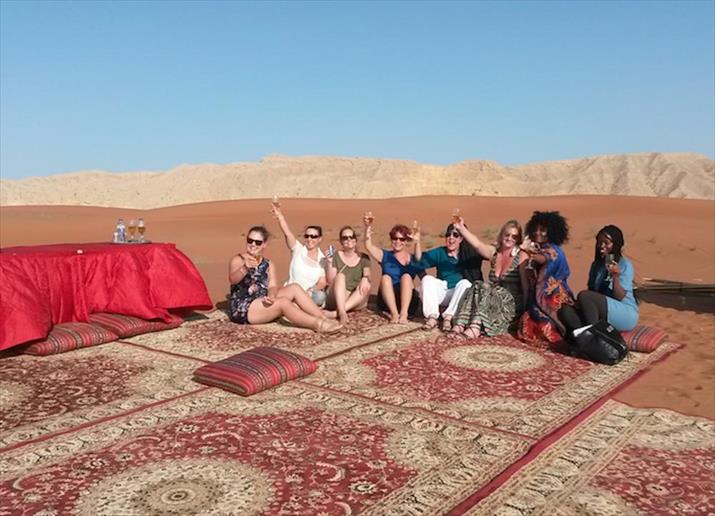 So upon leaving Al Dawaar, the only rooftop revolving restaurant in Dubai, some of the girls are interested in a spot of shopping. You know, Dubai and shopping go together like, well, Dubai and shopping.
Personally I do not care for this particular activity too much. In fact, my idea of hell is perpetual imprisonment in a shopping mall. So Beatrix - the amazingly wonderful representative of Marriot Hotels - and I decide to carry on to our next abode alone and let the rest of the group shop to their hearts' content.
And the place happens to be a magnificent house in the sky. Towering above the city and boasting five-star amenities, the JW Marriott Marquis Hotel Dubai delivers luxury without compromise. In another "world's tallest" record for Dubai, the hotel has the illustrious title of being the world's tallest hotel. The massive twin towers that form the hotel stand at 355 meters high and the jagged design really makes them stand out in the busy downtown skyline.
The hotel has 72 floors and over 1,600 impeccably designed guest rooms and suites and just the lobby feels like an airport, albeit a very grand one.
Check-in is seamless with welcome drinks and again, as is want in Dubai, unbelievably friendly. The hotel bakery is stuffed to the brim with any type of treat you can imagine and the cake shop blows what is left of my mind. Cakes here are artworks with the most intricate detail and design imaginable.
I gaze out at the city from my luxurious accommodation on the 21st floor which boasts sleek marble bathrooms, large flat-screen TVs and ultra-comfortable bedding. There is a touch console next to your bed which controls everything in the room but your wayward children. We have a beer by the pool and marvel at the sunset scene over Dubai. The sun's last light reflects in the man-made magnificent of the surrounding sky scrapers.
Ode to excellence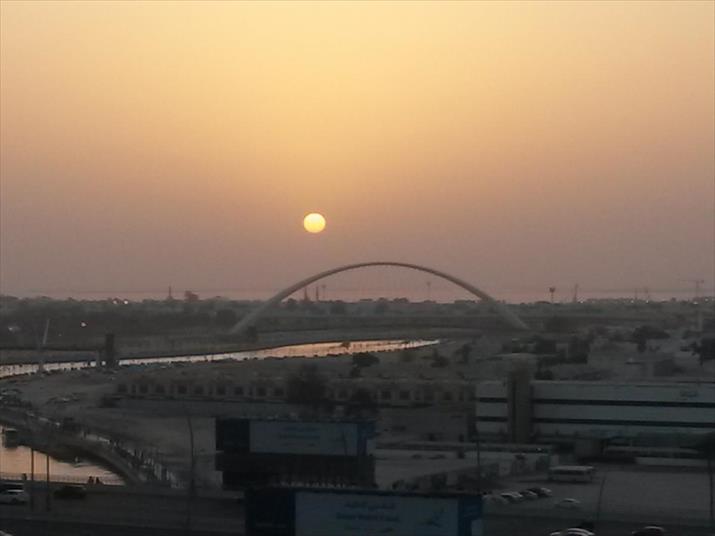 Sunset over Dubai
The hotel features a wealth of excellent dining options, including a Japanese restaurant and an Italian trattoria. For those planning events here in Dubai, they offer 80,000 square feet (that's not an error) of gorgeously appointed venue space, as well as full-service catering and a dedicated staff. And you simply won't find a more centrally located hotel; the Burj Khalifa is moments away as are the beaches and the malls.
We have dinner on the 68th floor, at Prime68 steakhouse. The restaurant represents a new generation of steakhouse, where supreme quality ingredients are served in elegant, yet modern style. Panoramic views of Dubai's breath-taking skyline make Prime68 an experience to remember.
Their premium suppliers have been carefully selected for their artisan produce, cultivated with passion and consideration for the environment, featuring the finest heritage breed beef from farms around the globe and they have a bucket full of awards to show for it. We are pampered and treated like royalty with our own pop-up bar in our own private dining room within the restaurant with glass walls. Then the food starts coming. This is not dinner. It's culinary theatre of the highest order. The restaurant manager takes us through the menu and then proceeds to parade a series of meat dishes which, as a carnivore, makes me believe I'm in heaven. I'm certainly high enough. Dish after dish get devoured with grunts of primal pleasure from this hungry group of journalists. Chateau Briand, rib eye steaks, lamb shanks, porter house steaks, Wagu beef, anything you can think of is available. The service is prompt and together with many exotic cocktails, much mirth and high-jinx ensue.
It is NOT cheap though so I suggest you save up for this special experience because it is well worth it.
St. Regis Dubai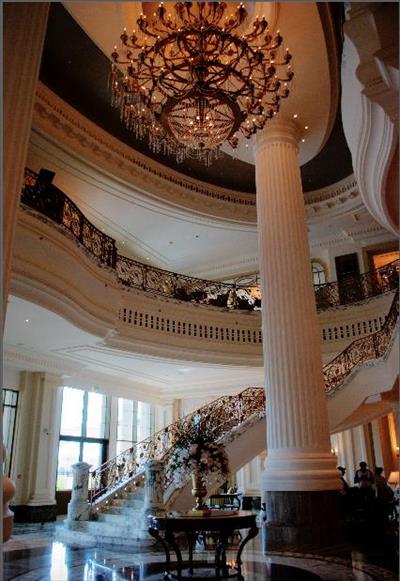 The magnificent foyer of the St. Regis Hotel
A bleary eyed group meets in the lobby the next morning to journey to our last stop in Dubai.
Not much can shake my jaded well-travelled weary mind out of its ennui but the St. Regis Dubai does so - with aplomb. The St. Regis is mind-blowing luxury on another level. From the moment you enter, the opulence envelops you like a beautiful cloud. Here the staff thanks you for having served you.
Located on the arterial Sheikh Zayed Road, the hotel's interiors are influenced by the city's beaux-arts architecture of the original St. Regis in New York, and accentuated by bespoke elements such as the grand staircase and carefully selected artworks dotted across the hotel.
Part of Al Habtoor City, Dubai's first-ever integrated urban resort, the hotel sits alongside two other hotels, three high-rise residential towers, as well as a Las Vegas-style theater that will collectively be located on the banks of Dubai Water Canal.
We have breakfast at their French Brassiere where you have for instance, five types of butter to choose from. The service again is absolutely outstanding. Here the staff thanks you for being at your beck and call! Our hosts take us on a tour of the site and we discover one of their $14,000 suits. For two people. She laughs at our gasps of wonder and says that that is not really their most expensive suite. My deluxe suit is quite good enough for me and with contemporary residential style and subtle aesthetic refinements, the room greets me with a soothing color palette of delightfully merged pastel tones. The bathroom is a white marble delight and the suite also features a butler service, a walk-in closet and free WiFi.
Spa delights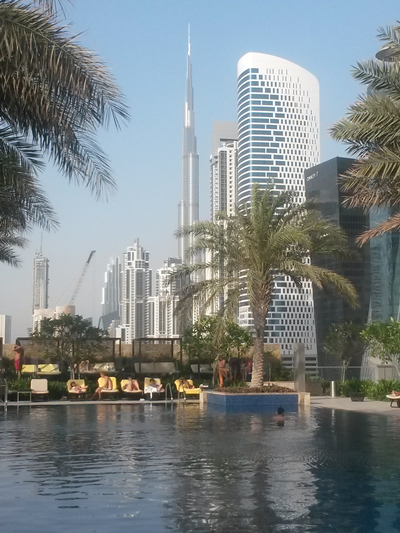 The JW Marriott Marquis Hotel Dubai - world's tallest hotel
After breakfast the girls want to go shopping - again! I stay behind and indulge the awesome facilities of their world-renowned spa after a spot of sun bathing by the pool on the roof. The Iridium Spa has a total of six treatment rooms (three male, three female), two Hammams (steam baths), and separate female and male wet areas that include steam room and sauna, as well as a huge Jacuzzi. The blurb on the website says that "the transformative journey at Iridium Spa focuses on bestowing the rarest luxury of all: time." Indeed.
The treatments are charged for of course but guests can enjoy all the other facilities at no cost. Which I heartily indulge in - first a sauna session, then the hammam and then the Jacuzzi. And finally, a place that made me happier than I could ever remember being: their tropical shower.
The shower has four settings. At first I try the "cold mist" one, not knowing what to really expect. Indeed, a soft cold mist enveloped me as the lights suddenly went down and some sort of soothing Zen strains emanated from invisible speakers. It dawned on me that this was no ordinary shower. It has surround sound and different light settings for each setting. I next tried the tropical rain and then Caribbean spring rain like a giddy child. Each has a different color like the sun coming up and its own story of nature. Of course the shower settings are also different. With Caribbean Spring Rain, the water warm water goes from quite strong to softer and softer as the light in the shower turns to orange as the sun comes up. In the distance the sound of tropical birds can be heard. But my favorite by far is the Caribbean Storm. Just as you feel caught in the increasing torrent of rain, there the lights go off and thunder and lightning is heard and seen all around! Believe me, I could spend a week in there...
Slightly worse for wear and not in the world's greatest moods, my companions return from their consumerist excursion and it's time to set off to the desert outside the city for some dune bashing in 4x4 vehicles. The sun pours over the dunes like scalding lava, and the desert resembles an amazing moonscape as the driver starts shifting gears, indicating he means business now.
I have not had this much fun in years. The dunes are not really high and certainly not dangerous but it's quite exhilarating and our one friend's screams of terror every time we traversed a small dune, then followed by hysterical laughter was one of the funniest things I've seen in years. Our dune bashing is followed by drinks in the desert just like a scene from the movie Sex and The City 2.
It's an exhausted bunch of people who say goodbye to Dubai much later that night after another magnificent meal at St. Regis.
This was an epic journey and certainly one I shall never, ever forget.
Contact:
JW Marriott Marquis:
http://www.marriott.com/hotels/travel/dxbjw-jw-marriott-marquis-hotel-dubai/
St. Regis Dubai:
http://www.stregisdubai.com/
Preferred ground handler in Dubai:
http://www.incentiveconnections.com/. These guys will take very good care of you! Highly recommended.
Getting there:
Rwandair does not currently operate a direct route from China but plans are in place for a direct flight between Guangzhou and Kigali within the year. Watch this space! From Kigali there are daily flights to both Johannesburg and Dubai. From Johannesburg, Rwandair offers the most cost-effective flights to Kigali and from there all over Africa and also to Mumbai and Gatwick, than any other airline.
Go to https://www.rwandair.com/