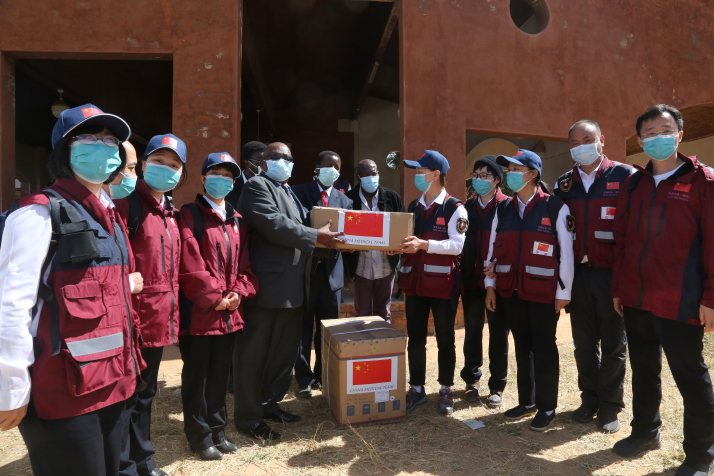 The medical expert team from China visits Mashonaland East Province in Zimbabwe to share their anti-pandemic experience and donote medical supplies on May 19 (XINHUA)
Hu Yue was surprised to meet a Chinese speaking doctor in a suburban hospital in Zimbabwe.
As a member of the Anti-COVID-19 Medical Expert Team to Zimbabwe and Equatorial Guinea, organized by China's Hunan Province, Hu didn't think she would hear her own language at Mahusekwa Hospital, (also known as China-Zimbabwe Friendship Hospital) in Mashonaland East Province, Zimbabwe.
As they say, it's a small world - the Zimbabwean doctor turned out to be a former student who had studied for six years at Xiangya School of Medicine at Central South University, Hunan, where Hu is deputy director of ICU in the Third Xiangya Hospital of the university.
Hu told ChinAfrica it was especially rewarding to see a doctor trained in China putting her skills to work back in her home country, particularly while the COVID-19 pandemic is sweeping across the globe.
During their one-month trip to the two African countries in May, the 12-member medical team of experts from respiratory departments, infectious disease departments, and the fields of intensive medicine, traditional Chinese medicine, infection control, public health and nursing cooperated with local medical workers on treatment plans and guided local laboratories to improve their nucleic acid testing capabilities.
Disease control
The team members quickly determined the major area of concern after visiting Wilkins Hospital, Parirenyatwa Hospital and other provincial hospitals, based on their experience as frontline doctors accumulated through thousands of COVID-19 cases in China.
"The key task for the country is preventing and controlling epidemic transmission, as most confirmed cases are inbound cases," said team member Zhang Di, Deputy Director of the Clinical Laboratory in the Third Xiangya Hospital of Central South University.
Therefore, the team worked with local medical institutions to help them set up complete systems and procedures for disease control and treatment. "I'm serving as an instructor, teaching local medical practitioners how to prevent the disease from spreading among medical staff," said Zhang.
Practices such as testing, making space for patients to be checked and proper use of face masks, goggles and protective clothing are now standard in hospitals in the capital Harare, thanks to the guidelines offered by the medical team.
Deputy Minister of Health and Child Care John Mangwiro said it was beneficial to have the Chinese team being physically in Zimbabwe as they could be asked directly what mistakes they were making in relation to the virus.
The second challenge
Having completed its half-month work in Zimbabwe on May 25, the Chinese team headed to Equatorial Guinea to start a new mission in the face of increasing numbers of cases and limited COVID-19 testing capacity in that country.
On the morning of May 26, the team arrived in Malabo, capital of Equatorial Guinea. "In fact, the pressure was relatively high [on us] on the second mission, because we had done a lot of preparations before going to Zimbabwe, but there was not enough time for us to get prepared for Equatorial Guinea," Zhang told ChinAfrica.
While on the plane, team members were studying the characteristics of local cases to get some preparation done. However, they were shocked when they found the seriousness of the epidemic in that country, which was close to the level in Hubei Province.
Equatorial Guinea has a population of 1.3 million, and it had reported 1,043 novel coronavirus cases as of May 25. The COVID-19 incidence rate of Equatorial Guinea reached 0.08 percent, according to the team.
"Unlike Zimbabwe where most cases are inbound, Equatorial Guinea had lots of local infections," said Hu. "Though local doctors had accumulated some experience in treating infected patients when we arrived, they were eager to know how we Chinese doctors treat patients."
During the team's two-week mission, after their field visits and exchanges with local experts in COVID-19 isolation and treatment, the Chinese team suggested effective measures to help the country prevent the spread of the pandemic and offered their peers training on diagnosis and treatment of COVID-19.
The Chinese team made easy-to-understand videos to broadcast on local television and raise public awareness on how to deal with COVID-19.
After a meeting with Chinese doctors, local senior health officials said they are confident to win the battle against COVID-19 because China's experience tells Equatorial Guinea the disease can be controlled. They acknowledged that the key is to manage the source of infection and mobilize the entire population to participate in the prevention campaign.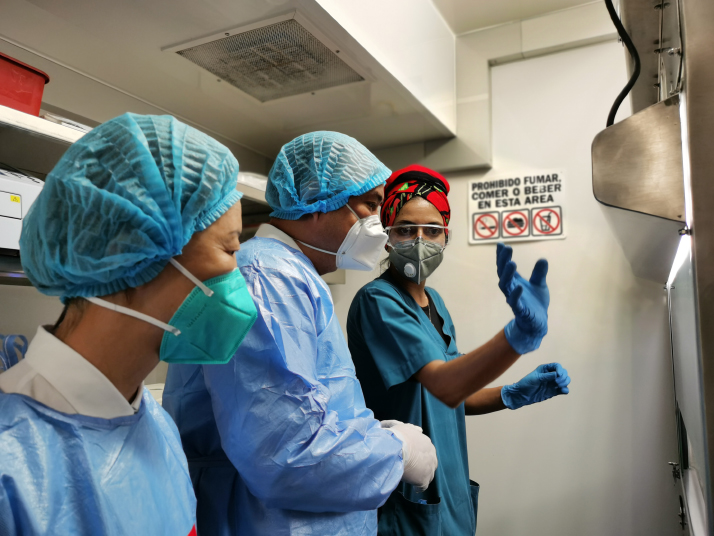 The Medical Expert Team from China guides La Paz Laboratory in Equatorial Guinea to improve their nucleic acid testing capabilities (COURTESY)
Giving and gaining
When the medical team left Zimbabwe and Equatorial Guinea, they left a document as a gift for their peers - Recommendations on COVID-19 Prevention and Control, which was specifically written for the two countries based on their specific situation and medical service conditions.
Although the Chinese team did experience hardships on their mission, they also gained from an unforgettable and rewarding experience.
"Over the past month in the two countries, we have felt the kindness, diligence and wisdom of their peoples, and the responsibility and professionalism of their medical staff. Such professionalism and dedication really moved me," Hu told ChinAfrica. "I respect them."
In the same way, Chinese doctors won the respect and appreciation from local residents.
According to Zhu Yimin, the team leader and Deputy Director General of the Health Commission of Hunan, what impressed him the most was local people's optimism. Being optimistic was a good attitude to have during these times as it is beneficial to a person's health.
Zhu said returning to China does not mean the end of the medical team's assistance to the two countries.
"We will employ the relevant experience in Hunan to keep constant contact with the professionals for the pandemic control in these two countries.
(Print Edition Title: Healthcare Without Borders)
Comments to xyy@chinafrica.cn