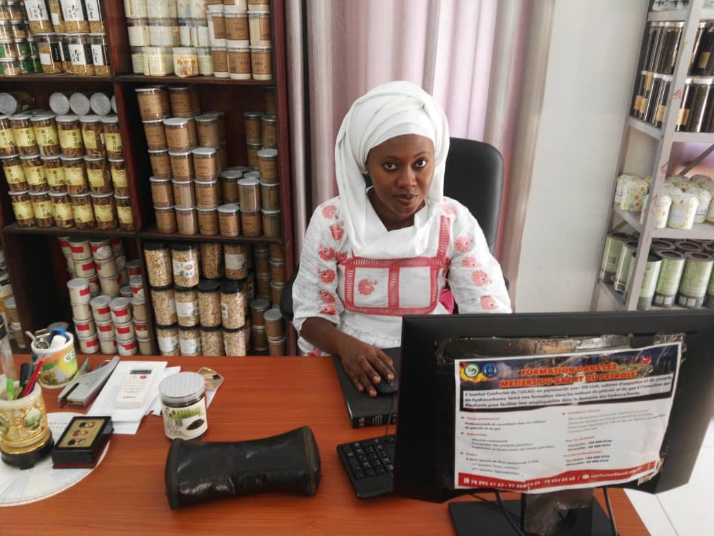 Mame Awa Ly Fall Diop in her traditional Chinese medicine clinic at the Confucius Institute of Cheikh Anta Diop University, Dakar (Aly Diouf)
In Dakar, capital of Senegal, the leading authority when it comes to traditional Chinese medicine is a local Senegalese lady. After 10 years of studying this subject in China, Mame Awa Ly Fall Diop returned home a few years ago to set up her own business. In doing so, she has been eagerly supported by the Confucius Institute at Cheikh Anta Diop University in Dakar, which has provided her with an office in its building. This is where she sees her patients from Monday to Saturday. Thanks to word of mouth from satisfied clients, Diop's office quickly became famous not only in Dakar, but also across Senegal and even beyond. Her clinic now attracts an increasing number of people.
Within the walls of the Confucius Institute, Diop's large office feels a bit cramped. Among other documents and instruments, a small anatomical figure covered with black dots stands on her desk. Behind her, one can see shelves filled with traditional Chinese medicines and other tools such as suction cups and vegetable products. Inside the clinic, one can find half a dozen beds, separated from each other by cupboards.
What lies behind such a dazzling success of traditional Chinese medicine in Senegal? According to Diop, there is a simi­larity between traditional Chinese medicine and traditional African medicine. Both use plants, tree barks, leaves, roots, as well as animal products as remedy. All of these raw or semi-raw products are different from drugs used by Western medicine. This commonality, said Diop, has led Africans to quickly adopt traditional Chinese medicine.
High satisfaction
Abdourakhmane Ndiaye, a student at Cheikh Anta Diop University, was waiting for his turn. He said he was pleased and noticed significant improvements in his health after seeing Diop. He first came here a few days ago with a bloated stomach. "I feel much better now," he said. This explained his healthy appea-rance and the importance he attaches to his second appointment with Diop.
His enthusiasm is shared by a retired Senegalese colonel, who agreed to speak on the condition of anonymity. He said he highly appreciated the benefits of the traditional Chinese medicine, especially therapeutic massage. Before consulting Diop, he used to go to a local physiotherapist. He came to know about Diop's clinic from his friends. The finding was a real relief for him, he said.
Not all of Diop's clients have symptoms of an illness. Some people, like Khady Cissé, come to the clinic on a regular basis for consultation. "Every time I feel something might be wrong, I come to see the doctor," said the young lady who, for two years now, has been coming every month. Prevention matters more than anything else, she added.
Indeed, as is often said, Chinese medicine is, above all, preventive, and some Senegalese people are beginning to incorporate this approach into their daily life. Thus, Chinese medicine is spreading slowly but surely across the country, according to Diop.
Affordable care
In addition to Diop's clinic, Tao Center is also promoting traditional Chinese medicine in Senegal. Established by Spanish specialists, Tao Center is expanding fast and deep into Senegal.
The main clinic of Tao Center is in Mbour, Senegal's tourist city, about 80 km southwest of Dakar. There, the Tao Center clinic is located on the main axis of the city, a busy street. According to Abdoulaye Sow, an executive at the clinic, the people in this part of Senegal appreciate traditional Chinese medicine very much. "This is because traditional Chinese medicine is more about prevention as it allows the detection of diseases that have not yet started to show symptoms," he said. Moreover, he noted the fee for a consultation is affordable, with the price tag set at 3,000 CFA Francs ($5.1). The clinic also includes a pharmacy, which provides equally affordable drugs. The most expensive drugs rarely exceed 5,000 CFA Francs ($8.6), said Sow.
The vast majority of drugs used in traditional Chinese medicine are manufactured in China and Australia. Very few are sourced locally. According to Sow, Tao Center gets its orders from manufacturers abroad. This means longer delivery time and higher prices. However, as Sow pointed out, this has no impact on the cost for the patients at Tao Center.
On the contrary, Tao Center even provides charitable care. For example, seniors who need consultation do not need to come over. Instead, specialists will visit them. And after their first paid consultation, the next two visits are free, Sow said, adding that this also applies to poor patients. Such charitable care also covers children and teenagers, especially those under the age of 15. "After their first paid consultation, we continue to see them for free until they recover," said Sow.
At the Confucius Institute clinic, Diop is also sourcing medicines from China. Nevertheless, she said, drugs are not more expensive because of that. This is also the case for consultation, she said, which remains affordable.
Next generation
To further popularize traditional Chinese medicine in Senegal, it will be necessary to train the next generation of specialists. To this end, China grants Senegal several dozen training scholarships annually, including in the field of traditional Chinese medicine. The local Confucius Institute also teaches Chinese medicine.
According to Diop, the classes are designed for doctors, nurses, as well as individuals who are interested in traditional Chinese medicine. It focuses on acupuncture, pediatric massage, prevention techniques and Chinese dietetics.
In Senegal, traditional Chinese medicine has a bright future, according to Diop. However, she also admitted that it will take time before it can be fully embraced by the local society.
The first Senegalese woman to graduate in traditional Chinese medicine, Diop failed to find employment in the Senegalese public healthcare system. That is why she did not hesitate to join the Confucius Institute at Cheikh Anta Diop University in Dakar when its Director Mamadou Fall offered her the opportunity.
Like her, several young Senegalese are currently in China to study traditional Chinese medicine. As habits change, they are certain not to face the same problem as Diop when they come knocking with their diploma in hands a few years from now.
(Reporting from Senegal)
(Comments to niyanshuo@chinafrica.cn)