Wang Xiaojing, a 29 years old working for a real estate company in south China, spent in excess of 6,000 yuan ($900) on November 11, also known as Singles Day, a day marked by an online shopping frenzy nationwide. She bought skincare products, lingerie, a supply of snacks to last her for months, and a suitcase for her parents at a whopping discount. Her family had also shown interest in the shopping extravaganza. Wang said her mother reminded her a week before not to miss the annual online shopping carnival.
Wang's boss, who declined to be named, purged on different electronic products. "Both of us have faith in online stores," Wang said, adding that she found the commodities she bought online are of the same quality as products from bricks-and-mortar stores.
Singles Day, which started out as a cheeky anti-Valentine's Day celebration in China, has evolved into a grand sales event attracting global retailers and consumers. According to statistics from Syntun, a leading big data service provider, total online sales on this year's Singles Day hit 253.97 billion yuan ($38.34 billion), up 48.63 percent from the 170.87 billion yuan ($25.79 billion) registered last year.
For China's largest online business-to-consumer retail platform, Alibaba's Tmall, total sales on Singles Day reached 168.2 billion yuan ($25.39 billion), up 39.35 percent year on year, with online transactions covering 225 countries and regions. Another e-commerce frontrunner JD.com witnessed a sales volume of 54.38 billion yuan ($8.21 billion), a year-on-year increase of over 50 percent. JD.com's total sales during its promotional period before Singles Day - from November 1 to 11 - amounted to 127.1 billion yuan ($19.19 billion).
Chinese consumers continue to drive online sales ahead of their global counterparts, while Singles Day has been identified as the most popular online festival, a recent KPMG analysis noted.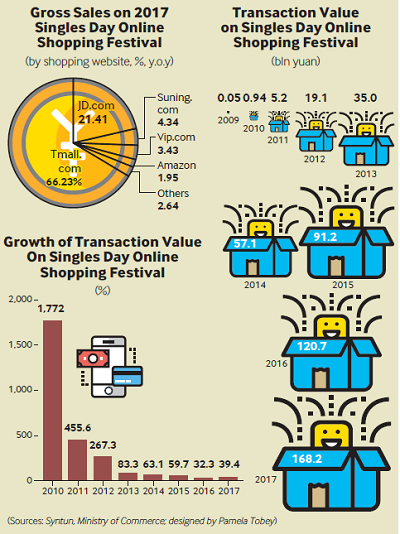 New trends
"The 2017 Singles Day aroused the resonance of global retailers and consumers, which is expected to facilitate the overseas development of Chinese brands," Zhang Yong, CEO of Alibaba Group, said at a recent press conference.
Of Alibaba's export sales on Singles Day, Russia, China's Hong Kong, the United States and Australia accounted for 18.7, 17.6, 9.2, and 4.2 percent respectively, according to statistics from Syntun.
At the same time, logistics services have been greatly improved. The first Singles Day package reached its destination just 12 minutes past zero hour. According to the State Post Bureau, on November 11, major e-commerce enterprises jointly produced 850 million express orders, a year-on-year increase of 29.4 percent, and post offices and express enterprises handled 331 million express orders, a year-on-year increase of 31.5 percent.
Aside from that, according to a recent study released by Tmall on the Singles Day online shopping in 2016 and 2017, people in the age groups 25-29, 30-34 and 35-39 made up 35, 18 and 17 percent of total online shoppers respectively, indicating that the generations born in the 1980s and 1990s have grown into major online consumers.
As urbanization progresses in China, the size of the middle class is expanding, and consumer demands keep upgrading, especially in emerging fields such as healthcare and individualized products. This has injected new vigor into the e-commerce industry, Zhang said.
"Retailers should try to identify the increasingly complicated consumer demands and respond to them by improving their current business models, and reset the categories and scope of products for sale by taking into consideration consumer demands," Zhou Jun, Chief Marketing Officer of KPMG, told ChinAfrica, adding that the coordination of offline and online channels should also be adjusted.
Online-offline integration
Alibaba's Chief Marketing Officer Dong Benhong has made it clear that Singles Day is not just an online shopping festival because online and offline business have become integrated.
That explains why Chinese e-commerce giants are scrambling to branch out into offline channels in search of new growth points. Alibaba's Founder and Executive Chairman Jack Ma came up with the concept of "new retail" - the integration of online, offline, logistics and data across a single value chain - which more or less seems to have become reality now.
During this year's shopping carnival, more than 15 million kinds of commodities from 140,000 brands found their way to Alibaba's e-commerce platforms, and over 1 million retailers operated both online and offline. Statistics show that Alibaba's "new retail" strategy is helping an increasing number of traditional brands realize online and offline multi-digit growth.
For instance, this year more than 500 outlets of Japanese casual clothes retailer Uniqlo allowed consumers to place orders on Tmall and pick up their orders from bricks-and-mortar stores. By 5:00 p.m. on November 11, the retailer had seen its transaction volume surpass the entire day's figures last year by 350 percent.
JD.com had thousands of its exclusive shops and experience stores and outlets owned by its partners, as well as hundreds of thousands of stores connected to its business-to-business order platform participated in its promotional activities this year.
Meanwhile, business heavyweights in other sectors are also trying to have a finger in the "new retail" pie. At the 2017 Tencent Global Partners Conference, held on November 8, Tencent's Chief Operating Officer Ren Yuxin announced the decision to step into the "new retail" field by unveiling smart retail solutions in order to help brand owners, offline retailers and commercial real estate players pursue digital transformation.
"An increasing number of e-commerce platforms and retailers in China are actively adopting omni-channel models with the use of new technologies, such as big data, artificial intelligence and augmented reality, in order to enhance the customer experience," Jessie Qian, partner and head of consumer and retail, KPMG China, told ChinAfrica.
Future e-commerce growth lies in adopting innovative technologies, making use of big data, and developing more integrated online-to-offline marketing strategies to improve consumers' shopping experience, Zhou added.