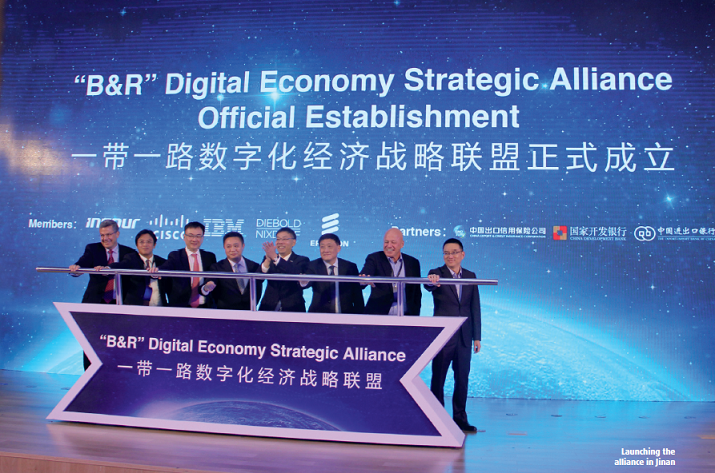 When Kabiru Rabiu stepped on the airplane to China in early November, he had only one idea in his mind: to learn more about how to streamline his university work with the help of cloud computing. But when he arrived in Ji'nan, capital of east China's Shandong Province, he broadened his scope of thought.
"We hope to join the supercomputing initiative, which can greatly help universities and hospitals in Nigeria," Rabiu told ChinAfrica. "We also hope to build safer cities and smart cities in our country."
Rabiu, Council Member of Kano University of Science and Technology in Kano State, Nigeria, was invited to Ji'nan by the Inspur Group, one of the largest global datacenter and cloud computing solution providers in China, to attend the B&R Digital Economy Strategic Alliance Conference on November 2.
"Here, I met people from the world's top IT companies and have learned a lot about how cloud computing can improve the efficiency of our daily work," he said. "Nigeria does not want to miss [out on the] big data and cloud computing era."
Integrating services
With the theme of Global Win-Win Cooperation, the B&R Digital Economy Strategic Alliance aims to provide a package service combining top-level solutions and financial support to countries involved in the Belt and Road Initiative in areas of "datacenter + cloud" service, smart finance, smart home, smart taxation and smart city, by integrating products, technologies and solutions of the world's premier IT companies and financial institutions.
In his keynote speech, Peter Sun, Chairman and CEO of Inspur, said that as the initiator of the B&R Digital Economy Strategic Alliance, Inspur hopes to partner with other top IT companies worldwide along with financial institutions to assist countries along the Belt and Road to solve their IT and funding problems in information technology (IT) development.
As the first platform for IT development targeting countries along the routes of the Belt and Road Initiative launched by the private sector, the alliance adopts the cooperation mode of "1+4+3," which means it is an alliance of Inspur and four global technology giants: Cisco, IBM, Diebold Nixdorf and Ericsson, with support from three of China's policy-based financial institutions, namely the Export-Import Bank of China, China Development Bank and China Export & Credit Insurance Corp.
"The Belt and Road Initiative put forward by Chinese President Xi Jinping in 2013 is a great platform that can benefit all countries involved and we hope to fully participate as an enterprise," said Sun. "But during the process, we found that it is very difficult for a single company to make great achievements. So, we set up the alliance with the world's top IT companies and financial institutions."
The conference includes not only IT companies and financial institutions, but also companies, institutions and even government officials in countries along the Belt and Road, including those like Rabiu's university, which can potentially benefit from the alliance's services.
"It is excellent for these IT companies and financial institutions to establish an alliance and work as groups to provide all-round package services in countries [in Africa] like Nigeria. It will certainly benefit Nigeria, the most populous country in Africa," said Rabiu.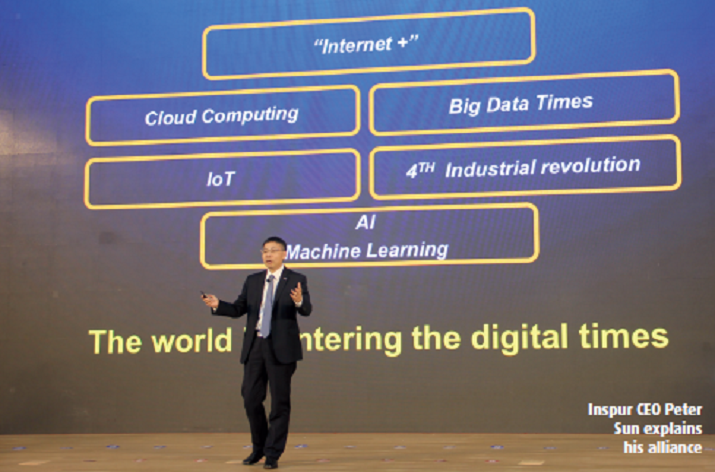 Training locals
Apart from Nigeria, the alliance plans to initially launch projects in Ethiopia, Tanzania and Zambia and then Asian countries such as Thailand, Bangladesh and Malaysia. Their projects will also be promoted in other countries along the Belt and Road.
Training local people is a priority of the alliance, noted Sun. "That way, local technicians can maintain the systems and keep them running properly," he said.
In fact, Inspur has been doing that in Africa for some time. In 2012, Inspur developed a cloud computing system according to the needs of the Zimbabwean Government, assisting the country to streamline its tax system. Now, the system has been running for nearly five years and Inspur still keeps a 16-member team in the country, providing 24/7 services and training.
"Our maintenance and training services are free of charge, unlike other IT companies working there," said Wang Junqiang, Deputy General Manager of Overseas Project Department of Inspur. In the past four years, Inspur has trained more than 10,000 technicians and government officials for countries along the Belt and Road, including Egypt, Ethiopia and South Africa. In 2016, Inspur also invited 26 high-level government tax officials and experts from nine African countries for a 20-day taxation management training course in China.
Efficient tax collection
As one of the countries cooperating with the alliance in the field of taxation modernization, the Zambian Government is optimistic about the future.
"This conference could therefore not have come at a better time for Zambia. Recently, Zambian President his Excellency Edgar Chagwa Lungu espoused a vision for a Smart Zambia," said Winnie Natala Chibesakunda, Zambian Ambassador to China.
Zambia launched its Seventh National Development Plan in June, whose goal is to create a diversified and resilient economy for sustainable growth and socio-economic transformation. This plan has reinforced the Smart Zambia transformation agenda.
According to Chibesakunda, a Smart Zambia Institute was conceived to fast track the country's government process to be technologically driven. President Lungu has expressed his appreciation for the benefit of technology as an enabler of better service delivery to the citizens. "E-government should also speed up processes and help reduce wastage of limited resources in the quest to speed up the development of our country," said Chibesakunda.
In June, the Zambian Government awarded a strategic contract to Inspur to help spearhead the modernization of revenue management in the country. Now, an Inspur team is working in Zambia, assisting the country to streamline its taxation system with cloud computing technology.
"After the system comes into service, the taxation revenue in Zambia will grow at least 30 percent as the system can block the loopholes in the current taxation system," Peter Huang, Vice President of Inspur, told ChinAfrica.
Chibesakunda said that the work that Inspur is doing is being watched closely by her government as revenue mobilization is a top priority. "After the alliance is established, the Zambian Government will seek even better cooperation in other areas," she said.