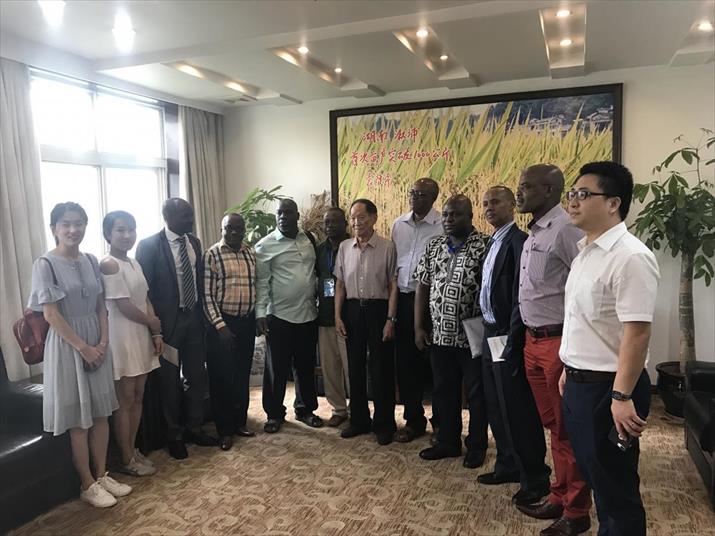 African agriculture officials pose with Yuan Longping (sixth right), known as the "father of hybrid rice" in China
Moussa Ibrahim Cheik never ceases to be amazed at the rapid changes taking place in his country.
Whenever he travels abroad and returns home to Djibouti, it's almost as if development is in fast forward mode, said the director general of Livestock and Veterinary Services at Djibouti's Ministry of Agriculture, Water, Fisheries, Animal and Maritime Resources.
Much of this development has taken place through Djibouti-China collaborative efforts over the past years with the many large infrastructure projects like new seaports, airports, railway and a 48-hectare free trade area with sea access.
But it is in the area of agriculture that the small East African country, with an area equivalent to about one and a half times the size of Beijing, is making strides that may not be as noticeable as these other mega projects, but to Cheik are just as inspiring and vital to the country's future development.
Along with eight other agriculture officials from five African countries, Cheik was recently in China for a training program on sustainable agricultural development for senior African officials. Organized by the Center of International Cooperation Service of China's Ministry of Agriculture in late July, the 11-day training included seminars and practical field studies in Beijing and Hunan Province.
Back home in Djibouti, part of Cheik's mandate is to work with Chinese agricultural experts dispatched to the African country to assist its agricultural development. The Chinese experts, equipped with state-of-the-art equipment and technical skills, are currently contributing to the prevention and control of animal diseases, one of the major concerns in the country's agricultural sector.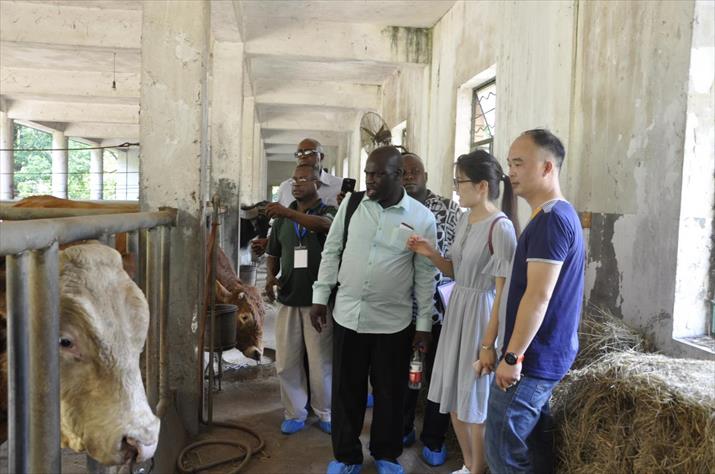 African agriculture officials visit Hunan Institute of Animal and Veterinary Science
Convincing results
In November 2015, the third Chinese agricultural mission arrived in Djibouti for a period of two years. "Their arrival came at just the right time," said Cheik, as the country had just bought goats from Kenya to increase local milk production.
To ensure the animal health, the Chinese experts carried out all the necessary tests on local livestock from sampling to disease treatment, including various laboratory analysis and vaccinations. "They are well equipped and cover all aspects of animal health. Their work is effective and clear," Cheik told ChinAfrica.
With one of the largest modern sea ports in East Africa, Djibouti serves as a commercial hub for the entire region and a transfer port for international livestock trade, in particular for neighboring countries such as Somalia and Ethiopia. Ensuring animal health is therefore a critical issue for all the neighboring countries in their animal husbandry.
During their mission, the Chinese visited 182 farms, collected more than 250 samples, treated 150 clinical cases, vaccinated 835 goats and administered wormers to 55,000 heads of cattle. "All of this has helped raise the level of protection for [our] livestock," said Cheik.
Sustainable productivity
Further inland in East Africa, the Chinese mission to another small African country, Burundi, is focused on increasing local rice yield as it is an important crop to ensure food security in Burundi, where more than 90 percent of the population lives off the land.
Yet, even in high-yielding areas, the local rice variety yields only 5-6 tons per hectare, a stark contrast to China, whose varieties of hybrid super rice can produce up to 15 tons per hectare. Through applied agricultural cooperation, Burundi has completed a promising experimental phase, with trial production now yielding more than 10 tons per hectare. "The trial proves that the hybrid rice variety is well suited to Burundian conditions, and offers good prospects for production. This is encouraging," said Diomede Ndayirukiye, Adviser to the Burundian Minister of Agriculture and Livestock, before highlighting the role of training.
"Chinese experts train our own training staff, making sure that their know-how is passed down to the grassroots level, thus ensuring the sustainability of these new achievements," he said. In addition, each project is jointly defined upstream, with a particular focus on essential needs. "In doing so, we ensure that cooperation is part of the national agricultural development strategy, which promotes productivity," added Ndayirukiye.
Looking ahead
Ndayirukiye was also one of the participants on the 11-day training program in China. He said the training workshop on sustainable agriculture development in Africa was a rewarding experience. According to him, the in-class courses and field visits in Hunan Province gave him an overview of the development of China's agriculture, vocational education as well as a number of agricultural technologies. Hunan in south China is famous for hybrid rice production, where Yuan Longping, known as the "father of hybrid rice" in China, has experimental fields for his "super rice."
"These visits have allowed me to deepen my understanding of Sino-African cooperation in the fields of agriculture and livestock," he said. But even more important for him is that this workshop made it possible for him to analyze the activities being carried out by Chinese experts in Burundi and the challenges they have encountered. "This has put in place a good basis for the promotion of cooperation programs in the field of agricultural and livestock technology exchange," he said.
As for future prospects, he indicated that the Burundian Government had already proposed a number of programs and projects to the Chinese Embassy in Burundi, to be forwarded to the Chinese Government. Ndayirukiye hoped that cooperation programs between the two countries will be strengthened in order to improve and support Burundi's agricultural and livestock development, with a view to achieve sustainable agriculture and food security in his country.