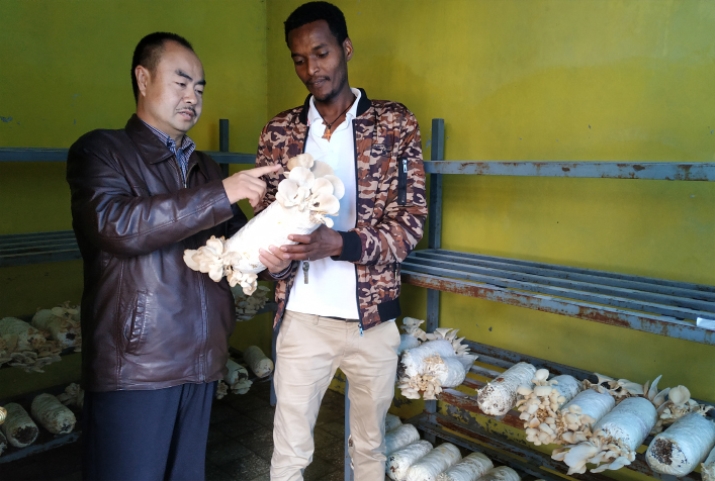 Zheng Aibao (left) and an Ethiopian mushroom grower check mushroom production in Menagesha (COURTESY PHOTO)
Farmers of the Menagesha Mushroom Farm in Addis Ababa, Ethiopia, are all smiles now that their crop yields are around 5,000 kg. Three years ago, output was negligible and the farm was on the brink of shutting its doors. The intervention of agriculturalist Zheng Aibao turned the farm's fortunes around.
Zheng is a 53-year-old expert in edible mushrooms at the Bureau of Agriculture and Rural Affairs of Huai'an County, north China's Hebei Province. He was part of a three-year South-South cooperation program in Nigeria sponsored by the UN Food and Agriculture Organization, before he was sent to Ethiopia for the first time on October 21, 2015, as a member of a two-year Chinese agricultural aid mission to the country.
While on that mission, he met up with the Menagesha mushroom farmers who asked for help. After investigation, he attributed the low yield of the farm to lack of techniques regarding seed production, raw material processing, sterilization and fruiting. Zheng set up a technical transformation plan for the farm and in April 2017, the farm produced 150 kg of mushrooms.
On November 8, 2018, Zheng returned to Ethiopia with the third agricultural aid mission to the country. This time, they would stay for three years.
"I always feel that my work is not finished there. This is probably the reason why I want to return to Ethiopia," Zheng told ChinAfrica, adding that as far as he was aware, the farm is now the first modernized mushroom farm in Ethiopia.
Untapped potential
According to Zheng, with an annual average temperature of 16 degrees Celsius and rich supply of raw materials such as crop straw, agricultural waste and livestock manure, Ethiopia is very suitable for growing edible mushrooms. In addition, the country has an abundant labor force, and local agricultural administration is very supportive of promoting mushroom growing.
"Ethiopia is suitable in every aspect for developing the mushroom industry," said Zheng.
A rich source of nutrition, edible mushrooms mean considerable economic and social benefits for local people.
"The industry makes full use of the by-products of agriculture and animal husbandry such as straw and cow dung, improving the ecological environment while creating jobs. It is an efficient and sustainable industry," said Zheng.
His outlook for the industry includes an expanded scale of production and processing and wider reach in domestic and even overseas markets. Zheng also believes that by forming an industrial chain that links companies and rural households, the industry has a role to play in local poverty alleviation. However, he is aware that it is not easy to realize these ambitions. The industry is generally in its infancy in Ethiopia. Production scales are small, mushroom varieties are few and prices are high. Zheng thinks the bottleneck in the industry is a lack of techniques and investment.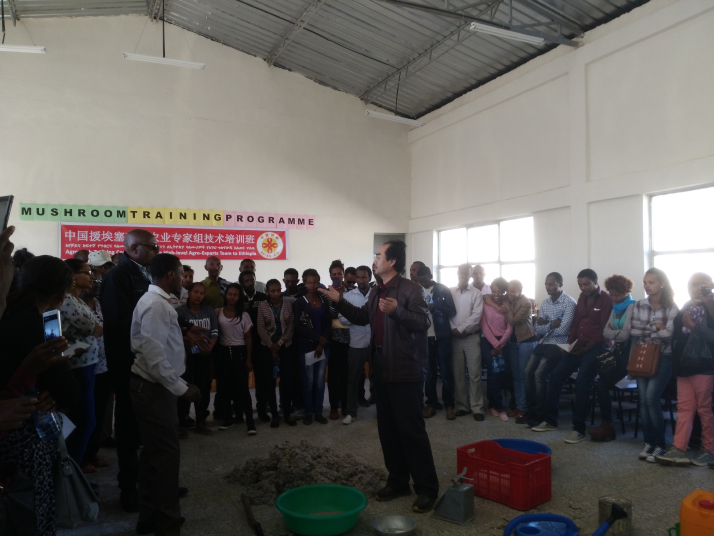 Zheng Aibao conducts a mushroom training program (COURTESY PHOTO)
Plan 1-5-50
During his first mission in Ethiopia, Zheng built two mushroom growing sites in Addis Ababa, and introduced two oyster mushroom varieties from China that he believed could adapt well to the climatic conditions of the Ethiopian Plateau. He set specific standards for the production process, covering every link in the chain from growing site selections to mushroom harvest and processing.
Zheng has big ambitions for the current mission. "What I can do on my own is limited. This time, I want to build more growing sites and involve more people, so that the locals can really master the techniques," he said.
To this end, he developed Plan 1-5-50 for promoting edible mushrooms in Ethiopia. By 1-5-50, he means to build one training center at Addis Ababa University to provide training on mushroom growing techniques, five mushroom growing sites in and around the capital city to provide mushroom seeds and services to nearby farmers, and 50 model households for technology demonstration, 10 from each of the 5 growing sites.
"By providing demonstrations and training, the plan can help promote practical techniques on mushroom growing, especially on standardized production and supply of mushroom seeds, which are essential in promoting edible mushrooms," said Zheng.
According to him, the training center is mainly for the production of seeds and technical research and development, and the five growing sites are for the production of secondary and tertiary seeds and technical training for farmers, with each having a different focus. Of the five sites, the Yeka project site provides technical training for agricultural officials. The Menagesha site is part of the privately owned Menagesha Farm, so it is market-oriented and improving quality and efficiency is the focus. The Kashajes site is affiliated to a charity organization, and mushrooms produced there are supplied to feed more than 500 children living with disabilities in five local schools. The Adama site highlights research on new growing techniques, while the Holeta site focuses on training and demonstration.
The Yeka and Menagesha sites have been officially launched and 10 model households for each site have been selected. Progress has also been made at the other sites, with facilities for the Kasajs already constructed, a cooperation agreement signed for the Adama site, and completion of field studies done on the Holeta. Zheng said that Plan 1-5-50 will be fully implemented by the end of the current mission in 2021.
"The plan intends to build an edible mushroom promoting system in Addis Ababa and the surrounding areas of the city, and it will also serve as the foundation and leading force for the promotion of edible mushroom growing techniques across Ethiopia. The design and operation of this system will be the biggest achievement of the edible mushroom program of the current mission," said Zheng.
Germame Garuma, Extention Director of the Ethiopian Ministry of Agriculture, positively evaluated the plan and committed to provide full support. He hoped that the guidance of Chinese experts would help bring a new look to the edible mushroom industry in Ethiopia.
Technical training
During his previous mission in Ethiopia, Zheng provided technical training for over 500 people. This time around, technical training remains an important part of his agenda.
"This is in line with the purpose of Plan 1-5-50, which is to promote mushroom growing techniques to officials, scholars and farmers. We need to give them the skills to do things for themselves," he said.
At present, training has started at some of the sites. His training covers the production of seeds and growing of different mushrooms, as well as practical operation.
"I learn something new each time I talk with the experts. I hope that China's edible mushroom techniques can be applied across Ethiopia," said Genet Kebele, a mushroom grower from Addis Ababa.
(Comments to lijing@chinafrica.cn)