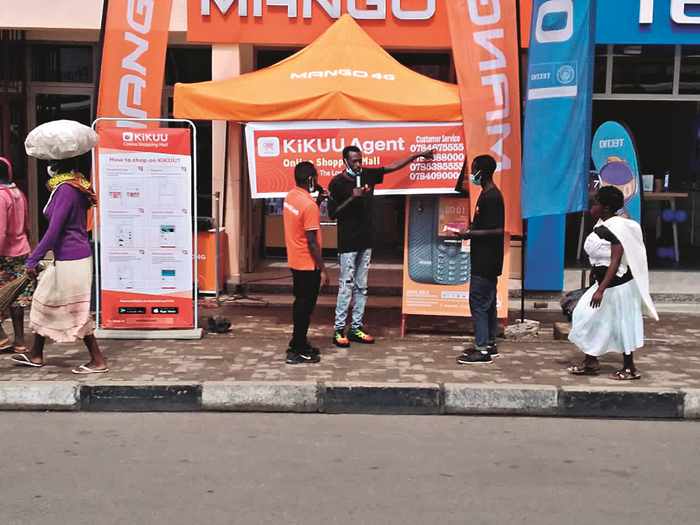 KiKUU staff introduce their services to visitors in Kigali, Rwanda (ALAFATI MUGABO)
Every month, Divine Rukundo, owner of Diva House of Beauty in Kigali, capital of Rwanda, orders over 700 cosmetic as well as health and wellness products from China through e-commerce app KiKUU.
The 30-year-old mother of one started using KiKUU to purchase products for her personal use, but later opened a beauty shop after finding how easy it was to have goods shipped from China.
"I used to buy goods for myself worth about $200 every three months, but now with the opening of this beauty shop, my purchases range between $3,000 and $5,000 every month," said Rukundo, one of the VIP customers of KiKUU in Rwanda.
Headquartered in east China's Hangzhou, KiKUU focuses on cross-border e-commerce in Africa. Its Rwanda operation, which started in September 2019 with 30,000 daily active users, now has 250,000 users among the country's total population of around 13 million.
Convenient and affordable
"Convenience, fast delivery, more affordable prices and much wider choices are what attracted me to the platform, and I continue to recommend it to many other people in Rwanda," Rukundo told ChinAfrica.
She said KiKUU makes purchasing convenient as she does not need a forwarder to send goods to Kigali. More importantly, the majority of goods come with free shipping.
"I do not know how I would get the kind of goods I sell from China if it were not for KiKUU; thanks to the Chinese e-commerce platform for linking us with Chinese small and medium enterprises," said Rukundo.
She added that goods she orders from China using other cross-border e-commerce platforms take longer to reach and the process of ordering and making payments is complex.
KiKUU has become the largest China-Africa cross-border e-commerce platform, with a total of over 2 million users and more than 500,000 daily orders across six African markets - Congo, Cameroon, Tanzania, Ghana, Uganda and Nigeria.
ChinAfrica has learned that goods purchased from China through KiKUU app take between 10 to 15 days or less for delivery, while those bought on other e-commerce platforms take one to three months. These products vary from fashion products, electronics and home appliances to daily necessities.
At a KiKUU offline outlet in Kigali, Musa Murenzi, a local customer, said that he places more than 30 orders about every 15 days from China, usually textiles and electronics but also media equipment and personal care products.
The 27-year-old small-scale textile and electronics trader started using the app in December 2019 upon recommendation of a KiKUU customer.
"The beauty about shopping on KiKUU is that there is a high chance of finding most of the products you are looking for in the Chinese market, which are hard to find in the local markets," said Murenzi.
"Today, almost 50 percent of the products sold in my shop are purchased through the Chinese platform. I find myself ordering about 200 different products in a month, ranging from clothes, electronics, podcast microphones, and women's clothing to men's deodorants," he said, adding that KiKUU offers hundreds of thousands of different products to choose from, whereas just a few options are available at local shops and markets.
Jane Mutara, a university student in Kigali, echoed the views of the traders, saying that buying goods from China has become easier and prices are cheaper than even the local market or a neighboring country.
The student said the platform, with both a web version and mobile app versions, offers convenience of shopping because it facilitates the delivery of reliable and low-cost products from overseas to her home in Gasabo District in Rwanda.
Mutara said KiKUU has made life easier for her and many other young students at the university. She explained that they always saw Chinese goods online but ordering them was difficult since they did not have a Visa or MasterCard, which is required for making payments online.
However, with KiKUU accepting payments from local mobile wallets, buying goods from China is no longer different from going to the local market, and some goods can arrive in just six days.
Mutara suggested KiKUU add more products like fridges, televisions, and other high-value quality products produced in China.
Neo Wu, Head of KiKUU operations in Rwanda, said that more than 400,000 active Chinese small and medium enterprise vendors have joined the platform, which now features more than 20 million Chinese products. Sales of Chinese products through the KiKUU platform account for 18 percent of the total sales of Chinese products in Rwanda, up from 15 percent during the same period last year.
Smartphone users in Rwanda account for 80 percent of all cell phone subscribers in the country, and virtually all smartphone subscribers use mobile wallets, according to Wu.
He said that in Rwanda, KiKUU works with local operators to connect the platform's payment system to mobile wallets, which has helped and enabled many young people who do not use other payment methods and it has proved much more convenient for the local customers.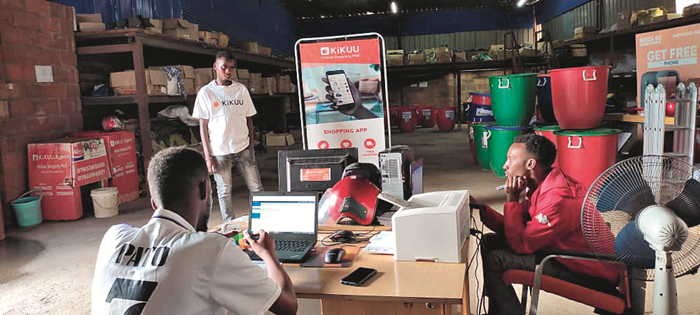 KiKUU staff work in their warehouse in Kigali, Rwanda (ALAFATI MUGABO)
Offline stores
During a visit to a local KiKUU branch, ChinAfrica learned that they offer after-sales service that allows the exchange and return of sold goods. They also operate stores allowing Rwandans to enjoy the same services offline as those provided online.
At the store, ChinAfrica talked to one of the customers, Eric Kabila, who had returned the product after finding out that it was not the one he had ordered.
"I have returned it because it is not what I ordered; it looks like the courier misplaced my product and gave me one ordered by another customer. This is what I really like about KiKUU; when you need, they do everything for you to either get a refund or ship your product," Kabila said.
Asked whether they are afraid of the competition from other e-commerce platforms and local sellers, Wu said that competition is good because it allows consumers to decide whom to buy from after considering many things like cost, quality and accessibility.
E-commerce is a promising sector on the African continent. Other platforms, such as Amazon, Alibaba, Jumia, and Kilimall are also present and compete for market share.
The ICT chamber chief of the Rwanda Private Sector Federation, Alex Ntare, told ChinAfrica that cross-border trade is bringing opportunities for Rwandans to buy and sell beyond borders.
"We thank KiKUU for removing barriers created by borders, so that people can buy what they need from any province in China and sell anywhere around the world."
However, he said, online shopping platforms in Rwanda still need to further build trust and grow the customer base for the emerging sector to have an edge on traditional brick-and-mortar businesses.