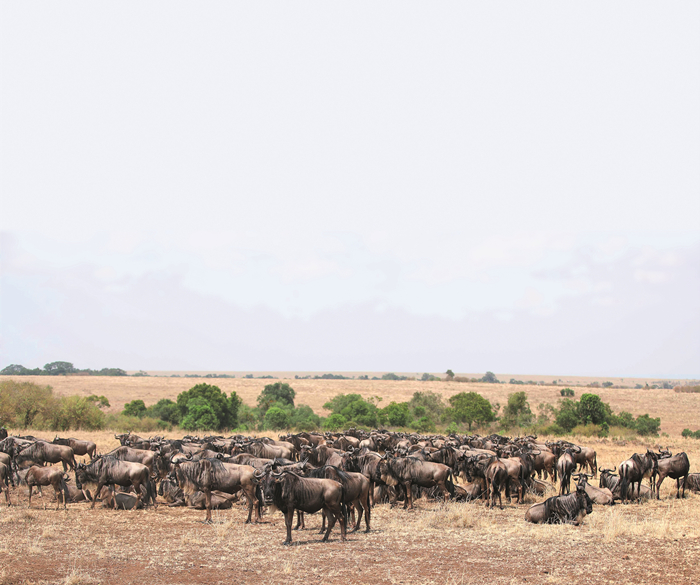 Wildebeests in Kenya's Masai Mara National Reserve on August 30, 2021 (XINHUA)
John Ndirangu, 50, is a career farmer, growing mostly horticultural crops on his 10-hectare farm located in Murang'a, Kenya. His farm is characterized by several species of indigenous trees scattered about on his fields.
"I practice agroforestry, which helps me produce healthy crops. I also produce crops in large numbers due to the advantages of agroforestry. My produce now is much more compared to what I produced 15 years ago," said Ndirangu.
He said the reason his yield is greater is because there is less soil erosion. Agroforestry, a land use management system in which trees are grown around or among crops, has made Ndirangu's crops production more resilient compared to conventional farming.
Good results
"Agricultural services extension officers from the government have played a great role [in agroforestry training], along with experts from United Nations Environment Program (UNEP)," said Ndirangu, who practices mixed farming.
"It is a good initiative as UNEP has done a lot of ground work around the world. I have been part of different studies by UNEP since August 1999," said the veteran farmer. "With agricultural extension services workers trained by UNEP in partnership with the Kenyan Government, they will further improve my produce."
He explains that through this training, he has learned that fruit trees like banana, mango and avocado, which are all grown on his farm, prevent cutting of timber.
"It ensures that I maintain the trees for the fruits they produce. I do not have to cut them down for firewood, charcoal and other purposes. I make a lot of money from fruit farming," he said.
He sells his produce in the nearby market, earning a stable income to support his family. His next goal is to get Kenyan Government as well as European Union and Chinese Government certifications, in order to enter the horticultural export business.
Ndirangu said with the interim secretariat of the China-Africa Environmental Cooperation Center already in place, it has benefited him greatly, most importantly about awareness of sustainable agricultural practices.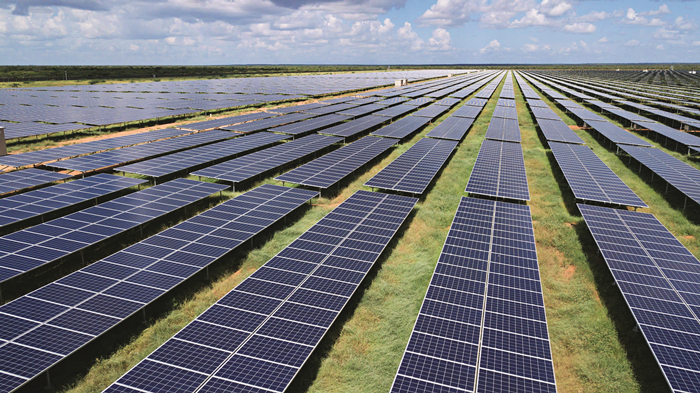 A Chinese-built solar power station in Garissa, Kenya, on December 13, 2021 (XINHUA)
Environmental cooperation
Raychelle Omamo, Kenya's Cabinet Secretary (Minister) for Foreign Affairs, confirms that a site has been identified for the construction of the China-Africa Environmental Cooperation Center.
The center will be a partnership initiative between all participating African countries and China. Key partners will include the African Union, the African Ministerial Conference on the Environment and institutions of innovative research and development.
The purpose of the center is to strengthen cooperation between China and African countries in the field of environment, as well as to promote green investments and development.
"The center is expected to be fully operational by [the] end of 2022 or by mid-2023. We have worked tirelessly with the Chinese Government to identify a proper site. We will strengthen and improve our partnerships with China on environmental initiatives. The [center's] headquarters for Africa will be in Nairobi and it will represent at least 51 countries that have signed agreements with China," said Omamo.
An office for the center is already operational in Beijing, with an interim secretariat office also already in place at the UNEP headquarters for Africa in Nairobi.
According to Omamo, setting up a permanent office for the center is expected in the coming weeks. This is happening as they prepare the construction of the site.
"This center was set up under different frameworks of the UNEP by the Chinese and Kenyan governments more than four years ago. It was set up as an Interim Secretariat. It will serve the entire continent once fully operational," said Omamo.
In addition to helping farmers like Ndirangu, it will also help communities and governments conserve the environment.
"Apart from global conferences, UNEP does play a grassroots role in helping small-scale farmers, foresters, fishers and pastoralists achieve sustainable environment practices," said Inger Andersen, UNEP Executive Director.
She said that UNEP also trains governments on how to improve on the environment.
"We regularly train government workers on how to improve their livelihoods by conserving the environment. We launch regular special programs depending on regional needs. This [center's] secretariat [together] with Chinese efforts [are] showing good results, [and] we will surely go a long way," she added.
Green programs
Some of the programs run by the center, from its interim office already in place, includes investments in specific green energy projects and smart agriculture.
Some Chinese banks are also giving loans to local farmers and government agencies for different projects. They also lend money to businesses who wish to expand their programs.
"Chinese banks already have a strong presence here. Either they have [set up] offices or they have representatives, such as agents. They do give loans, even to our government, for different environment projects such as wind energy, wildlife conservation and green farming. The center has a great future," said Omamo.
Bank of China is the biggest Chinese lender in Kenya, but there are six other Chinese institutions or lenders in the country.
Harris Mule, a consultant economist based in Nairobi who once served as government advisor to late President Daniel Moi, believes the Chinese investment will be good for economic growth for the countries in the region, as most of the benefits remain in the region.
"It will obviously increase the tax revenue base of [East African Community] member countries which they badly need," said Mule.
According to Omamo, talks are being held with Chinese authorities to construct three of Africa's largest solar farms.
"Feasibility studies are being conducted at different parts of the country. Before anything can be decided on the solar plants, feasibility studies will determine the way forward, but so far everything is positive. The power generated will be added to the national grid," said Omamo.
Some of the major breakthroughs of the center's secretariat since 2018 have been restoration of East Africa's largest indigenous forest.
The May Forest has seen 270,000 hectares replanted since 2018. The May is known to be the water tower of the world-famous Mara River, known for the massive wildebeest migration.
Omamo said that more still needs to be done to restore the forests, but partnership efforts are paying off.
"The efforts are surely paying off. But a lot more needs to be done not only in Kenya, but other African countries. There are untapped challenges that need to be paid attention to," said Omamo.
Under the center's varied program, conservation of wildlife initiatives will also be launched. An example will be more effort put into lion conservation, who's numbers are being affected by poaching and habitat destruction.
The program will also focus on oceans, with a lot of attention being put into areas like coral reefs.