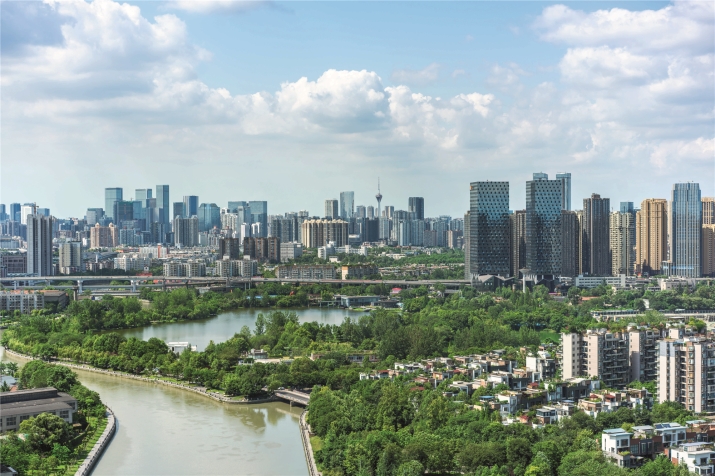 The central district of Chengdu, Sichuan Province (HELLORF)
As night falls each day on Xiongan New Area, about 150 km southwest of Beijing, something amazing happens: streetlights turn on automatically and adjust their brightness according to the number of pedestrians and vehicles around them at any given time. Passersby casually sit on the seats by the side of streetlight poles, where they can rest while charging their phones and accessing the free WiFi network. The streetlights are also equipped with a multifunction camera, enabling them to automatically collect and transmit traffic information.
Since the first intelligent streetlights were erected on August 26 this year in Xiongan, what was once a scene in a futuristic sci-fi movie is now part of the day-to-day reality of local residents.
"The smart devices and 5G stations use 48 volts direct current, which is absolutely safe for humans, even in case of contact. This helps prevent any risk of electric shock caused by rain water in the streets during the rainy season," explained Guo Tianhong, a technician at China State Grid's branch in Xiongan New Area.
Located in Baoding City, Hebei Province, the Xiongan New Area was officially established on April 1, 2017. It is an initiative of China's central authorities to encourage the coordinated development of the Beijing-Tianjin-Hebei region. Among the many tasks during the construction of Xiongan, the first and most important one is to build a new "green and smart" city.
Since then, Xiongan has established itself as a model for other smart cities being planned and built in China. However, this is far from China's first attempt or breakthrough in this field. In fact, the country has been moving along this path for many years.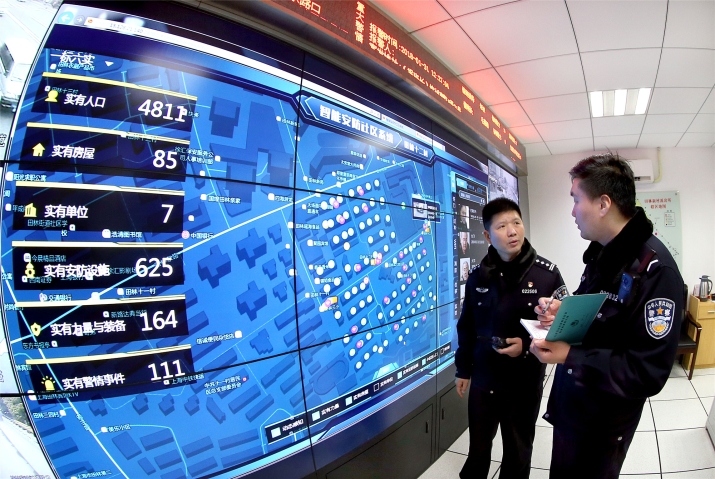 Shanghai police officers Zhu Bo (left) and Li Bin check the intelligent system of public security (XINHUA)
Long-term exploration
The concept of "smart city" was first put forward by American information technology giant, the International Business Machines (IBM) Corp., in 2008. As technology is constantly evolving, the way the concept is defined has greatly changed over the past 10 years. Moreover, as each country has a different understanding of the concept and its development priorities, there is currently no single definition of what constitutes a "smart city." According to the China Wisdom Engineering Association, in simple terms, a smart city aims at increasing the efficiency of how city resources are used, improving urban governance and programs, and providing practical and efficient urban services to citizens through digital and computerized management.
In fact, even before the concept of "smart city" was put forward, China had already begun to explore the construction of so-called "digital cities." According to Feng Kui, a researcher at the China Center for Urban Development under the National Development and Reform Commission, a digital city focuses mainly on the tools, means and technologies of urban management, while a smart city emphasizes the use of information technologies to become smarter and more efficient, to better meet the needs of its citizens and to improve the quality of their life.
In order to promote a stable and regular approach to the construction of smart cities, the Chinese Government has formulated a series of plans and measures, setting up several research centers and launching pilot projects throughout the country. Since January 2013, China's Ministry of Housing and Urban-Rural Development has announced the creation of 290 pilot cities, districts, counties and towns, in three successive batches. In addition, several local governments have included smart city projects in their work schedules for the 13th Five-Year Plan (2016-20) period. By early 2018, more than 500 Chinese cities were planning to build or were in the process of building a smart city.
In addition to local and central governments, businesses also play a critical role in building smart cities. According to Huang Qian, Professor at the College of Economics at Nankai University, the government should focus more on formulating plans, improving industrial policies and creating an innovative environment, while companies should actively take part in the actual, physical construction of smart cities.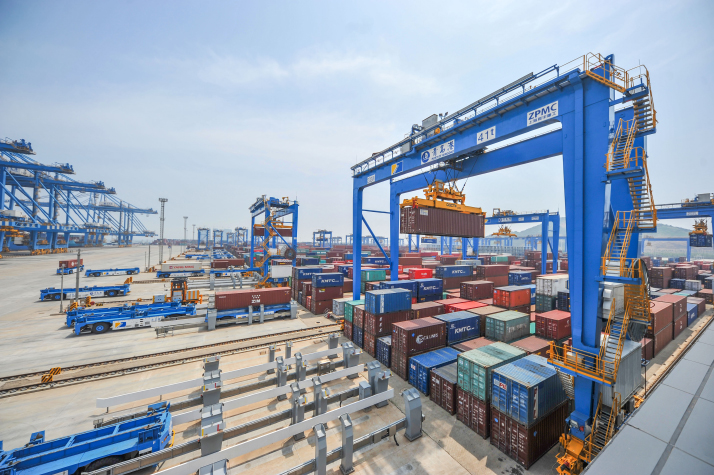 A fully automated container terminal at Qingdao Port in Shandong Province (XINHUA)
Innovation trumps challenges
Maintaining the underground pipeline network is a real headache for modern cities. Excavation work on roads is not only labor and resource intensive, it also exacerbates public transit problems by blocking roads. To solve this challenge, Wuhan HopeTop Technology has developed robots, leveraging recent breakthroughs in the fields of Internet of Things (IoT) and artificial intelligence.
"As soon as a problem is detected such as a water leak, robots can be inserted into the pipe, from where they will transmit data and images back to the control center. By analyzing this information with the help of big data technology, we can swiftly identify where the leakage point is located," Hu Zhen, HopeTop General Manager, told ChinAfrica.
In addition to raising efficiency, these new robots can also help solve the problem of water waste. According to Hu, even before tap water reaches urban households, some of it is lost due to numerous cracks along the pipes. The average rate of water wastage in Chinese cities is around 30 percent, which means that 30 tons are lost for every 100 tons of water going through the system. This is a major challenge on a global scale. Today, with the help of IoT technology and artificial intelligence, even the smallest cracks along the pipes can be identified and repaired in time.
"For the long-term development of smart cities, the government must play the role of a general organizer, which is responsible for planning and promoting projects," said Feng. "Governments, businesses and citizens each have their own requirements when it comes to the construction of a smart city, and the three must support each other."
In recent years, several organizations and events related to the construction of smart cities have also been set up, such as think tanks, forums, exhibitions and even competitions. These are all platforms for experts, civil servants and entrepreneurs to exchange and explore the meaning of what is a smart city. Together, they can seek better solutions to the numerous issues they encounter in the building process. For example, during the 2019 World Internet of Things Exposition in Wuxi, east China's Jiangsu Province, 10 solutions related to smart cities were put forward in several areas, including energy, healthcare and urban management.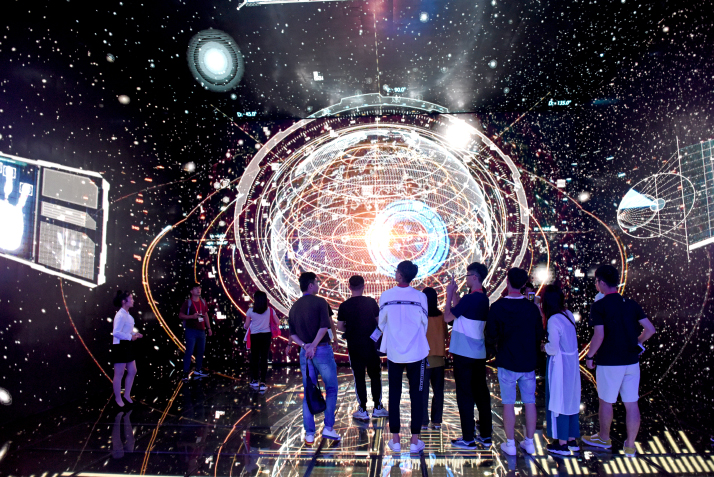 Students visit the Big Data Exhibition Center in Huainan City, Anhui Province, on July 9 (XINHUA)
No one-size-fits-all solution
"As we are building smart cities, large, medium and small cities must adopt different approaches, because the problems they face are different," said Guo Renzhong, Member of the Chinese Academy of Engineering and Dean of the Research Institute for Smart Cities, Shenzhen University, at the First Digital China Summit in 2018.
With urbanization accelerating, many large cities are facing different types of "urban diseases" in several areas, such as urban governance, transport, environment, public security and healthcare. For these large cities, the construction of a smart city must aim to find smart measures to address and tackle these problems.
The City Brain Project, developed by Chinese e-commerce giant Alibaba Group, has now become a smart assistant to traffic police officers in Hangzhou City, Zhejiang Province. Powered by artificial intelligence technology, City Brain analyzes road conditions using real-time video feed, thus adjusting the duration of traffic lights according to traffic flow. This has been shown to reduce transit delays by up to 15 percent. The system can also provide advice to the police in case of an emergency. In the event of a traffic accident, for example, the live images from the scene and congestion data taken by the camera will be immediately transmitted back to the City Brain system. After analysis, the system will suggest solutions to the traffic police, who will then decide how many people should be sent and how to quickly resolve the problem to prevent traffic congestion. In less than eight minutes, police officers will already be on the ground, ready to respond.
In 2019, the so-called Smart Approval System was introduced in Haidian District, Beijing. Thanks to this new addition, most administrative approvals can now be completed online. Registering a company name, for example, now takes only 20 minutes, compared to two business days in the past.
The key areas for building a smart city differ from city to city. "Each city must find its own path forward according to its own conditions," said Hu.
One of the 10 largest ports in the world, Qingdao City, Shandong Province, has focused its efforts on building a "smart port." In May 2017, Asia's first fully automated container terminal was opened in the port of Qingdao. Two years later, Qingdao successfully carried out the automatic operation of a container crane via a 5G connection. According to Li Fengli, General Manager of Qingdao Port Group, cranes can now handle up to 36 containers per hour, which is 50 percent more than in other similar terminals around the world.
The road ahead
China and many other countries are firmly committed to building and developing smart cities. But to do so, they will have to meet many challenges.
First, they will have to find stable and reliable sources of funding. In order to provide the huge investments involved in building a smart city, relying solely on government funding cannot be a sustainable long-term solution. According to Wang Shouqing, Professor and Senior Expert at Tsinghua University's Center for Public-Private Partnership (PPP), the PPP model provides an effective solution for the government to expand their financing sources, while giving companies an opportunity to take part in the construction of smart cities.
Data integration and security are other major challenges to be tackled in the process of building smart cities. "Data is the basic foundation for an intelligent city," said Guo. Besides the government, much of the data is handled by private companies, such as e-commerce firms and communication network operators, he added, and many questions remain around issues of data ownership and security. According to Guo, laws must be introduced to ensure data security and fair use, in order to better contribute to building smart cities.
Today, although China has made several breakthroughs in terms of smart city construction, there is still a long way to go. "The development of a smart city is like a child growing up. As the child grows older, he or she must constantly get new clothes. The same applies to urban construction. We must never stop making new plans as the situation changes," explained Guo.
(Comments to lijing@chinafrica.cn)