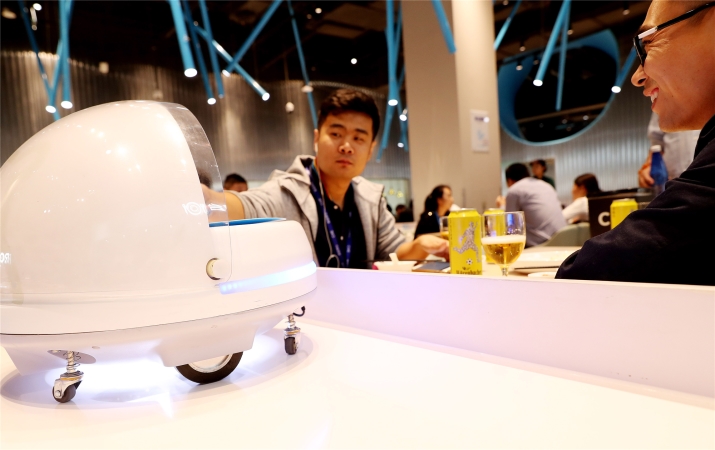 A robots serves food in a restaurnt in Shanghai (XINHUA)
Zhou Ting, who works in a securities company in Beijing, has a special liking for hotpot. When Haidilao, China's leading hotpot restaurant chain, unveiled its first smart hotpot restaurant in the country's capital on October 28, 2018, she decided to try it with her friends.
Stepping into the Haidilao in Zhongjun World City in Beijing's Chaoyang District, Zhou immediately felt an environment distinct from other hotpot restaurants. Since it was the peak time for dinner, they had to wait in line. However, instead of feeling bored, Zhou and her friends played video games with others in the line on the giant screen outside the restaurant.
When they entered the restaurant, what caught their eyes was a huge 360-degree projection of different themes like snow mountain or forest scenes on the ceiling and walls of the restaurant.
"You can imagine how delightful it is to listen to melodious music and have hotpot in the projected surrounding snowy mountain environment," Zhou told ChinAfrica. "It was uplifting."
Hi-tech service
In the restaurant, Zhou was not greeted by human waiters, but robots that shuttled back and forth. After ordering by using an iPad on the table, Zhou could watch through the glass wall as a robotic arm selected the ordered dishes from the neat shelves in the enclosed space. A few minutes later, the dishes arrived, brought by the serving robot called Peanut.
According to the staff in the restaurant, Haidilao's kitchen has also been automated, which not only improves food safety, but also shortens the serving time and reduces the waiting time for guests.
"The whole serving process took just a few minutes, which is really an improvement to both service quality and efficiency. It's absolutely a wonderful experience," said Zhou.
For the research and development of smart restaurants, Haidilao cooperated with hi-tech companies such as Ufida, Iflytek and Aliyun. It also developed intelligent kitchen management system, which is the brain of this smart restaurant as well as its core-competitiveness. Establishing the world's first smart hotpot restaurant cost Haidilao around 150 million yuan ($22.19 million).
From ordering to garnishing, this brain monitors, manages and controls the process of the entire operating system in real time, which can save nearly 37 percent of the labor costs of the kitchen, according to Haidilao.
Zhou Zhaocheng, Chief Strategy Officer of Haidilao, said that the introduction of smart restaurants is to increase the utilization of artificial intelligence technology and automation level in catering industry. "This can also improve the level of food safety by using new technologies, so as to provide customers with a better dining experience."
Wang Wei, who works in Beijing, went to the smart restaurant for the first time with her child. "For us consumers, it is important to ensure that the foods are safe and fresh. But with the improvement of living standards and the rapid development of the economy, we also pay more attention to the dining experience," said Wang. "It's great to see so many hi-tech items like intelligent brains and automatic food machines to enrich our dining experience," she added.
In order to meet the customers' different needs, this smart restaurant is equipped with a tailored automatic dispensing machine, which allows customers to accurately select the hotpot soup of their choice. This machine could remember different customer's preferences through the intelligent brain.
After ordering her food, Wang said that her soup preference has been kept on file, and she does not need to select ingredients for her soup in her future visits.
Catering Opportunities
From automatic coffee machines to smart restaurants, the combination of retail and high and new technology in the catering industry has gone beyond people's imaginations. Electronic menus, unmanned cashiers and robotic deliveries are just some of the new-style services that have sprung up. In November 2017, Koubei, a food and dining service app operated by e-commerce giant Alibaba, announced the launch of unmanned restaurant technology. In January 2018, Wufangzhai, a famous 98-year-old catering brand, launched its first unmanned restaurant in cooperation with Koubei. Ordering, taking meals, checking out, and purchasing retail products are all self-serviced by consumers. The unmanned transformation business can save for Wufangzhai 134-147 million yuan ($19.82-21.75 million) a year.
In addition to saving labor costs, business efficiency can be effectively improved. Ele.me, China's leading food delivery platform, announced in July 2018 that its Future Restaurant project, which focused on intelligent catering infrastructure development, had achieved an annual turnover of over 1 billion yuan ($147.93 million). Ele.me has opened hundreds of offline stores in more than 30 cities, with a maximum efficiency up to five times that of ordinary restaurants. Internet-based retail platform FRESHIPPO launched its first robot restaurant ROBOT.HE in February 2018, and became profitable after only four months of operation.
Li Huiliang, who works in an investment company in Shanghai, usually eats at Robot.HE on weekends with his girlfriend. After securing a table by using the FRESHIPPO app, Li doesn't need to wait in line. He scans the QR code on the table and a robot brings them their order. "Both my girlfriend and I are those who love to accept new things. Another reason is that I can't stand the long wait. I want to sit down and eat immediately," Li told ChinAfrica.
According to the Robot.HE staff, after a customer orders, the system will automatically upload the food information to the kitchen to complete the processing and production of the dishes. Among them, many dishes that can be modularized and standardized are automatically completed by robots.
Tang Qingshun, Vice President of China Cuisine Association, is optimistic about the future of the catering industry. "Modern technology has solved the problems in standardization, logistics, payment and brand promotion in the catering industry, which will better benefit consumers. The future is full of opportunities," he told ChinAfrica.
The labor question
While high and new technology facilitates the rapid development of the catering industry and helps it better meet the needs of customers, many people worry that the wide use of artificial intelligence and robots may push human beings out of employment, especially in catering industry. But Tang doesn't think so. He told ChinAfrica that the catering industry is still a labor-intensive industry.
"Though artificial intelligence and robots can replace human beings in some areas, human beings can be trained in jobs that cannot be done by robots," he said. "For instance, in some robot restaurants, human beings can be trained to work in positions where they would manage these robots."
A McKinsey Global Institute report suggests while much of the current debate about automation has focused on the potential for mass unemployment, predicated on a surplus of human labor, the world's economy will actually need every erg of human labor working, in addition to the robots, to overcome demographic aging trends in both developed and developing economies.
(Comments to likaizhi@chinafrica.cn)