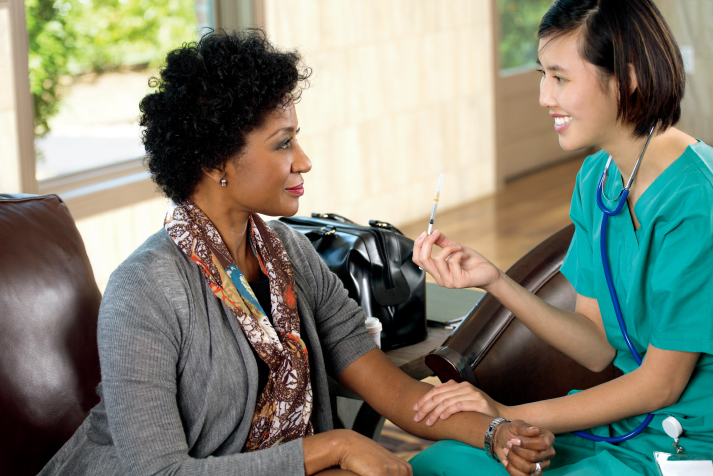 Jane Nekesa, 41, has been married for 11 years and despite several attempts to have children, she has been unsuccessful. Nekesa has had four miscarriages in recent times and two still births and points to the poor state of the health sector as being responsible for her misfortune. As an example, she told ChinAfrica, "My first two pregnancies were miscarriages that could have been avoided had I visited more experienced doctors." She is still haunted by the poor medical care and negligence by those Kenyan medical staff over the years.
Nekesa said she welcomes the recent announcement by the Kenyan Government to hire 200 Chinese doctors as part of a larger number in the future to address the country's health sector challenges, and still dreams of having a child.
The government's move was motivated by the increasing cases of deaths caused by professional misconduct among doctors, according to her.
The increasing number of untrained medical personnel doing work they are not legally mandated to do is also attributed to the shortage of specialized doctors.
Healthcare sector challenges
Each year, about 4.2 million miscarriages take place in Africa, according to the World Health Organization (WHO). One in four Kenyan women will experience at least one miscarriage in their lifetime, the WHO further estimates.
Kenya's Cabinet Secretary for Health Cecily Kariuki confirmed at a workshop organized by the WHO to commemorate World Health Day in Nairobi that the first batch of 200 Chinese doctors would begin work in May 2018. A total of 5,000 doctors will be hired over a five-year period.
"The government is taking radical measures to reform the health sector. We plan to hire 200 Chinese doctors who will begin immediate work this May," she said. "In addition, 4,800 doctors [are] to be hired within a five-year period. Eighty-one percent of the annual deaths that occur in Kenya annually are preventable and are due to medical negligence."
Among the most widely publicized cases of medical negligence is a brain surgery being performed on the wrong patient. This happened at the Kenyatta National Hospital, the country's largest referral hospital. The hospital was found guilty and ordered by the Kenya Medical Practitioners Pharmacists and Dentists Union (KMPPDU) to negotiate an out-of-court settlement for compensation to the victim and his family.
Kariuki said that each of Kenya's 47 counties will be allocated over 100 Chinese doctors in this five-year period. The government's new initiative also includes hiring 94 Cuban doctors.
The shortage of doctors is put into stark reality when considering that the WHO recommends one doctor per 1,000 population, yet in Kenya, only one doctor is available per 17,000 population.
Getting the balance right
Kariuki said that Kenya and China are set to sign a bilateral agreement on health. This agreement will increase the number of Kenyan students who will get to study medicine in Chinese universities each year. It will also encourage medical school exchange programs between both countries.
China will also build a state-of-the-art medical school in Kenya as part of the agreement.
While people like Nekesa and the general public welcome the hiring of Chinese doctors to provide better medical service, some opposition from medical associations does exist.
"You are growing the economies of other countries considering we already have 3,000 unemployed doctors in Kenya and most of them are straight out of medical school," said Ouma Oluga, Secretary General of the KMPPDU.
Oluga argues that it does not make sense to hire foreign labor while there is enough human capital in the country. "We just need to improve the quality of training in our medical school," he said.
But Daniel Yumbya, who heads the KMPPDU, the government agency that governs the conduct of medical practitioners, disagrees with Oluga.
"Firstly, the training in Kenyan medical schools is shoddy. That is why there are many unemployed doctors. We, as a board, are highly worried about the high cases of negligence in our medical facilities," he said.
"Most incidences of medical malpractice go unreported, so it is difficult for me to give you real figures. What we have is just a meager number. But most incidences involve mothers giving birth," Yumbya confirmed.
Yumbya welcomes the government move to hire Chinese doctors. He says it will reduce negligence that causes preventable deaths and diseases.
"China is known to have the best professionals in the world. So the move is long overdue," he said.
According to many different reports worldwide, many medical conditions can be reversed if people had access to good medical care.
"The more competent doctors are in the country, the less costs will be for the government on healthcare. It will also improve the economy as people will be more healthy and able to be productive," said Njoroge Njuguna, 23, an economics student at the University of Nairobi.
The government also hopes that labor strikes experienced by medical professionals will be a thing of the past by its decision to hire Chinese doctors.
Kenya's hospitals were left stranded in December 2017 when up to 5,000 doctors walked out in protest of poor working conditions, being underfunded and the need to hire thousands of new doctors.
(Reporting from Kenya)