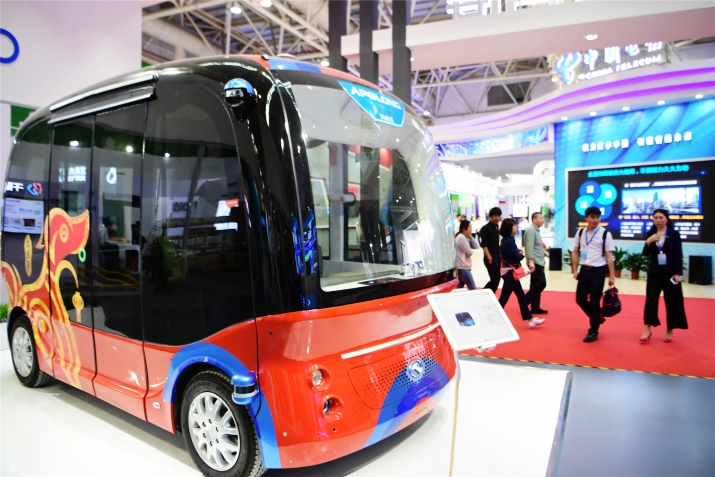 The Apolong can perform driverless operations such as obstacle avoidance and swerving (XINHUA)
In science fiction movies like Westworld, robots are awaking; in Blade Runner, the consciousness of robots is rising; and in The Matrix, people are trapped in a virtual world by robots.
In the real world, we haven't yet reached these levels of sophisticated automation. However, rapid advancement in the field of artificial intelligence (AI) in recent years is causing some concern that technology may one day take control of human destiny. AI's power has been amply demonstrated, for example, by the successive wins of Google's AlphaGo over the best human Go players in 2017, which made international headlines. Go is an abstract strategy board game for two players. In the same year, Saudi Arabia granted citizenship to a humanoid robot called "Sophia," that is capable of detecting and understanding motion, facial expression and speech, and reacts in human fashion.
On the company's June-18 anniversary this year, Chinese e-commerce giant JD brought its autonomous delivery vehicles to the streets of Tianjin Municipality to begin automated delivery operations. It's hard to imagine an industry that won't be impacted or even disrupted by AI in the next decade, everything from transportation, real-estate and financial services to construction, fast-food and customer service.
With so much speculation and conspiracy theories, the question needs to be asked - can AI replace human beings in the future?
Extensive application
AI has been rolled out in various areas. It not only has liberated humans from trivial and repetitive work, but also can satisfactorily accomplish tasks that are otherwise unachievable by human beings, due to either physical or intellectual constraints.
Computer vision, or the science and technology of machines that see, is one of the most rapidly developing areas in AI, and researchers have made breakthroughs in related tasks. For example, in image classification tasks, the most advanced neural network model has reached about 80 percent accuracy.
Besides, AI is capable of performing tasks such as speech recognition and translation as well as humans. AI machines can also do many tasks where learning and judgment is required, including self-driving cars, insurance assessment, stock trading, accounting and human resources.
The AI technology employed by Equbot, a San Francisco-based company, can process more data than the portfolio managers whom it has "generated unbiased decisions under a set of investment criteria," according to the company.
So is the world approaching a jobless future, or will new jobs replace the ones that are lost?
Replacement or supplement
Despite AI's rapid development, the jury is still out on whether it will replace humans.
Elon Musk, CEO of both aerospace manufacturer SpaceX and electric car producer Tesla, has predicted a future scenario where "super AI" will pose real threats to the very existence of mankind, and human beings will have to face that challenge.
However, Satya Nadella, CEO of Microsoft, views AI as something to be embraced and not feared.
He said that it is up to humans themselves whether AI would prove to be an aid to humanity or end up destroying it.
Li Feifei, Chief Scientist of Google Cloud AI and Machine Learning, also believes that humans have ultimate control over AI and are able to make it work in harmony with people. "Machines don't have independent value. The value of machines is the value of human beings," Li said in an interview with Xinhua News Agency.
According to Lei Yanan, Associate Professor of School of Physics at Peking University, despite the astounding achievements of AI, for the time being, its use is still limited to isolated fields and lacks universal applicability. In most industries, professionals are still needed and demand for these skilled people is high. These professionals are needed to monitor and maintain the operation of AI systems. AI will therefore be a supplement for human skills rather than a replacement, says Lei.
(Comments to xyy@chinafrica.cn)