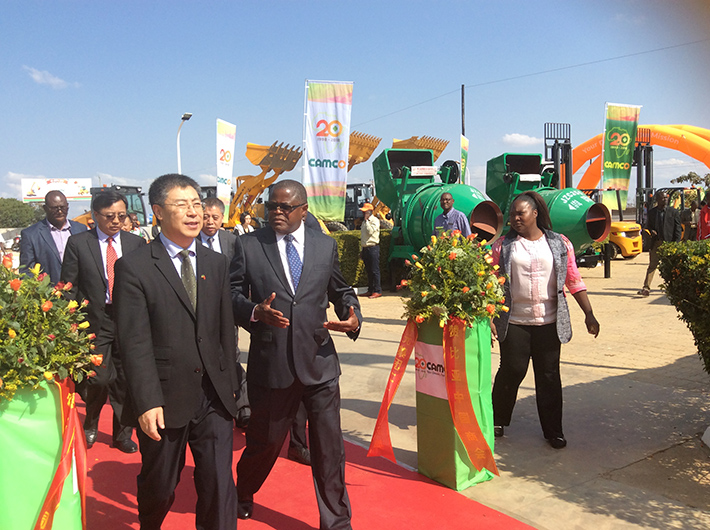 China's Ambassador to Zambia Li Jie (front left) and Zambian Commerce, Trade and Industry Minister Christopher Yaluma (front right) during CAMCO's 20th anniversary celebration in July (Derrick Silimina)
In Africa, agriculture has been identified as a prior development area in the China–Africa strategic partnership.
In its unwavering pursuit to mechanize Africa's agriculture and find new markets for its own companies, China looked upon farming proficiency as one of its first exports to Zambia.
From struggling to feed its growing population, China has now managed to record impressive headway in the agriculture sector and ranks among the leaders in worldwide agricultural yield. China now feeds 22 percent of the world population with only 7 percent of the planet's arable land.
China's agricultural knowledge and technology transfer was outlined at the Forum on China-Africa Cooperation (FOCAC)
during its launch in 2000, where the two sides agreed to cooperate in economic ventures such as agricultural production in a bid to enhance food security on the continent.
"We will support Africa in achieving general food security by 2030, and work with Africa to formulate and implement a program of action to promote China-Africa cooperation on agricultural modernization," said Chinese President Xi Jinping at the Opening Ceremony of the 2018 FOCAC Beijing Summit on September 3.
Zambia's development is moving rapidly and for it to succeed, the country requires a lot of investment from at home and abroad, especially in the agricultural field, according to experts.
CAMCO Group is one of China's leading companies engaging in agricultural and engineering machinery trade and sales, and its branch in Zambia, CAMCO Equipment (Zambia) Ltd., has enabled local agriculture and construction sectors to flourish through its modern equipment.
Twenty years on
CAMCO Equipment (Zambia) was established on June 16, 1998. CAMCO Group Chairman Li Tie told ChinAfrica that from its inception, he saw value in Zambia's ready market for heavy agricultural and construction equipment.
"Zambia is a big country with a population of around 17 million people and that means they need machinery either big or small that can meet their demands to start a business," said Li, adding that the country's social stability and good climatic condition make it attractive for economic investment.
He said his company's success over the past two decades was due to its ability to meet local demand for advanced technology, as well as providing affordable products, warranties and efficient after-sales service, using both Chinese and Zambian technicians.
Providing employment for locals is also an important part of CAMCO's business plan. Li said the company has managed to employ around 680 employees across the group in Africa, of whom, 500 are employed in Zambia.
The company has since grown in its operations across the continent in Kenya, Malawi and Cameroon, with an investment portfolio in excess of $ 20 million.
Speaking during the CAMCO's 20th anniversary celebrations in July, China's Ambassador to Zambia Li Jie paid tribute to CAMCO, saying that the company has created a very strong link between China and Zambia.
"Zambia is already the second largest destination in Africa for investment from China," said the ambassador who is optimistic of ever brighter cooperation between China and Zambia.
Zambia's Minister of Commerce, Trade and Industry Christopher Yaluma said that CAMCO's achievements are a testimony of Zambia being conducive to attract foreign direct investment.
Yaluma said in its quest to attract more domestic and foreign investment, his government is committed to put in place an enabling investment environment in which all businesses operate freely and help contribute to the realization of the country's Vision 2030 to become a prosperous middle-income country by that date.
"It is the government's policy to promote private-sector participation in our country because we view the private sector as an engine for economic growth," said Yaluma when commenting on CAMCO's success, adding that the company should consider expanding its investment by taking advantage of the prevailing conducive investment climate in Zambia.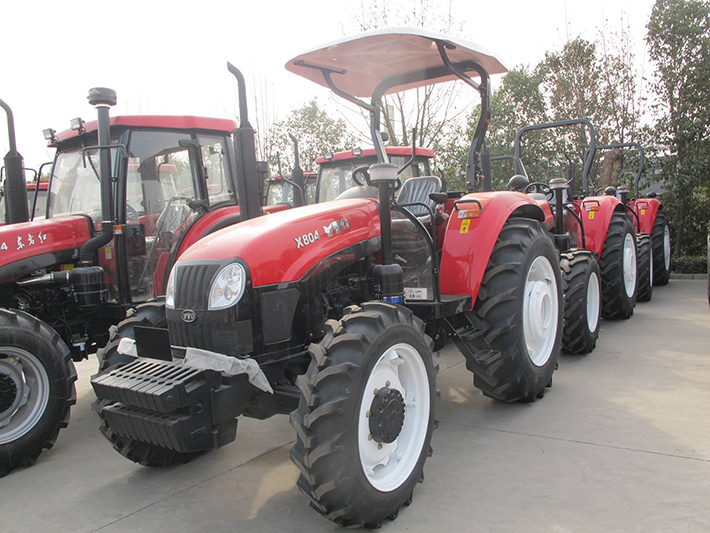 CAMCO's farming equipment
Small farmers' priority
Recalling the early years, David Sakala, CAMCO Equipment (Zambia) Sales Manager, said that the company started small in 1998 and has now grown to an extent that they have built five branches in Zambia.
Sakala said it had not been an easy journey, "but we managed to grow the company to [the current] level because of the support of Zambian farmers and the general public at large."
Sakala believes the country can only develop through investment in advanced mechanization.
"Right now, when you talk about agriculture, you can't avoid mechanization. We are trying to bring in different technologies which will help farmers improve their yield, production and productivity. This will increase the country's food basket," he said, adding that the technology can be found in equipment that includes tractors, planters and boom sprayers. Sakala is also keen to see growth in small farming operations. He believes these small-scale farms are an important part of developing Zambia's agricultural sector.
"If you look at most of our equipment, you can see we are dealing with small-scale equipment, not only for production, but [also] for agricultural processing, such as hammer mills and rice mills, which enhance value addition."
Farmer Jervis Zimba echoed Sakala's sentiments about value addition, saying that, "as farmers, we need to explore alternative ways of farming through innovations if we are to survive." Zimba said the agriculture sector is at the cutting edge of pursuing new ways of doing business.
(Reporting from Zambia)
(Comments to niyanshuo@chinafrica.cn)