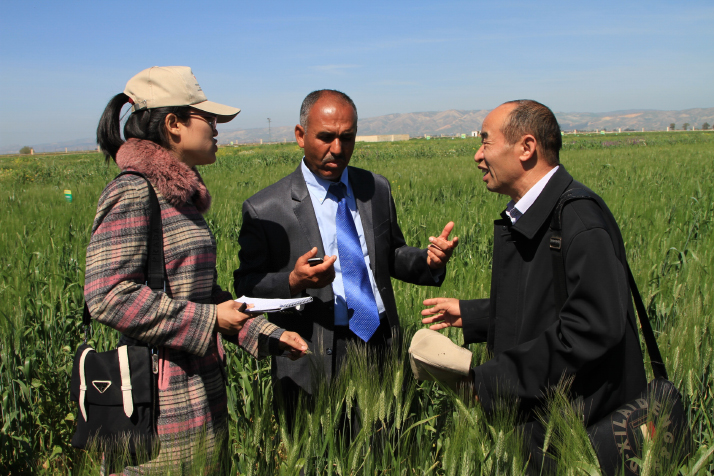 Agricultural experts from China and Algeria exchange experience in saline-alkali land treatment. This methods have been used to increase yields and alleviate poverty (XINHUA)
When Victoria Sekitoleko was young, she had no idea what she would do when she grew up. The one thing she was sure of, however, was that she would never marry a farmer.
The 65-year-old former Ugandan minister of agriculture shared the anecdote at the opening ceremony of the Poverty Reduction and Development Conference of the Forum on China-Africa Cooperation (FOCAC) 2018 in Beijing on August 14.
Growing up in a farming family where money was scarce, one value young Sekitoleko took away from her upbringing was that she needed to get as much education as possible, to escape the poverty of rural life.
However, it was not until she entered the Makerere University to pursue a bachelor's degree in agriculture that she understood the value of agriculture and the need for developing the capacity of this sector to alleviate poverty in her country.
In 2011, as a representative for the United Nations Food and Agriculture Organization in China, Sekitoleko became inspired by the Chinese method of poverty reduction. "Today, under the framework of FOCAC, I'm happy to see China and African countries [have] strengthened [their cooperation] in poverty relief," the rural development professional told ChinAfrica.
China's lessons
According to Justin Yifu Lin, Counselor of the State Council of China, when China's reform and opening up started in late 1978, Sub-Saharan Africa's GDP per capita was more than three times that of China. At that time, 84 percent of Chinese lived on less than $1.25 per day, the international poverty standard.
However, World Bank statistics show that since the reform and opening up policy began, China has seen a dramatic decrease of its impoverished population. Its poverty rate dropped to 1.9 percent in 2013 from 88.3 percent in 1981.
Over the past three decades, some 700 million rural residents across China have shaken off the yoke of poverty. In 2017, the per-capita yearly disposable income of rural residents in poverty-stricken areas reached 9,377 yuan ($1,359), an increase of more than 50 percent over that in 2013, according to Liu Yongfu, Minister of the State Council Leading Group Office of Poverty Alleviation and Development.
China's poor people have derived great benefits from the country's economic growth, due to strong support from the Chinese Government, active promotion of industrialization and urbanization, as well as great importance attached to infrastructure construction in poor areas.
In December 2015, Chinese President Xi Jinping announced the poverty reduction program was listed as one of the 10 major China-Africa cooperation plans at the FOCAC Johannesburg Summit in South Africa. Xi pointed out that China's experience in poverty alleviation could be used in helping African countries complete their poverty reduction target.
In recent years, China has made great strides in sharing its poverty alleviation experience with African countries in areas such as agriculture, technology and skill, and infrastructure construction.
Transforming agriculture sector
As Sekitoleko realized, in many African countries, developing agriculture and increasing farmers' income are vital in alleviating poverty.
According to Josefa Leonel Correia Sacko, Commissioner of Rural Economy and Agriculture of the African Union Commission, Africa has about 600 million hectares of uncultivated arable land, roughly 65 percent of the world's total. However, many African countries are among the most affected globally by food insecurity and low agricultural productivity.
Transforming the agricultural systems in Africa demands the need to empower the poor farmers with technology, improve their access to agricultural knowledge and provide them access to markets, according to experts.
The priorities in agricultural cooperation between China and African countries were therefore entrenched during the FOCAC Johannesburg Summit, including carrying out agricultural demonstration projects, transferring technologies and cooperating with African countries to increase productivity.
Since 2006, China's Ministry of Agriculture has been dispatching Chinese agricultural experts and teachers to African countries to provide help in agricultural development. For example, in October 2015, a 10-member mission was dispatched to Zimbabwe to implement the second bilateral agricultural cooperation program. The experts conducted the first experiment on hybrid rice cultivation in Zimbabwe's history. The six tested rice varieties yielded more than 10 tons per hectare, setting a new record for the country.
Personnel training
Enjoying a demographic dividend, Africa will be home to 200 million young people aged between 15 and 24 by 2025, taking up 20 percent of the total population of the continent, according to data released by the United Nations. However, the lack of skills is still one of the three major bottlenecks in Africa's development, with the twin challenges of backward infrastructure facilities and shortage of funding.
At the FOCAC Johannesburg Summit, Xi pledged China will sponsor visits by 200 African scholars and training trips by 500 young Africans to China, and train 1,000 media professionals for Africa each year. Besides, China offers 2,000 educational opportunities with degrees or diplomas and 30,000 government scholarships to African students.
In 2017, Jack Ma, Executive Chairman of Alibaba Group, a multinational technology conglomerate, said Alibaba would work with several African universities in collaboration with governments to develop training programs on e-commerce, the Internet, big data and cloud computing. "The objective is to train as many young people as possible across Africa," said Ma.
Besides, Chinese enterprises are playing a bigger role in helping African countries' capacity building. For example, in Chinese shoemaker Huajian Group's Ethiopia factory, 3,800 of its 4,000 employees are locals. With good training, workers can skillfully complete the full shoemaking process of leather cutting, bonding, sewing and modeling and produce more than 8,000 pairs of shoes daily. Apart from advanced shoemaking skills, some of them were sent to China to learn the Chinese language and management skills.
"Capacity building could make a contribution in improving the local workforce quality, helping promote Ethiopia's economic development," said Zhang Yunqi, General Manager of Huajian International Light Industry City (Ethiopia).
Next move
According to Liu, China is still faced with the heavy task of lifting 30 million poor people out of poverty, and Africa's poverty reduction task is even tougher. Eliminating poverty for sustainable development is the shared goal and historic task of both Chinese and African peoples. He believes the upcoming FOCAC Beijing Summit in September will unveil new measures for the two sides to jointly alleviate poverty.
Liu gave his suggestions in the Poverty Reduction and Development Conference that in the following years, China and Africa could strengthen their anti-poverty cooperation in three aspects under the framework of FOCAC.
First, the two sides should further communication to share their experience of poverty alleviation and work together to conduct research in the field. Second, China continues its help in training poverty relief workers from Africa according to the needs of African countries. Finally, pilot projects could be jointly launched as examples or technical support for poverty relief efforts.
(Comments to xyy@chinafrica.cn)