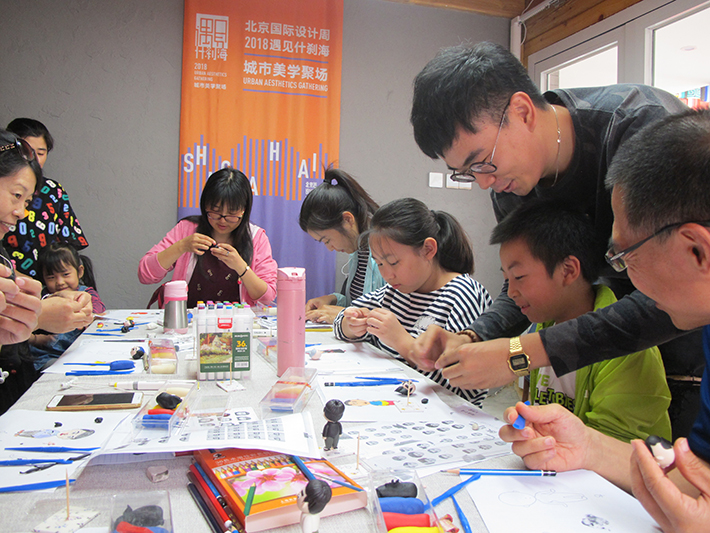 Lang Jiaziyu (third right) teaches children to make dough figurines (HU FAN)
On a lazy afternoon of October 2, when most people in China were enjoying time off for the National Day holiday, Lang Jiaziyu was showing his students how to make a simple dough figurine in a small back alley of old Beijing. As part of the 2018 Beijing Design Week from September 22 to October 7, he was to teach several groups of students during the holidays.
The classes focused on practical skills. The students were shown how to use the colorful dough pieces to shape the small figurines. All their materials were provided and Lang's sense of humor and enthusiasm made the classes fun.
"Make sure the eyeballs are looking in the same direction. Don't give me any cross-eyed looks," he quipped to hoots of laughter.
Although only 23, Lang is already a master of his art and is applying to become the third-generation representative inheritor of the Lang Dough Sculpture legacy, a national intangible cultural heritage named after the family. For better protection and inheritance of China's intangible cultural heritage, starting 2005, the Chinese Government issued a series of regulations to include traditional art, calligraphy, music, dance, drama and other projects on a list of national intangible cultural heritage. It is stipulated that local governments should designate representative inheritors for representative projects, provide them with necessary workspace and funds, and support them in activities such as recruiting apprentices, transfer of skills and promotion. As of May 8, the Ministry of Culture and Tourism has announced a total of 3,128 representative inheritors nationwide. In 2008, Lang Dough Sculpture in Beijing was inscribed on the national intangible cultural heritage list, along with three other schools of dough sculpture originating in Shanghai and Shandong, and became a representative of this ancient folk art. Lang Jiaziyu's aunt Lang Zhili was designated as the representative inheritor of Lang Dough Sculpture.
Inheritor
The Lang family's involvement in dough sculpturing started with a tour his grandfather Lang Shao'an made in Beijing's Baita (White Pagoda) Temple in 1921 when he was 12 years old. There he was attracted by his later master Zhao Kuoming making dough figurines for tourists. Interested in the art form, he often went to help Zhao and eventually became his apprentice.
In the early years of Lang Shao'an's dough sculpturing career, he did it to make a living. With his superb skills and life-like dough figurines, Lang Shao'an was able to support his family. In 1956, he was among a Chinese delegation sent to the United Kingdom in a bid to promote cultural exchanges in arts and crafts. That was the first time China's dough sculpture was demonstrated abroad.
Under his influence, five of his nine children chose dough sculpting as their career. Lang Jiaziyu's father Lang Zhichun is the youngest of the nine siblings, and he is the one that makes the most exquisite figurines. In 1981, he worked at Beijing's
Yonghe Lamasery, making dough sculptures for foreign visitors. Because of him, the art form spread to a wider international audience. Born into such a talented family, it wasn't long before Lang Jiaziyu was also captured by the art, and he practiced diligently to improve his skills. At the age of 12, he won first prize in the Beijing Primary and Secondary School Art Festival by reproducing in precise detail one of his grandfather's works. To date the young artist has made more than 5,000 figurines.
Innovator
Being an inheritor at a young age, Lang has always regarded it as his mission to promote the dough sculpture art. In order to do this better, he became a student majoring in communications at the University of International Relations and is soon to graduate.
"It is about choosing and being chosen," Lang told ChinAfrica. He believes that he was chosen by fate to be born into such a family and be exposed to the art. "It's time for me to give something back," he said.
His decision is a godsend for the art. Enthusiasm has declined for many intangible cultural heritages today for various reasons that include changing lifestyles and economic circumstances in China. In addition, the challenge of aging artists in this sector battling to find apprentices to continue the legacy poses a severe threat.
"This is a problem for every intangible cultural heritage. Since it is called a heritage, that means its audience is not as wide as it used to be," Lang said. "So the problem that our generation needs to solve is to bring it back to our lives."
He is making a lot of efforts in this regard. The first thing is to attract the attention of the younger generation by adding new subjects into his works. These include popular emojis, cartoon characters and sports elements. Compared with the works of his father, his works give an immediate impression of being trendy and fashionable, which is in line with the aesthetic tastes of today's youth.
Communicator
The best way to experience the art, however, is one-on-one teaching. He takes his lessons to kindergartens, primary and secondary schools, colleges and universities, "so that people can feel what it is like to make dough figurines." There is no hard-core explanation or complex operation in his class. Instead, participants are allowed to have fun in the simplest and most relaxing way.
"Many national intangible cultural heritages have a lot of interesting elements. They are more than just a serious, culturally rich artifact," Lang told the students attending his course. To his delight, there is a growing interest among Chinese people in national intangible cultural heritage and traditional culture in general. His class during the National Day holiday offered eight seats daily, which were all booked soon after they were released online.
When asked about his vision of the art, he admitted that it is impractical to make it something for everyone to do. "I hope that it will become a traditional art project that can be easily accessed as a way people spend their leisure time."
This vision is becoming a reality. In the small back alley room, participants of his class were enjoying themselves with no concern that they had little art making experience. The atmosphere was more about unwinding, destressing and spending a few hours playing with color dough just for the fun of it. Lang's requirements for himself, however, are high. When he finishes his undergraduate program, he will proceed to study at Peking University, China's top high education facility, for an MA degree in arts. In his own words, this is a theoretical supplement for his practice in dough sculpture.
Lang said he is committed to dough sculpture for life and the young inheritor of a proud legacy is sure to take the art form to new heights.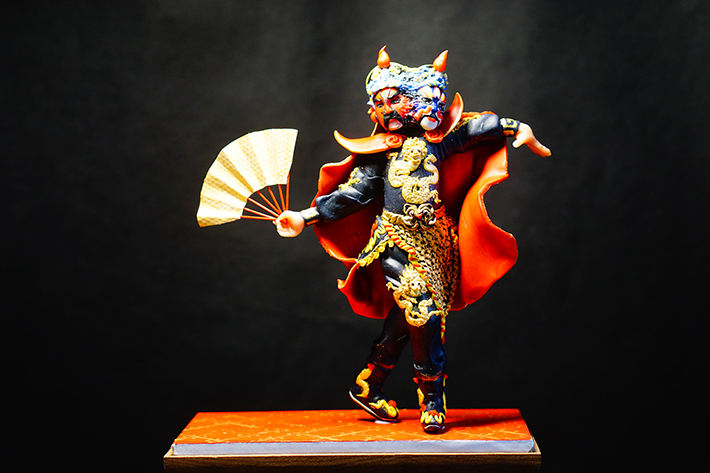 Lang Jiaziyu's work (COURTESY PHOTO)
Dough Figurine Facts:
The earliest evidence of China's dough sculpture was dough figurines unearthed in a tomb of the Tang Dynasty (618-907 DC).

The main material of dough sculptures is wheat flour or glutinous rice flour.

Dough sculptures are roughly categorized into two types: simple, edible ones fixed on a stick for entertaining children and exquisite, artistic ones placed on a table for display.

For the latter, additives are added to the raw materials to prevent cracking and deteriorating, as well as for insect control.

Color is added by kneading the dough with edible pigments. Usually dough pieces are made in several basic colors and new colors can be created by mixing them.
Finished figurines are dried naturally and then can be kept for many years, preferably in a sealed glass container.
(Comments to hufan@chinafrica.cn)