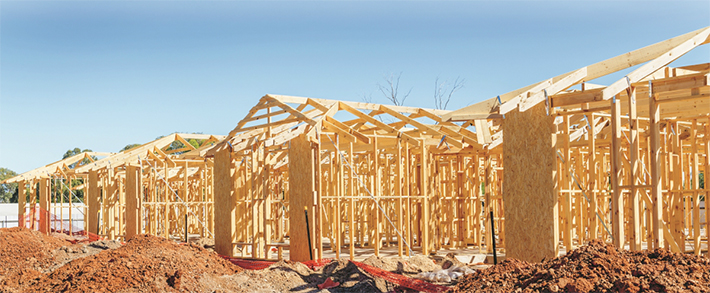 David Mungania has always dreamt of owning a house. But the major obstacle for him is the high cost of housing. Being a tenant is costly and the stress of finding money for the high monthly rent adds to his woes.
Mungania is one of a growing number of Kenyans battling with the rising cost of living. Now the opportunity of affordable housing being made available in the country offers a ray of hope to people previously just making ends meet.
"It is tricky [trying to balance your budget] when you pay rent. The government's new initiative to build affordable homes is a welcome move. I hope to own my own house and with the money I pay for rent, I can manage to save for my children's education," he said.
Chinese contractors
According to the Ministry of Transport, Infrastructure, Housing and Urban Development, 63 percent of Kenyans do not own homes and this demographic is being targeted by the government to become new home owners.
Chinese companies have begun building low-cost housing as part of the Kenyan Government's initiative to construct affordable housing.
The government plans to construct over 1 million houses by the end of 2022 at a cost of $23 billion, which, apart from providing shelter, will also provide much-needed jobs.
The average cost of a house will vary from $20,000 to $80,000, according to Fabian Nzivo, CEO of Banda Homes Ltd., one of Kenya's largest construction companies. But most homes will cost about $35,000. Currently the average cost of a house in Kenya is $130,000, making housing accessible to only a few.
Some ground projects began in October 2017 when the housing initiative was first announced, with a number of houses currently under construction in Nairobi and the coastal city of Mombasa.
Kenyan construction companies have partnered with their Chinese counterparts to construct new homes. Banda Homes has teamed up with China Zhongxing Construction Co.
"At Banda Homes, most materials are from China and they are durable and affordable. The Kenyan Government trusts Chinese contractors," said Nzivo. "Laborers are mostly Kenyans, but we do have some Chinese engineers on the ground. We have already begun constructing over 600 three-bedroom bungalows in several parts of the country." Nzivo added that the high cost of land in Kenya remains a problem.
"Despite the government's plan to build 1 million homes, there will still be a deficit of 3 million by 2022. So demand and bigger projects will need to be initiated," said James Macharia, Cabinet Secretary (Minister) of Transport, Infrastructure, Housing and Urban Development.
"Part of the ownership plans will be a strategy known as 'rent as you own.' A certain agreed amount will be paid on a monthly basis for those who cannot afford to pay cash [and buy the house outright]," said Macharia.
This system is the same as paying a mortgage and has no hidden costs.
According to Macharia, about 10 Chinese companies have been awarded construction contracts.
Housing expensive
Government figures for 2017 show that the average salaried income in Kenya is about $400 a month. But poverty levels stand at about $2 a day per person.
"[Under the 'rent as you own' scheme,] one can own a two-bedroom apartment in a complex with shops, swimming pool, gym and restaurants for just $17,000. This is partly because the government has waived value-added tax on building materials such as cement, roofing tiles, terrazzo and building bricks," said Reuben Mutiso, an architect with Tectura International in Nairobi. As available land is in short supply, many of these homes will be in highrises.
The government has also waived import duty in recent months on building materials coming from China in an effort to keep construction costs low.
Low-cost technology
Mutiso said the Chinese have also introduced a low-cost building technology where one can build a house quickly with the low-priced but durable materials available on the market. The 3D printing technology allows quick affordable shelters at an average cost of $4,000, although they are yet to receive mainstream popularity, he said.
"The government needs to increase employment and income-generating opportunities for its citizens. That is how this dream of everyone owning a home can be realized," said Harris Mule, a veteran Kenyan economist.
"The cost of land needs to be reduced. An acre (0.4 hectare) of land in Nairobi currently costs an average of $6 million. Due to high corruption levels, some real estate costs are highly inflated above the actual level," he added.
A government policy paper to encourage more real estate development in innovative ways is trying to address some of the challenges facing the sector.
A draft released in 2015 encourages owners of abandoned buildings to sell their properties to the government. The government then demolishes the structures and constructs new residential houses.
"The draft paper also allows owners of buildings located in certain areas of urban centers, such as Nairobi, with three floors or less to sell their buildings at reasonable market-related prices to the government. We borrowed this brilliant idea from Ethiopia, which has similar policies," said Macharia.
He also said that the government is set to hire Chinese consultants, including architects and engineers, to see if the government housing agenda can be realized in four years.
"The construction of roads and urbanization has realized a high rise in rentals, reaching prohibitive levels, and the government wants to build houses to deal with this pressing problem," said Macharia.
Rwanda is a country in the region with a similar housing initiative like Kenya, and Ethiopia is following suit.
Although this initiative has its critics, like some who say that it has resulted in high taxation by the government, Macharia said, "Good results will be felt in the long-term."
(Reporting from Kenya)
(Comments to niyanshuo@chinafrica.cn)