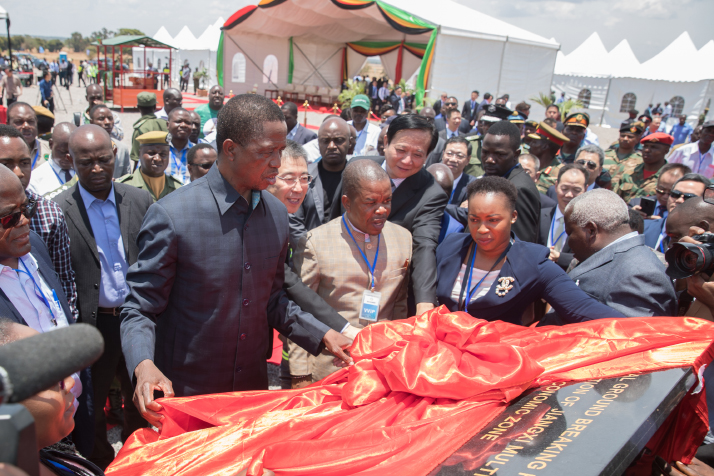 Zambian President Edgar Lungu (left front) unveils the commemorative plaque at the Jiangxi MFEZ in Central Province of Zambia (XINHUA)
The wheels of the mining sector that have been driving Zambia's economy for decades are slowly grinding to a halt. Understanding the need to diversify its economic basket, Zambia, through its bilateral ties with China, has prioritized the development of the multi-facility economic zones (MFEZs) and industrial clusters. With involvement from both the public and private sectors, these zones are one way of scaling up socio-economic development in the country, according to economists.
The MFEZs are special industrial zones for both domestic and export oriented industries, backed by well-established infrastructure in a bid to attract foreign direct investment (FDI), as well as facilitate world-class enterprises in a specified regions.
According to trade experts, the implementation of MFEZs in any developing country is to make them remain competitive through improving their trade and manufacturing sectors, which have numerous spill-over effects in other sectors such as transport, commerce, manufacturing and agriculture.
African nations, including Zambia, also hope to develop MFEZs by using their increasingly closer relations with China, and the achievements made at the Beijing Summit of the Forum on China-Africa Cooperation (FOCAC).
Under the theme China and Africa: Toward an Even Stronger Community with a Shared Future through Win-Win Cooperation, the FOCAC Beijing Summit was held last September. The summit is a meeting between China and Africa and is largely premised on ways to increase diplomatic, economic and bilateral ties.
During the summit, eight major initiatives were announced, backed by a new $60 billion support package to Africa over the next three years. These include an infrastructure connectivity initiative, industrial promotion initiative and the green development initiative. Zambia has already been benefiting from these initiatives.
Benefits to locals
Under the industrial promotion initiative, a China-Africa economic and trade expo in China is planned, along with the efforts of building and upgrading a number of economic and trade cooperation zones in Africa. In Zambia, Chibombo MFEZ is a part of the industrial promotion initiative.
"The Chibombo MFEZ is envisaged to create more than 5,000 jobs among local people and help reduce poverty," said Zambia's President Edgar Lungu when he launched Phase One of the $600-million Jiangxi MFEZ in the country's Chibombo District, Central Province, in November last year.
"It is indeed a great mark of achievement to see that it's not long ago that we visited China, but we are already witnessing the fruits of our visit. This is an indication of the importance that the People's Republic of China attaches to the bilateral cooperation with Zambia," said Lungu.
The Chibombo MFEZ project is earmarked for house motor vehicle and generator assembly plants, and will operate as an international manufacturing center which will be able to serve countries in the region.
Lungu said the investment is testimony to the deepening relationship between Zambia and China.
He said that Zambia is already reaping the rewards from the $60 billion pledged to China-Africa cooperation at the FOCAC Beijing Summit. "Since this FOCAC pronouncement was made, I am glad to note that our country has started benefiting from this package, as can be seen from a new set of projects being implemented in Zambia within the FOCAC framework."
Economic benefits to Zambia
Since Central Province is endowed with natural resources, the Chibombo MFEZ will be well placed to attract FDI, said Central Province Minister Sydney Mushanga, adding that the project will, in a way, help establish industries to drive Zambia's copper-dependent economy.
"This project will promote agriculture, manufacturing, and food processing," said Mushanga.
He noted that the Chibombo MFEZ marked a new era of practical cooperation between China and Zambia in various fields. "This project by a consortium of Chinese companies will spur economic and industrial development in the country and has marked another milestone in the strong relationship between Zambia and China, which dates back to the pre-independent period."
Chinese Ambassador to Zambia Li Jie said the project is a demonstration of the growing relations between the two countries.
The Chinese envoy stated that Zambia is taking the lead in the realization of the agreements signed during the FOCAC Beijing Summit, adding that the Jiangxi MEFZ will make Zambia an industrial hub in the region and create jobs for young people.
Chibombo MFEZ updates
Since its launch in November last year, the Chibombo MFEZ is currently in its first phase and has already used up $20 million in investment, according to Jiangxi MFEZ Project General Manager Feng Xu.
The first phase of the project would take about two years and would include the construction of a few structures near the Great North Road main highway before embarking on the second phase.
"We have decided to choose Central Province because of the resource endowment, the proactive provincial leadership and the great support from the local communities. That's why we are here," said Feng.
Meanwhile, Zambia's Trade, Commerce and Industry Minister Christopher Yaluma said his ministry is pushing ahead with the industrialization policy as a tool of creating jobs for the Zambian citizenry.
"It is for this reason that the Ministry of Commerce, Trade and Industry has developed the National Industrial Policy, the National Local Content Strategy and the National Investment Promotion Strategy, aimed at creating a favorable platform for business development and growth. This development demonstrates our willingness to foster industrial transformation through value addition anchored on regional cooperation, establishment of pragmatic regional value chains and fair competition," said Yaluma.
He added that the MFEZ will have a production capacity of more than $1 billion per annum and that due to its strategic location, it will house export-oriented manufacturing industries which will have easier access to regional markets like the Southern African Development Community, the Common Market for Eastern and Southern Africa, and East African Community.
He further noted that the Chibombo MFEZ, which covers more than 600 hectares of land, lies along the Great North Road, a highway known for its value to Zambia's economic emancipation.
(Reporting from Zambia)
(Comments to niyanshuo@chinafrica.cn)