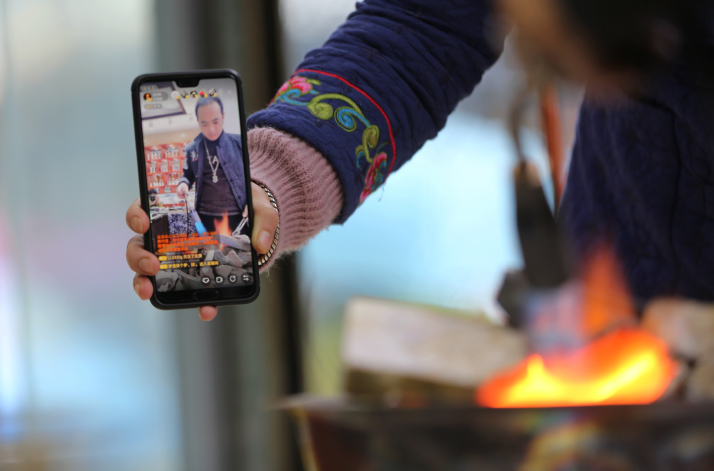 An internet user in Zhangjiajie, Hunan Province, makes a short video blog on how to make silverwares, a specialty in the scenic area, on January 13 (WU YONGBING)
He Xinyu, 26, is quite happy with her daily video show via her smartphone.
"Hello everyone, today I'm going to show you how to exercise your leg muscles," says He in one of her short videos. By day, she is a fitness coach in Beijing. In her spare time, she films and edits her own short video programs and publishes them on Kuaishou, a popular short video platform in China, where she encourages her followers to get up off the couch and get back in shape.
"Many of my colleagues also publish their videos on different short video platforms, which are very popular among netizens as they can relax by following our exercises after a day of hard work," said He, who now has 57,000 followers on Kuaishou.
In recent years, the pace of urban life in China has accelerated tremendously, and people are increasingly looking for content that can be consumed quickly. In this new context of fast-paced urban life, short videos have gained unprecedented popularity.
According to the 43rd Statistical Report on Internet Development in China, published on February 28 by the China Internet Network Information Center, a total of 648 million Chinese Internet users, or 78.2 percent of all netizens in China, were using short video platforms as of December 2018.
Currently, there is no strict definition for "short video" in China, but most short video platforms limit video duration to 1 minute. Douyin (Chinese version of TikTok), the short video platform with the largest number of users in China to date, even limits the duration of videos of its ordinary users to 15 seconds.
According to the Beijing-based data research institute QuestMobile, the amount of time Chinese netizens spend on short video platforms ran up to 726.7 billion minutes in the first half of 2018, a dramatic year-on-year growth of 471.1 percent. Statistics also show that in December last year, short video became the second most popular online product next only to instant messaging applications, exceeding online video streaming services.
New trend
Behind this rapid growth lies a new trend: The way the Chinese people are using the Internet is changing, according to observers.
With the development of the Internet and smartphones, everyone can now record, edit and publish videos of relatively good quality. The 4G networks also allow short videos to be downloaded and streamed anytime and anywhere on smartphones, something unthinkable in the era of the 3G and the 2G networks.
According to Guo Yue, an analyst at the China Internet Network Information Center, short videos also cater for the new needs and habits of young users, whose time is increasingly fragmented. In addition, the widespread use of smartphones compared with larger screens is improving the viewing experience for consumers. At the same time, smartphones have become a new private space for users, with videos catered to their very own interests.
Short videos are better suited to the lifestyle of young people, said Shen Yang, Professor at Tsinghua University's School of Journalism and Communication. With the help of Big Data technology, short video platforms are able to recommend videos to users based on their preferences. According to Shen, people with different interests follow different types of short video programs, and young people are using short video platforms to express their individuality.
Short video programs have also diversified the ways and forms of self-expression for young people. Users are not only consumers, but also content producers. As a result of this new trend, many ordinary Internet users have stolen the spotlight to become Internet stars.
Xiaojingang (online nickname), born in the 1990s, is one of them. His short videos have gained him more than 6 million fans on Huoshan and Douyin, two popular applications of short videos in China. A graduate of the Tianjin Broadcasting TV and Film Institute, he uses his professional skills acquired in his classes to produce his short videos, which focus on the daily life of his family. His humorous scenes, which take place in the living room, kitchen or around the dining table, have made him a famous Internet star.
Making profits
"At the current stage, the competitions in the industry of short videos are mainly about contents, number of views and profits," said Zhao Zhenying, Researcher at the National Engineering Laboratory for E-Commerce Technologies.
According to Zhao, finding new and better ways to make profits will play an important role in the future development of the short video platforms. Most platforms have their own rewarding mechanisms to encourage more people to participate and shoot their own short video programs. Huoshan, for example, rewards users in cash according to the numbers of views and comments they get for their programs. In return, with more popular video programs, the platform can attract more advertisements, thus increasing its profits.
Zhang Wenguang, Marketing Director of Ergeng Media Platform, believes that advertisements have been and will remain the main source of profits for this kind of new media. If they have enough fans, users can also find sponsors by themselves.
Among short video content producers, some are also active in the e-commerce sector. By communicating with their fans through short videos, they can promote their own products and encourage fans to visit their online stores to increase sales.
Gao Difan, 27, who works as an interpreter in Beijing, agrees with this business model. "I often buy cosmetics promoted by the hosts of short videos that I am following online. With their help, I can learn more about the latest products and this saves me a lot of time in choosing the right products for me," she told ChinAfrica.
Better content
But the booming development of short video platforms also encounters several challenges, in particular, that of guaranteeing product quality. On January 9, the China Netcasting Services Association issued a regulation on the management of short video platforms. According to the regulation, all short videos must first be reviewed and approved by the platforms before being released. This applies not only to contents, but also to the titles and comments appearing on screen and under the videos as well.
To comply with the new regulation, Douyin has adopted a verification system using both IT technology and human review. A predefined artificial intelligence program is used to scan the contents and keywords and identifies the short videos that are potentially in contradiction with the regulation.
According to Hu Zhifeng, Dean of the School of Arts and Communication at Beijing Normal University, short videos should provide more information and aim to share new knowledge with the users. The platforms should strengthen cooperation with universities or professional institutes in order to improve their video quality.
Some short video platforms have also begun to become more professional and encourage high-quality presentations. Cao Xiaodong, General Manager of Haokan, China's searching engine Baidu's short video platform, said his company will put in place an exclusive 100-million-yuan ($14.97 million) fund in 2019 to stimulate knowledge-based content creation.
(Comments to lijing@chinafrica.cn)