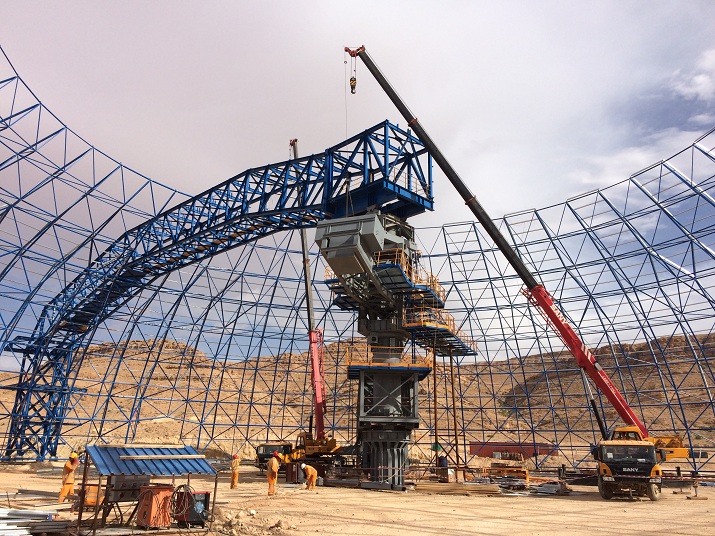 Sany equipment at Biskra Cement Plant in Algeria (COURTESY)
When it comes to excavating machines, Joseph Garba knows them inside out. Having worked in the business for many years, the Nigerian excavator operator currently grinds out earth at the Great Wall Quarry in Abuja. He expertly handles an SY335 machine, produced by the Sany Heavy Industry Co. in China, like he could do it blindfolded.
When asked what he thought of Sany equipment, he gave a thumbs-up. "They are fast, easy to operate and high on quality," he said.
Based in Changsha, Hunan Province, Sany has been operating in Nigeria since 2002 to boost construction of local infrastructure. Over the past 17 years, Sany equipment has been involved in many key Nigerian projects including Zungeru Hydropower Plant, Dangote Refinery and Eko Atlantic City.
With the continued implementation of China's Belt and Road Initiative, an increasing number of machinery enterprises from Hunan Province, represented by Sany, Zoomlion Heavy Industry Science & Technology Co., and Sunward Intelligent Equipment Group, have landed in Africa to promote trade with local companies and facilitate improvement of Africa's industrial capacity.
Landing in Africa
Besides meeting the demands from the domestic market, many Chinese heavy machinery makers have also turned to emerging overseas markets, with an eye on infrastructure projects like high-rise buildings and roads.
In Africa, infrastructure needs are immense and the construction of infrastructure plays an important role in helping the continent pave the foundation for future growth. According to Peking University Professor and former World Bank Chief Economist Justin Lin Yifu, through cooperation in infrastructure development between China and Africa, China could both foster the growth of African countries and transfer its labor-intensive industries to Africa.
After conducting in-depth market research, paying visits to various cities and carrying out data analysis, in 2002, Sany became one of the first Hunan construction machinery enterprises to land in Africa, making its initial machine sale in Morocco. In 2016, Sany saw its operations in three African regions - North Africa, West Africa and Southern Africa, establishing a sound marketing and service system in the process.
Thanks to its high product quality and extensive sales network in Africa, the company has won many large orders, including the supply of complete sets of equipment to the Adama wind farm project in Ethiopia, the Great Mosque of Algiers project in Algeria, and the construction of venues for the 2010 FIFA World Cup in South Africa.
Up to April this year(??), Sany's total equipment sales to Africa had exceeded 10 billion yuan ($1.49 billion), with primary products including cranes, excavators, road rollers, energy machinery and port machinery. The company ranks first among China's construction machinery enterprises that export to Africa.
Zhou Wanchun, Executive Director of Sany, noted that thanks to the high product quality and performance, efficient sales and service network of Sany, and with the help of local agents, African large machinery customers are becoming more accepting of the "made in China" label.
This is borne out by comments like those of Ahcène Boukhelfa, Ambassador of Algeria to China, who told ChinAfrica that infrastructure modernization remains the top priority of Africa, and Algeria is no exception. "We have built good cooperation with Chinese engineering machinery companies and we will place more orders in the future," he said.
Localization
Localization strategy is an important part of Sany's exploration to the international market. This is evident in the design of its products.
"In order to adapt to the market demand, all products exported to the [African] market have been adjusted," said Xiao Jiang, Deputy General Manager of Sany.
In recent years, a number of construction machinery manufacturers have launched electronic fuel injection (EFI) engines with Euro III emission standards, which is popular in many countries. However, in Nigeria, it has encountered some challenges. Because the local fuel quality is not high, the injector of the EFI engine is easily blocked, which affects the performance of the whole machine. Therefore, the excavator exported to Nigeria by Sany is still using the direct injection engine of Euro II, which is more suitable for the local market.
In addition, Sany provides high quality services to Nigeria, one of which is a more rapid supply chain. Because of the distance from China, the supply cycle of accessories takes up to four months. If the supply of spare parts is not timely, it has a great impact on the construction period of infrastructure projects. In order to safeguard the supply service, as early as 2007, Sany established a parts warehouse in Abuja with a core group of service engineers. In 2017, Sany built a 4S store, a one-stop store that brings together sales, service, spare parts and surveys (customer feedback) in Lagos, the largest city in Nigeria. This not only greatly shortens the supply cycle of parts, but also meets customer needs in a timely manner.
In terms of localization, Chinese companies also assisted African countries in nurturing local technicians in mechanical operation and management. For example, Sany Polytechnic College founded by Sany is a full-time higher education polytechnic college located in Changsha City that has trained a large number of skilled African workers and also cultivated local management and technical talents.
Extending the line
Machinery enterprises of Hunan Province are not just satisfied with simply selling equipment to Africa, but hope to participate in Africa's construction in a more meaningful way. Now their business has begun to expand from the initial construction machinery field to computer equipment, wind power development, minerals and other fields.
In addition, following Sany's progress, high-quality equipment from other machinery companies of Hunan Province including Zoomlion and Sunward Intelligent have also entered Africa.
On June 27, 2016, Sany signed an agreement to operate the Adama-Hunan Machinery Equipment Manufacturing Park along with other enterprises from China and Ethiopia. The manufacturing park has attracted 18 Changsha enterprises and is expected to become a modern equipment manufacturing area after its completion in 2020. It will be dominated by four industrial sectors, namely, construction machinery, energy and electric power, automobiles and parts, and general equipment.
So far, the industrial chain of Hunan Province's machinery enterprises has extended to advanced industrial manufacturing, clean energy and electricity, large infrastructure projects, and modern construction projects in countries such as Algeria, Tunisia, Ethiopia, and South Africa.
(Comments to xyy@chinafrica.cn)