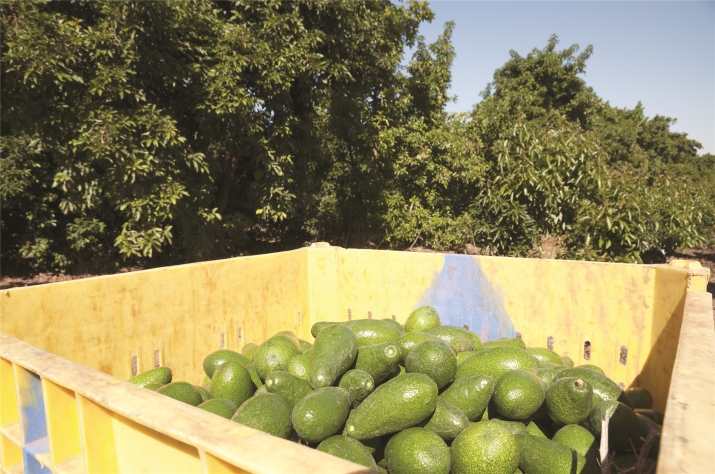 Kenyan fresh avocados is expected to enter the Chinese market soon (HELLORF)
Kenya is set to become the first country in Africa to start exporting avocados to China, once a recent agreement signed between the two countries comes into effect. The deal is expected to lead to the export of 40 percent of the country's avocado produce to China, according to the Kenya Plant Health Inspectorate Service (KEPHIS), and also opens the door for the export of other horticultural crops such as flowers, French beans, baby corn, broccoli and sugar snaps.
The deal followed a sanitary and phytosanitary (SPS) agreement reached in November last year between the two countries to have Kenyan produce exported to China. SPS came into force with the establishment of the World Trade Organization in1995 and concerns the application of food safety and animal and plant health regulations.
Crops cleared for export
In March this year, Chinese agricultural inspectors visited Kenya for certification checks of the country's agricultural produce. This was after an analysis of the avocado produce was made by KEPHIS, a government agency which ensures quality standards of agricultural inputs and produce. The analysis findings were presented to related department of China.
"They [the Chinese] communicated with us and expressed an interest in visiting the country to witness how avocado production is carried out in Kenya," said Isaac Macharia, General Manager of the Phytosanitary Services at KEPHIS.
Upon visiting the country, the team from China was shown what KEPHIS does and taken on a tour of production facilities, farms and avocado packing warehouses.
China agreed to the immediate commencement of the importation of frozen avocados from Kenya, Africa's largest avocado producer. This is something that received the seal of approval after Kenyan President Uhuru Kenyatta visited China in April this year when the deal was signed.
Frozen avos
However, exporting frozen avocados is not as straightforward as it may sound. The logistics involved are as prohibitive as they are complex.
It is a very expensive undertaking to begin with, according to Hosea Machuki, CEO of the Fresh Produce Exporters Association of Kenya, an umbrella body representing over 160 growers, suppliers, exporters and service providers in the horticulture industry.
"You will need to ripen the avocado, peel it and remove its seed before freezing the fruit to between minus 18 degrees centigrade and minus 30 degrees centigrade, which will need [specific] equipment," said Machuki.
"The Chinese want frozen fruits because they are still wary of fruit flies, scales, and traceability issues. We hope to address these concerns in due course so that our fruits are fully accepted," Okisegere Ojepat, CEO of the Fresh Produce Consortium of Kenya, told local media.
Machuki echoes these sentiments and reiterated his association's desire to export fresh avocado, thereby joining such countries as Peru and Mexico, which are exporting the crop into China in its fresh state.
There is only one company in the country that deals in the export of frozen avocados, according to Macharia, who said that many others are in the process of gearing up the requisite facilities.
Small traders in the crop like Green East Traders Ltd., a fresh produce exporting company, is looking to benefit from the deal, but the frozen requirement is a challenge.
The company ships three to seven 22-ton containers of avocados and other fresh produce every week to France, the Netherlands and the United Arab Emirates.
"Almost 100 percent of exporters we have in this country deal in fresh fruits, which involves nothing more than washing, disinfecting, waxing, drying and packaging before cooling the fruits to temperatures of 5 degrees centigrade," said Alfonce Musango, Co-Founder of Green East Traders Ltd.
At the moment, the company does not have its own freezing facilities. It will therefore enter into a short-term lease with medium-sized or large companies that have packing lines, oil pressing machines and cooling systems, whenever it plans to export its produce.
"We pay such a company to do packaging of the fruit for us," explains Musango.
Kenya is currently awaiting a report from China to see when it can also export fresh avocados to the covetable Chinese market. Musango believes that an agreement to start exporting fresh avocados to China will be reached soon.
The report will detail findings of the visit to Kenya by the team from China, as well as stipulate conditions to be met prior to the start of any fresh avocado shipments.
Growing exports
Kenya's avocado exports have been increasing year on year. According to KEPHIS, in 2018, the country exported 67,477 tons of the produce, up from 51,507 tons the previous year. In 2016, the exports of the crop stood at 38,702 tons. The country is in the top 10 producers of avocado worldwide.
Traditionally Kenya's avocado export destination has been the European countries, including the Netherlands, the UK, France, Germany and Norway. Other markets include Russia, Australia, United Arab Emirates and Saudi Arabia.
Over 150 companies in Kenya export avocados. The three main avocado varieties grown include Jumbo, which is consumed locally and exported regionally, whereas the Fuerte variety is preferred in the Middle East.
The Hass avocado variety is exported to Europe, and which in all likelihood, will be the one to be exported to China.
Even though the deal with China addresses the market end of the avocado value chain, it nonetheless "opens up many innovative areas in value added product research," said Lusike Wasilwa, Director of Crop Systems at the Kenya Agricultural and Livestock Research Organization (KALRO).
The organization is the premier agricultural research institution in the country. It is involved in the Kenya avocado project advisory committee, in collaboration with Plant and Food Research of New Zealand and Olivado, the world's largest producer of cold pressed avocado oil.
Wasilwa said that the ripple effect of this export deal is the increased consumption of avocado, avocado oil and avocado seed powder, from what is considered one of the "super fruits." Avocados are very nutritious and contain a wide variety of nutrients, including 20 different vitamins and minerals. Consequently, they are associated with healthy eating. Avocado toast and guacamole have crept onto many Chinese menus in the past few years, primarily catering for expats but increasingly finding favor with Chinese consumers seeking a more healthy lifestyle.
"This opens up opportunities for over 44 avocado varieties in the country," she said, adding that currently, only the Hass and Fuerte avocado varieties have been extensively commercialized.
According to Wasilwa, research can also be undertaken for avocado utilization of the other 42 varieties in the country, which can include research into food science and post-harvest management of avocado bi-products for bioenergy, animal feed, medicinal use and bio-fertilizers.
Apart from expanding its traditional export market, this deal will enhance South-South partnerships involving technology transfer and validation, given China's more advanced laboratories. This, according to Wasiliwa, will trigger up-scaled research in pre- and post-harvest and processing technologies.
KALRO is currently discussing a partnership with China in sericulture research, which uses mulberry as a feedstock.
(Reporting from Kenya)
(Comments to niyanshuo@chinafrica.cn)